Martin Pond's 1980 Ford Fairmont | 2014 OUSCI Preview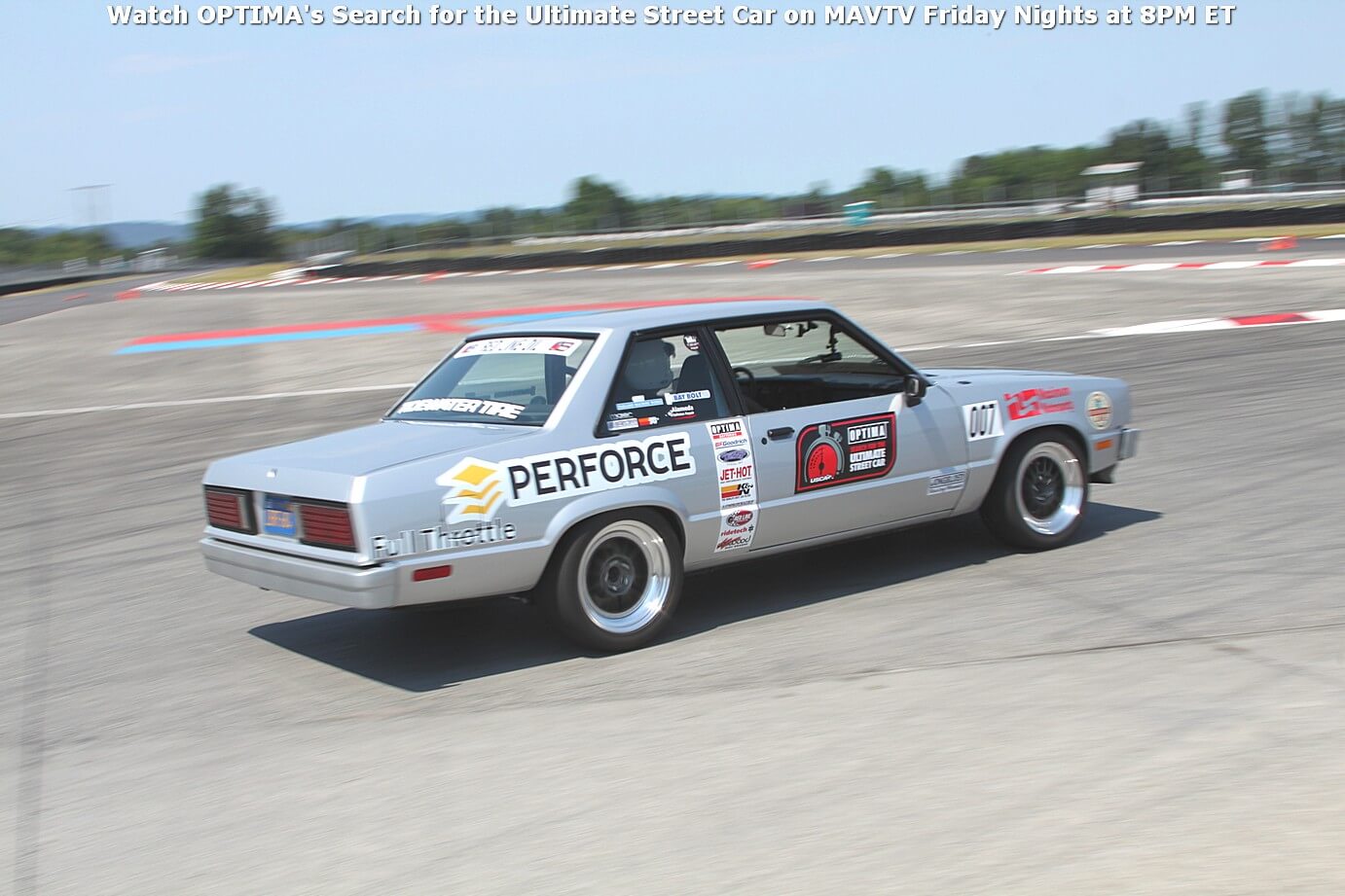 Ultimate Streetcar
Sponsor

OPTIMA Batteries

Location

Las Vegas, NV
Sponsorship requests come to us on a daily basis, but it's not very often you hear of sponsors approaching car owners...or is it? After Martin Pond received a K&N Filters Spirit of the Event invitation to the 2014 OPTIMA Ultimate Street Car Invitational (OUSCI), he knew the small budget he had set aside to build his Mercury station wagon was going to immediately be re-directed to preparing his 1980 Ford Fairmont for the 2014 SEMA Show and OUSCI, but was that enough to be competitive?
"I knew my suspension was out-classed by a big majority of the vehicles coming to the OPTIMA events, so I placed a call to my Friends at Maximum Motorsports, to get some parts to make the car handle better," says Pond. To Martin's surprise, when he mentioned that he had been invited to the OUSCI and SEMA Show and was going to be on TV, Maximum Motorsports put together their entire Maximum Grip Box package for the Fox Chassis and sponsored Pond, in exchange for some well-placed logos on his vehicle.
Martin wasn't going to turn down such a generous offer and ended up spending the Memorial Day weekend installing the all-new suspension system and dialing it in for the qualifying event at Fontana in June (and additional TV exposure for Maximum Motorsports). With his suspension helping the car work so much better, Martin then shifted his attention to his wheels and tires. Jongbloed Racing Wheels was called for some custom offset, lightweight wheels. Jongbloed is familiar with the exposure offered by the OUSCI, having previously-showcased their 557 split-spoke wheel on Filip Trojanek's 1966 Mustang back in 2011 and offered Pond a significant discount on the wheels he ordered.
The sponsor love didn't end there for Martin, as his painter who was also excited to hear about Pond heading to SEMA and the OUSCI, bought a new set of RECARO seats for Martin, which are now also installed. With the luxury of time in his back pocket between receiving his invite at Laguna Seca in March and heading out for the SEMA and the OUSCI in November, Pond trekked up to Portland for some additional seat time at the qualifying event there.
"The car was doing well against some fast cars in hot temperatures, until my last session on the road course," said Pond. "I thought that I had just fouled a spark plug and it just wasn't running right." Martin didn't give it too much through and upon returning home, he found himself catching up with work at Tidewater Tire Auto, before he finally got around to pulling his plugs in late-August and taking a closer look at what had actually happened.
"The number four plug came out with no porcelain and a bent electrode," remembers Pond. "That was not what I wanted to see, so I put a borescope down the spark plug hole to look at the piston...or should I say parts of what was left of the piston." Anyone who cringed reading that sentence, knows what came next- the same mad dash to getting a car torn apart, put back together and dialed-in before SEMA, that dozens of other OUSCI competitors are in the midst of as you read this blog.
Knowing time was now against him, Martin began to scramble, searching for a new short block or some other option that would allow him to get his car back together quickly, so he could get the new bugs worked out before heading off to the SEMA Show. Fortunately, Pond's son found a new (zero miles) stroker bottom end assembly on Craigslist for $750, which Martin installed in early-September, still with plenty of time to spare. As the car sat, it weighed in at 3,150 pounds and Martin estimated the new 408 cubic-inch engine produced over 500 horsepower.
"The car ran extremely well...until it didn't," said Pond. He flogged his previous engine for a solid ten years before it finally let go, but during a shakedown run on September 21st, the new engine's number two exhaust valve let go, along with two pushrods. A rocker arm came out badly worn and a lifter went missing in action somewhere in the engine. While the SEMA pressure cooker just became more intense, at least it is happening now, as opposed to Saturday morning on the warm-up lap at the OUSCI.
It wasn't that long ago that Pond was thinking the only thing left to install was a four-point rollbar (or as he explains it to his nervous wife, a camera mount). Now, the "to-do" list is far longer and his Friday night Search for the Ultimate Street Car TV viewing parties with Joe Escobar may get turned into Friday night thrashes on his Fairmont. Hopefully, Pond will have everything squared away in the next month and the only thing he'll have to worry about doing is having the time of his life at SEMA and the OUSCI.
Martin would like to acknowledge the support of all of his sponsors, including Perforce Software, Maximum Motorsports, Jongbloed Racing Wheels, Alameda Collision Repair, Bay Bolt, Oakland Machine, Ethan's Plumbing in Alameda and of course, his loving wife, Julie and his supportive family. The 2014 OUSCI promises to be the biggest and best event yet. Don't miss the action. If you didn't catch it, you can always add the OPTIMA Network for free on Roku.