Matt Alcala's 1969 Chevrolet Camaro | 2013 OUSCI Preview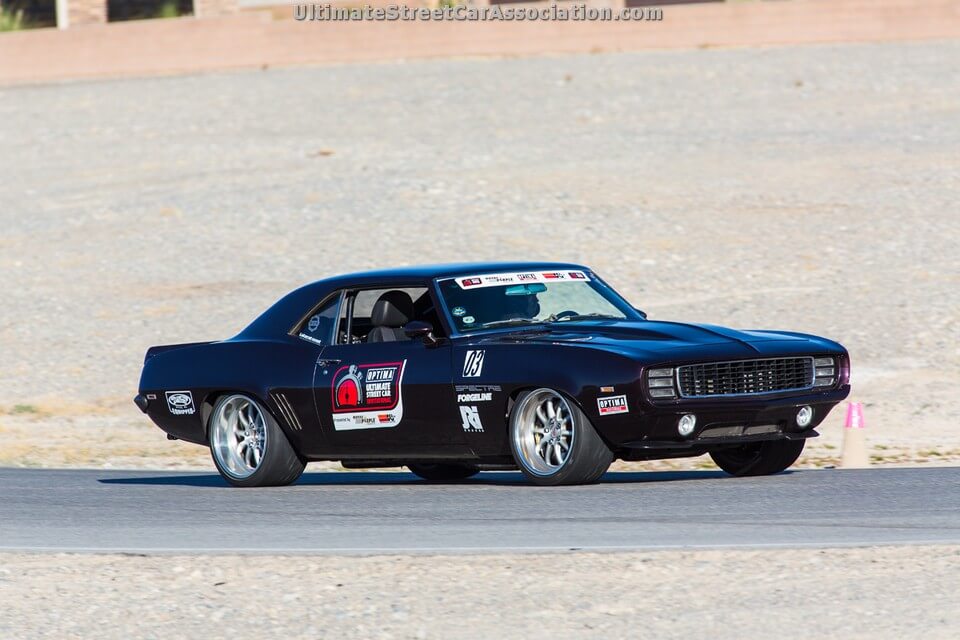 Ultimate Streetcar
Sponsor

OPTIMA Batteries

Location

Las Vegas, NV
So far we've done four previews and we haven't even mentioned the "C" word yet- Camaro. The Camaro has long been the vehicle of choice for many enthusiasts, due to a variety of factors, including affordability, styling, and performance. Given the massive support it has in the automotive aftermarket, it would make sense that it would be well-represented in the OPTIMA Ultimate Street Car Invitational, presented by Royal Purple and K&N Filters and that has certainly been the case in the event's five-year history.
In the inaugural event back in 2008, 11 Camaros made the cut. The following year, the floodgates opened wide and 18 Camaros made it into the field. Things settled back down in 2010, when the number dropped back to 12 cars, but bumped up to 16 in 2011. Last year, we had 11 Camaros in the field, including OUSCI Champion, Mark Stielow and his 1967 Camaro, Mayhem. That is a total of 68 Camaros for those keeping track at home, although in the interest of full disclosure, some of those cars, like Stielow's Red Devil '69 Camaro and those owned by the Tuckers from Detroit Speed, have made multiple appearances. However, those numbers do not include the Camaro's F-body cousin, the Pontiac Firebird.
It's safe to say if there has been a Camaro of any significance on the scene since the OUSCI began (that isn't a total trailer queen), it has probably been in the OUSCI at some point during that time. This year's field already has 23 competitors announced, but Camaros make up just three entries so far. That number is likely to go up, but perhaps it is a sign that many of the Camaros worthy of the OUSCI have found their way to one of our qualifying events or out to SEMA in the past five years?
The lion's share of OUSCI Camaros have been first and second gen examples, so we hope those who have built really nice third and fourth gen Camaros are paying attention, because we'd like to see more of them at our qualifying events. That also doesn't mean we're done with first, second or fifth gen Camaros by any means and one needs to look no further than Matt Alcala's beautiful '69 for proof of that. However, what it might indicate is that given what our Race Directors have seen in first and second gen Camaros over the past five years, the bar has been set fairly high for cars from those eras.
If that is the case and you think your first or second gen Camaro has what it takes to get into the OUSCI, you'd better bring your A game, because Matt Alcala's Camaro represents the caliber of your competition. Matt's Camaro has Detroit Speed and Engineering everything, including their hydroformed subframe and QUADRAlink system. It has two surfboards worth of fiberglass from Anvil- fenders, inner fenders, spoiler, bumpers, etc... It has a 700-horsepower 454 cubic-inch LSX, a Speedway Engineering floater rearend and the list goes on.
Elements critical to success in the Lingenfelter Performance Design Challenge are just as impressive- a Marquez design interior kit installed by Southern California Upholstery, RECARO seats covered in custom suede, carpeting from Mercedes and even smoked glass from Prodigy Customs. The gorgeous paint job was shot by Best of Show Coachworks (read the Camaro Performers feature on Matt's car to grasp the full extent of their involvement in this build). Magnaflow exhaust, Wilwood brakes and Forgeline wheels round out the notable upgrades, but really don't do the car justice. You need to see it in person to believe it and if you don't have access to the SEMA Show, your best bet is to buy OUSCI tickets.
Fully-decked out, Alcala's Camaro weighs in at a not-so-skinny 3,450 pounds, but he is more than familiar with the Camaro's limits. Matt has a full four years of autocrossing experience, as well as several track days (at least one OUSCI qualifier) and a diploma from the Bondurant Driving School. He knows his way around the track and he is familiar with his competition in the OUSCI. So who does he think will be his biggest/toughest competitors? "People with Lexan windows, tire warmers, and fancy driving shoes," said Alcala. Oooohhh!! Dems fightin' words! Get ready for the showdown on November 9th!
UPDATE 10/31/13
Just days before Matt's car was scheduled to leave for Las Vegas, sand and metal pieces were found in the oil. The engine was still running, but it is headed for RPM Motors in Santa Clarita, California in the morning for a last-minute teardown. See how things turned out, by adding the
OPTIMA Network on Roku
, a free download that features all the past TV coverage of this iconic event.