Nick Licata and the Hollywood Hot Rods '40 Ford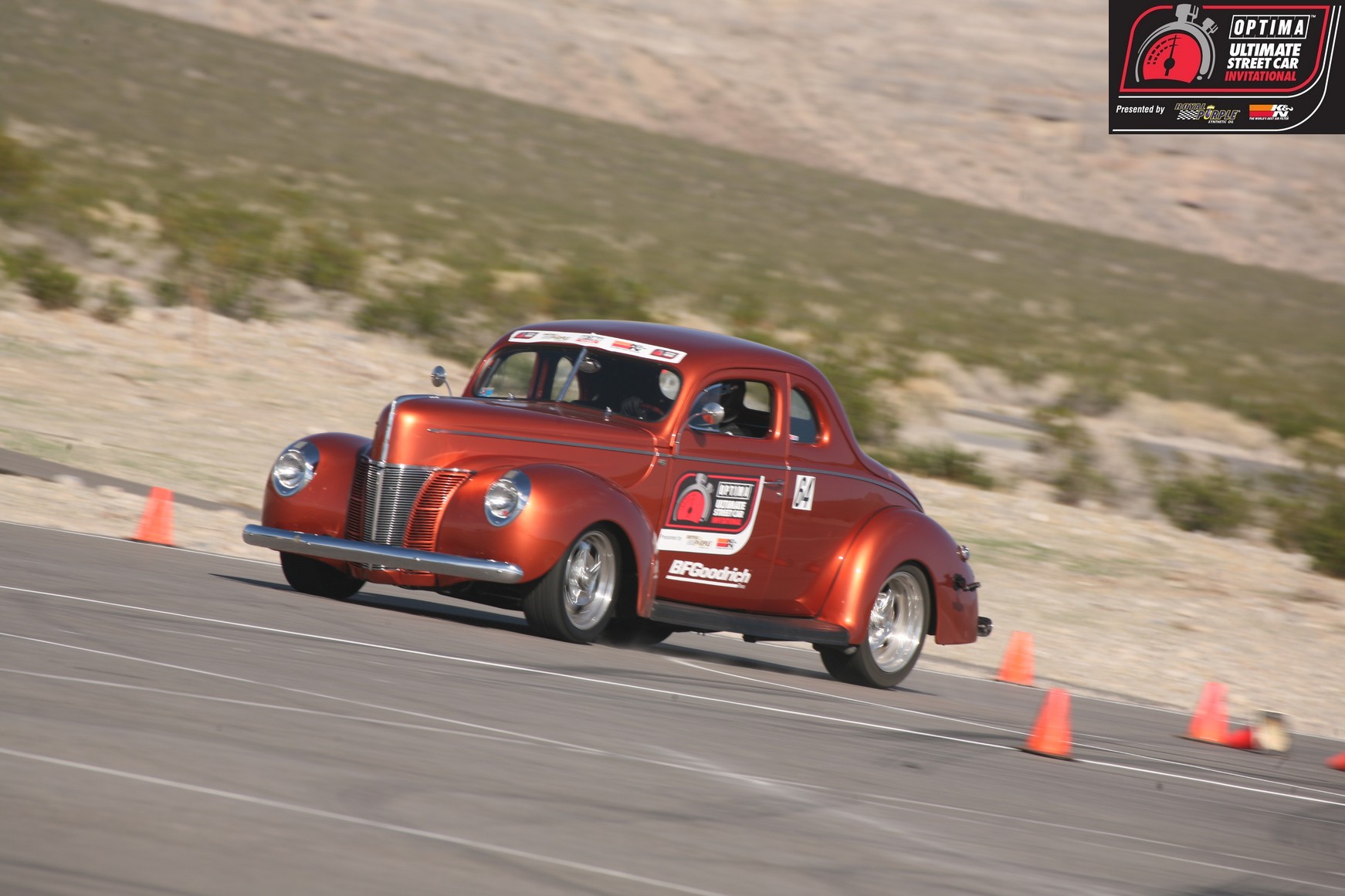 Ultimate Streetcar
Sponsor

OPTIMA Batteries

Location

Pahrump, NV
If you are looking for a diverse field of competitors in an automotive event, look no further than the OPTIMA Ultimate Street Car Invitational (OUSCI), presented by Royal Purple and K&N. The Hollywood Hot Rods-built Street Rodder magazine-owned 1940 Ford, piloted by Nick Licata, represents the earlier end of an automotive spectrum that spans seven decades and covers offerings from more than a dozen different automakers.
Although Troy Ladd and his crew at Hollywood Hot Rods are familiar with the OUSCI and have competed in the past, their invitation this year came at the SEMA Show, which didn't really leave them much time to prepare this curvaceous coupe for track duty. Still, they had a competent driver in Nick Licata and an opportunity to inspire other street rodders to think beyond car shows and cruise nights when they build their rides.
When the opportunity to compete in the OUSCI comes along, folks usually jump first and ask questions about car prep later. If Licata had a crystal ball, he would've likely made sure the tuning on the Ford was a little more dialed-in, before hitting the track. Even without that benefit, the craftsmanship of Troy Ladd's crew helped the coupe finish 11th in the Lingenfelter Performance Design & Engineering Challenge, elevating it's overall finish to 26th place.
Licata is very familiar with the OUSCI, having covered it previously for Camaro Performers magazine, so he knew the ins and outs of what was involved and has some perspective on how the event has grown and evolved over the years. As a magazine editor by trade, Licata is also not afraid to voice his opinion.
"I thought the field was great, although it seems to me the American muscle cars are more interesting to the spectators than the late-model all-wheel-drive vehicles, which are expected to do well. I also don't care for the tube-chassis trucks that have shown up lately. They really stretch the term "street car," as they are not street-driven. Bottom line is those are dedicated race cars and I hope OPTIMA recognizes this and makes it a rule to keep these cars out of the competition," says Licata. (tube frame chassis vehicles are no longer eligible to compete for the OUSCI title and instead compete for the Arrington Performance Outlaw Cup)
While they might not be the most-docile of road-going vehicles, every competitor in the OUSCI is street-legal and all of those trucks did complete the Detroit Speed/JRI Shocks road rally, which cannot be said for many of the late-model entries.
Like many others in the field, Nick was pleasantly surprised by the OPTIMA umbrella girls and very impressed with the performance of Steven Rupp and his Bad Penny Camaro, which finished sixth overall. As for advice for future OUSCI competitors, Licata's thoughts echo those of other competitors. "Enjoy the moment and have fun...unless you have tons of road course or autocross experience, you're not going to win, so just do your best."

See how all of these cars and trucks performed, by adding the OPTIMA Network for free on Roku and watching all the past OUSCI TV coverage.