One Qualifier Remains in OPTIMA's Search for the Ultimate Street Car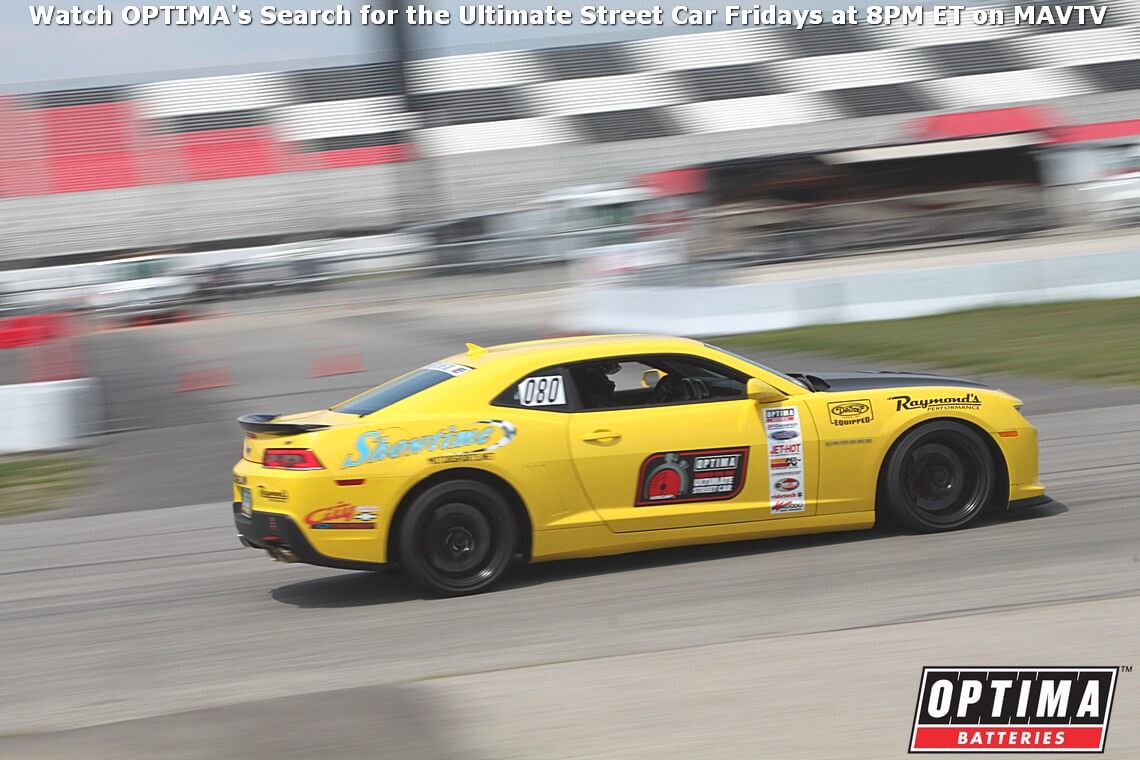 Ultimate Streetcar
Sponsor

Location
We are now nine events into the first season of OPTIMA's Search for the Ultimate Street Car and while we've learned quite a bit and already know who many of the competitors will be at the OPTIMA Ultimate Street Car Invitational (OUSCI), there is still much to be decided in Pittsburgh. Regardless of what we share with you about the point standings to date, the fact remains that anyone who enters the Ultimate Street Car Association event at Pittsburgh International Raceway has a legitimate shot at being invited to the OUSCI.
K&N Filters is sponsoring the Spirit of the Event award, which automatically grants the winner entry into the OUSCI field and everyone entered in Pittsburgh at the Platinum level is eligible to win that award.
Who Will Win The Regular Season?
The fact that Pittsburgh is a double-points event really makes the final event a mad dash to the finish line. Right now, Ken Thwaits (pictured above) leads the overall points with 456.13 in his yellow 1LE Camaro. However, Ken has not yet qualified for the OUSCI in that car, but has in his white Z28. Since Thwaits is already in the field, he will not take one of the top-20 point positions, but will likely have the option of deciding on which car he would like to run in the event- either the Z28 or the 1LE.
Thwaits has the opportunity to extend his lead in overall points and finish out the season on top, but he will probably have to complete the Pittsburgh event in the 1LE in order to do that. While the 1LE is currently signed up to run the Pittsburgh event, Thwaits has been known to bring both cars and could opt to run the Z28. If he does that or if the 1LE cannot finish the event and score points, the door opens for several other competitors to take over the overall points lead.
Ronnie Soliman's 2006 Mitsubishi Evo is less than 20 points behind Thwaits' yellow Camaro in total points and it runs in the AWD class. One thing we've realized this year, is competitors in the AWD and GT2K (under 3000 pounds) classes tend to score more points at events, due to smaller class sizes, where it is much harder for GT3K (over 3000 pounds) to do the same, when points get spread out among far more competitors. If Thwaits falters, he leaves the door wide-open for Soliman (although Soliman is not currently registered for the event).
The same is true for Kyle Tucker and James Shipka, who are both less than 30 points behind Thwaits. Neither of those drivers is signed up to run at Pittsburgh right now, but Chris Porter's Poorvette is registered and sitting less than 38 points back. Another dark horse is Justin Stone's Subaru from the AWD class. Stone is signed up to run and based on his past performances in that class, could catch and pass Thwaits in the overall points chase as well.
Other drivers in the mathematical hunt for the overall points lead include Detroit Speed's Ryan Mathews, RideTech's Bret Voelkel, Shawn Carroll from the RS Motors stables and Pinto driver, Joe Escobar. None of those competitors are signed up for Pittsburgh at this point, but Voelkel and Mathews may both very well make an appearance.
How Will The Rest of the Top-20 Shake Out?
In total, based on their performances at other events this season, 16 drivers could finish out the season with more than 400 points and five of them could finish with more than 500 points. However, if all of those drivers signed up and ran, the points would be distributed to a larger field, making that nearly impossible. What is apparent is that no one is likely to make it in based on points, if they don't have at least 300 after Pittsburgh. That is the equivalent of consistent, solid performances in at least three qualifying events.
Drivers who are above that 300-point threshold so far include Thwaits, K. Tucker, Shipka, Porter, Escobar, Mathews, Voelkel, Utley, Cris Gonzalez, Priestly, Popp, Caroll and Randy Johnson. Of that group, Utley, Porter and Thwaits are all signed up for Pittsburgh and likely to move up, if they finish all segments. Thwaits and Danny Popp already have invitations in other vehicles, so their position in points won't preclude two other drivers from earning their way in, but will give them the option of selecting which vehicle they'd like to bring.
If 300 points is the magic number and 11 drivers have reached it already, who are the next nine poised to join them? Based on Pittsburgh registrations and past performance, that list would include Dan Ballard, Sam Farrington, Steve Loudin, Bradley Yonkers and Andrew Nier. That's only five drivers, but those are the only five on the outside looking in right now, that are signed up for Pittsburgh and in that position points-wise.
We have talked to other drivers, who have indicated they will be coming to Pittsburgh, but have not yet signed up, including Chris Smith, Cliff Elliot, Ryan Volk and Rick Hoback. Of those drivers, Cliff Elliot is in the most-precarious position with a projected points finish of 311.45 points. In case you were wondering, the way we project points, is by averaging Cliff's previous event point totals and doubling that total for the double-points Pittsburgh event, which would be 150.64 points. Added to Cliff's other two-highest finishing positions results in a total of 311.45 points.
A smaller field or a strong performance could boost that number higher, while a weaker performance and/or larger field could move that number lower. Other wild cards could also impact the outcome. While we don't anticipate many West Coast drivers making the trek besides Volk and Nier, if someone like Monty Pack headed to Pittsburgh and completed the event, he'd likely be a lock to get in on points.
There are several other competitors located well East of the Rockies, who could make an appearance and lock themselves in on points, including Greg Schneider, James Stancel and Rich Gregory. If they were to make it, they'd likely earn enough to get in, but then competitors on the bubble, like Cliff Elliot and Randy Johnson would likely get moved outside the top-20.
One thing is clear- the competition will come down to the wire, not only for the top positions, but for the top-20 as a whole. Much is to be decided and while there is still plenty of space left for competitors, we'd hate to see the field filled up quickly and have someone's fate decided only by their inaction. Don't take a chance. Lock yourself into the Pittsburgh USCA field today. Remember, K&N Filters is awarding a Spirit of the Event invitation to the 2014 SEMA Show and entry into the OUSCI, so even if this is your first USCA event, you still have a chance to get into the field!

If you want to see how the 2014 season played out, add the OPTIMA Network for free on Roku and watch all the past episodes of the TV series.