OPTIMA's 2015 Search for the Ultimate Street Car GTL Points Chase Post-Charlotte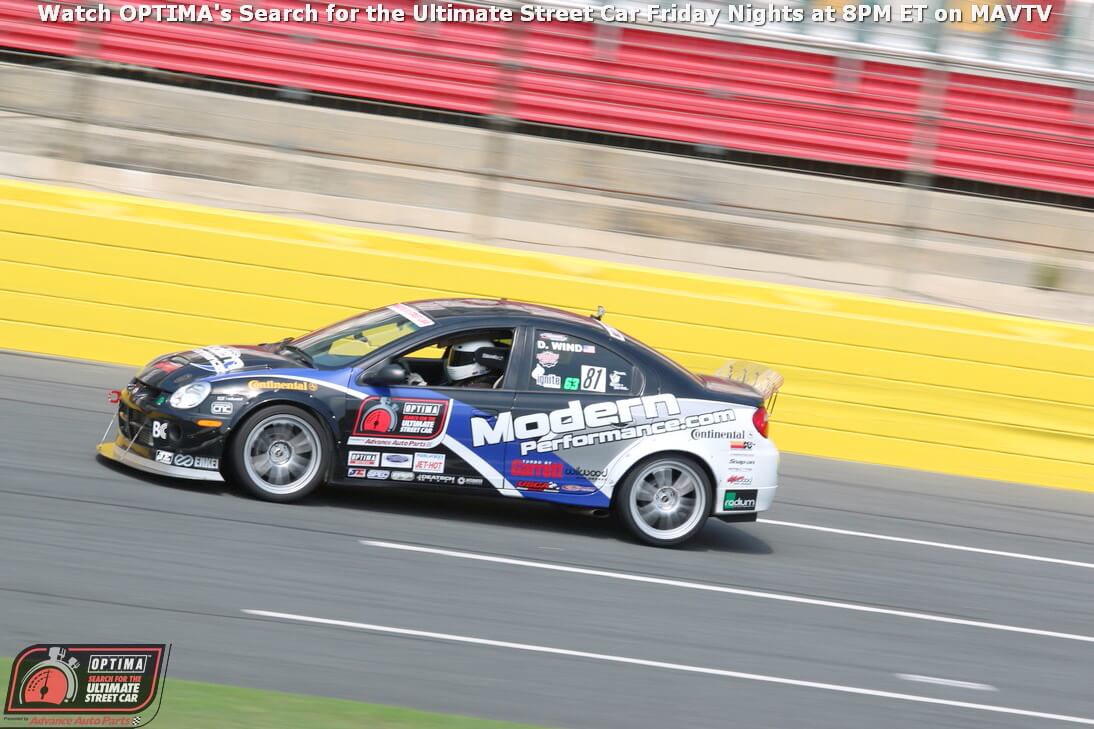 Ultimate Streetcar
Sponsor

OPTIMA Batteries

Location

Charlotte, NC
In our previous blog post, we took a closer look at the points chase in the GTS class for OPTIMA's Search for the Ultimate Street Car, presented by Advance Auto Parts. With this post, we examine how the championship run is unfolding for competitors in the GTL class.

1. Douglas Wind 472.8667
2. James Forbis 451.1333
3. Martin Pond 376.9333
4. Brandon Ranvek 349.6
5. Danny Tinch 342.7133
6. Ronnie Soliman 314.4333
7. Antonio Diaz 313.7333
The GTL class may be for lightweight cars under 3,200 pounds, but the competition in this class is definitely heavyweight. The fact that the 2014 OUSCI champion, Danny Popp, has run his Corvette in two events and is barely in the top-ten in points speaks to just how tough this class has become in a short amount of time. Douglas Wind's 2004 SRT4 may be leading the points chase right now, but his lead is not safe by any means.

Wind and three other competitors have all run two of the double-points events, meaning any of those four could emerge as the GTL Champion, if they run at Fontana and do well. Additionally, fourth-place Brandon Ranvek could also contend for the GTL title, if he decided to run at Fontana. Even the sixth and seventh-place Mitsubishi Evos of Ronnie Soliman and Antonio Diaz have a mathematical chance of winning the championship at this point. The question is- Who will run in which remaining events?

Second-place James Forbis won the GTL class at Charlotte in his 2007 Corvette and may be content to just prep for Las Vegas, but points leader Wind has no such guarantees at this point. His 200-point performance at Charlotte suggests he could improve his 88.7333 Texas Motor Speedway score if he ran at Pike's Peak, but he is not on the entry list for the sold-out event at Road America. If he did enter at Pike's Peak, he would be a strong contender to win the class and it's a situation worth closer examination.
Pike's Peak is of particular interest for GTL competitors, as that field only has 27 cars registered at this point and the only competitor in GTL as of this morning is Joe Escobar's Pinto. Colorado may be a long drive for some, but right now it either offers the best odds for a GTL competitor who wants to get into the OPTIMA Ultimate Street Car Invitational (OUSCI) or the best chance of someone being able to tell a story about the time they drove all the way to Colorado to get smacked down by a '74 Pinto.

Back to the GTL points chase, Martin Pond has already indicated his '80 Mercury Zephyr will be running at Fontana, which should help him finish the season with at least 550 points. If Wind runs in California, he could easily another 100 points onto his current total of 472.8667. Fifth-place Danny Tinch could end up playing spoiler, as he has run in both double-points events and a third could easily push him North of 425 points. We'll get to the bump spot in another blog about the overall points chase, but right now we'll tell you Saroja Raman is on it at 323.95 points. If she were to run at Fontana, finished as she has at the other two double-points events and everything else stayed the same, that would put the bump spot at 384 points.

Even though we only showed the totals for the top-seven GTL competitors, it's worth noting that eighth-place Karl Dunn did run in the double-points event at Michigan, but struggled at NCM Raceway. Even though he probably can't contend for the GTL championship, a solid run at Pike's Peak and another consistent performance at Fontana could help him finish the season North of 500 points, which could move him up significantly from his 20th-place position and into one of the top-15 spots for an OUSCI invite. In fact, the math suggests ninth-place Juan Canales and 10th-place Rob MacGregor are also capable of finishing with more than 400 points on the season, if they choose to run again and repeat their earlier performances.

As we move outside the top-ten in GTL, we see the potential this class has to finish out the season strong, as well as several West Coast competitors, who are lurking in the weeds, but capable of rising up and knocking someone out of the OUSCI. Rich Willhoff is already registered for Fontana and has a 103-point performance in the bank from Las Vegas. If he were to duplicate that at either Pike's Peak and again at Fontana, he'd finish well above 400 points.

Alexandra Zust is another West Coast competitor, who is just behind Willhoff in the season points chase, but finished ahead of him in Las Vegas. She could take the same blueprint of a strong performance at one of the remaining single-point events and Fontana and also easily eclipse 400 points.In 14th place, we have Ryan Buck and his '63 Chevy Nova. Buck has only run at Charlotte, where he picked up 193.733 points. If he were to duplicate that performance at Auto Club Speedway, he'd be at 387.466 points. Add in a solid finish at Pike's Peak or Road America and he could pass point-leader, Douglas Wind. Imagine if the points chase in a class riddled with modern, lightweight Corvettes and all-wheel drive Mitsubishi Evos came down to a battle between a Dodge Neon and a '63 Chevy!

In 15th and 16th places are John Lazorack III and Kenneth Allan Mitchell. Both are West Coast-based and both have already scored more than 100 points in a single event. If either were to run at Pike's Peak and Fontana (and Mitchell is already registered for Fontana), both could end up with more than 400 points for the season. In fact, as we go down the list of GTL competitors, we count five more going back to Matthew Bacon in 21st place, who have all competed in a double-points event and could all end up with 390 or more points by the end of the season.

With so many people capable of scoring so many points late in the season just in the GTL class, it looks doubtful that anyone who falls short of 400 points on the season will have a chance to get one of the 15 points invitations to SEMA and the OUSCI. However, four class win entries (GT, GTS, GTL, GTV) from three remaining events (Pike's Peak, Road America, Auto Club Speedway) will likely open up a few spots, plus another six K&N Spirit of the Event invitees means there are still ample qualifying opportunities remaining in the final three events. We'll take a much more comprehensive look at the overall top-15 points chase, as well as the first five out in an upcoming blog, but we're going to look at the GT class first.

In the meantime, don't procrastinate like the folks on the wait list for Road America. If you want to run in one of the remaining qualifiers, sign up today!