OPTIMA's 2015 Search for the Ultimate Street Car Hits Mid-Season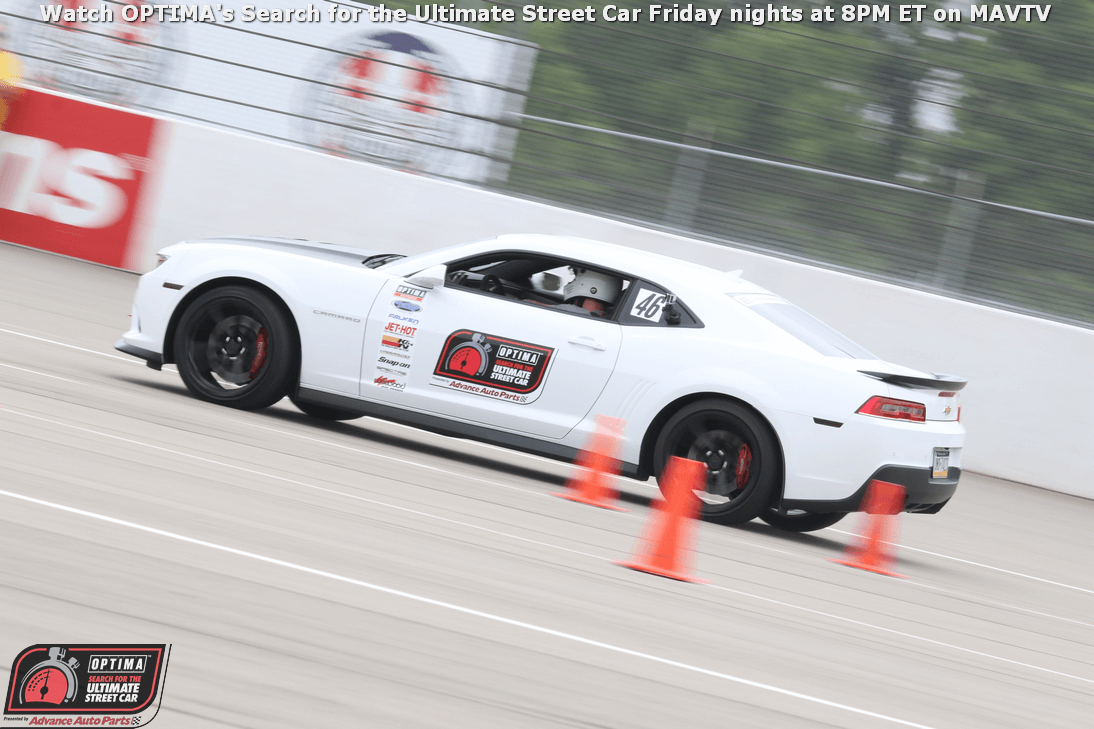 Ultimate Streetcar
Sponsor

OPTIMA Batteries

Location

Brooklyn, MI
The recent OPTIMA Search for the Ultimate Street Car event at Michigan International Speedway signaled the mid-way point in the 2015 season, but also saw some very interesting developments at the first of three double-points qualifying events of the year. Billy Utley qualified at MIS in his 1972 Chevrolet Nova, marking his return to the OPTIMA Ultimate Street Car Invitational, but the other four invitees are all OUSCI newcomers.

Brandon Ranvek's 2006 Mitsubishi Evo proved why it is considered one of the cars to beat at the 2015 OUSCI, by winning the GTL class by a substantial margin over RS Motors teammate, Tone Diaz's 2006 Mitsubishi Evo. However, because Ranvek previously-qualified, the rookie Diaz picked up the OUSCI invite in just his second event.
The GTS class saw a similar dominating performance from another rookie competitor, James McKamey in his 2000 Corvette. McKamey swept the three timed track segments and jumped into the overall GTS points lead in just his second event of the year. Punching his ticket to Vegas with the MIS win now positions Bradley Yonkers to receive the OUSCI invite from GTS season points, if he can maintain his lead over the competition.
While we saw dominant performances in the GTL GTS classes at Michigan, things were much tighter in the GT and GTV classes. OUSCI stalwart Kyle Tucker won two of the timed track events in GTV, but it was Billy Utley's 1972 that escaped with the victory in the GTV class, by winning the Detroit Speed Autocross and scoring significantly better in the Lingenfelter Design & Engineering Challenge. Utley edged out Tucker by less than two points in the event and even though Tucker has accumulated more than 336 points on the season, he still trails GTV regular season points leader, Larry Woo's 1968 Camaro.
In the GT class, we saw 2014 OUSCI Champion, Danny Popp, switch over from his Corvette to the Lingenfelter L28 Camaro and pick up the class win over fellow 2015 OUSCI competitor, Bryan Johnson. That positions those two competitors in the same top spots for season-long points in GT and since they both already have OUSCI invites for this year, third-place finisher, Jason Chinn's 2015 Chevrolet Camaro received the invitation. However, the big story in the GT class wasn't the Camaro sweep of the podium, but the finish of David Tyo's 2012 Ford Mustang in fourth place.

That finish didn't net Tyo an invite to the OUSCI, but because he was a first-time competitor, driving either a Ford Mustang or Dodge Challenger and because he beat Ken Thwaits' Camaro, Tyo won the $3000 bounty from the Showtime Motorsports team. Tyo did later receive an invitation to the 2015 OUSCI, when he was awarded the K&N Filters Spirit of the Event invitation. That makes Tyo's Ford just the second competitor from the Blue Oval camp to qualify for the 2015 OUSCI.
As Michigan was the first of three double-points events of the 2015 season, we did see some interesting strategies emerge from several competitors. A total of 73 vehicles signed up for the Michigan qualifier, including 33 competitors, who ran in their first event of the season. Two other competitors, Martin Pond and James Forbis both made changes to their vehicles that moved them into the GTL class.

Pond's Mercury Zephyr had previously-competed in the GTV class, which has had a total of 91 vehicles compete so far this season. By comparison, the GTL class has had only 59 entries and ten fewer than GTV in the Michigan event alone. Pond reasoned that the smaller class would make the opportunity for collecting more points greater, even though it would essentially start the car from scratch for season-long points in the GTL class. The strategy also affords Pond the option to move back to GTV as the season progresses, if it looks like his point total in that class might offer him a better opportunity to collect enough points to qualify for the OUSCI.
Pond's Zephyr currently has 162.9 points in GTV, which places him 15th in that class, while his double-point event total from Michigan gives him 176.5333 points in GTL, which places him 13th in that class. Pond is expected to run in the final two double-points events at Charlotte Motor Speedway and California Speedway, which he believes will give him the best possible chance of earning an OUSCI invite, based on season-long points.

James Forbis (pictured) made a similar class jump at Michigan, moving from GTS to GTL with his 2007 Chevrolet Corvette. That move leaves Forbis with 196.8 points from two events in GTS (6th in class) and 212.7333 points in GTL (7th in class). Without Pond and Forbis in GTL, the class had 11 entries in Bowling Green. With their move, the number climbed to 13 competitors, while GTS dropped to 11 and GTV dropped to 23 vehicles.

While the move to GTL for Forbis also gives him more options as the season rolls on, the GTL class is not necessarily an easier class in which to accumulate points, in spite of it's smaller number of competitors. As we saw at Michigan, when top competitors like Brandon Ranvek or Danny Popp elect to run in an event, they tend to finish near the top, consuming valuable points in their class, leaving far fewer for the other competitors. For example, Ranvek's win at Michigan came at the expense of eight points for Forbis and 12 points for Karl Dunn, as well as moving every other competitor further down the ladder.

However, if we compare Forbis' times to those of the top GTS competitors at Michigan, it looks like the end result for him was a push. On the Falken Tire Road Course Time Trial, Forbis was fast enough for the overall win in either class. However, his posted time in the Detroit Speed Autocross would've landed him fourth in the GTS class, compared to third in GTL, while the opposite was the case for him on the Wilwood Speed Stop.

That leads us to believe that in spite of the class-jumping by some competitors, the real potential for big shifts in points might come from competitors who have already qualified for the OUSCI and capture valuable class points at subsequent events. The GT class is a good example of this effect, but it is by no means unique to that class. Five of the top-ten competitors in GT points have run in subsequent events after qualifying, which has made points that much harder to come by for others in that class. The answer isn't as simple as just hoping once someone qualifies for the OUSCI, that they won't run in any future qualifying events, as there is still a lot at stake.

Qualifying events provide excellent practice opportunities for OUSCI competitors to dial in their rides. The events are also a lot of fun and there is a regular season points championship on the line. As the season progresses and more cars get into the OUSCI field, the points they accumulate in subsequent events will make it that much harder for others to earn their way in based on regular season points.

This can be a double-edged sword, as competitors who have accumulated larger totals in earlier events may hope OUSCI qualifiers do suck points out of the remaining events, to make it that much harder for the competition to catch them in the standings. Obviously, the folks on the other end of that equation hope that is not the case. It could also be interesting to see alliances emerge, where a competitor cuts or adds weight to move into different classes, making it potentially harder or easier for others to earn points in given classes at given events.

The final qualifying event may prove to be the most-intriguing of the year. As it is so close to the SEMA Show and OUSCI on the calendar, that many OUSCI qualifiers plan on running in the event as a final tune-up for Las Vegas, leaving their cars out West in between. Additionally, many of the West coast competitors, who have racked up significant points earlier in the season have already registered for that final qualifying event, allowing them to swoop in and snag an OUSCI invite from East coast competitors, who hope their position in the standings holds up through the final qualifying event of the year.

The GTL class alone suggests this would be a very dangerous strategy for East Coast competitors. Kenneth Allan Mitchell, John Lazorack III, Alexandra Zust and Rich Wilhoff all have at least 186 points on the season and have the potential to add as much as 200 more points at Fontana. Additionally, Martin Pond, Chandler Premo and Dannie Pinard plan on running all three double point events in the hope of securing an OUSCI invite based on season-long points. We haven't even mentioned the long list of big names who haven't qualified for the OUSCI yet and won't miss making the field without a fight.

Kyle Tucker, Bret Voelkel, Larry Woo, Chris Porter, James Shipka, Cris Gonzalez, the Farrington Family, Brad Yonkers, Randy Johnson, Rick Hoback, Steve Kepler, Doug Wind, Karl Dunn and Cliff Elliott have not yet punched their ticket for Vegas and if any of them go down, they'll go down swinging. There are only 15 qualifying spots available based on season-long points and in case you weren't counting, we've already named more than 20 competitors who would surprise no one by capturing one of those spots. If that wasn't intimidating enough, we also didn't mention two past champions, Mark Stielow and Brian Hobaugh, who also have not yet qualified for the OUSCI, but are very capable of doing so.
As impressive as that list is, hope of getting into the OUSCI is far from lost for anyone else we didn't call out specifically. Four qualifying events remain in the 2015 season and 16 OUSCI invitations are up for grabs in four classes. Someone will win those entries, even if they don't win their class at a given event. KN Filters will also be awarding Spirit of the Event invitations at each of the remaining four qualifiers, including one in each class at Road America, for a total of seven additional entries.

That's a total of 38 entries waiting to be had for the winner-take-all OPTIMA Ultimate Street Car Invitational, but procrastination should be avoided at all costs. The next qualifying event may be over a month away, but three qualifiers will then come and go in just over a month's time and much will change in that stretch. Get your plan together now and sign up for the events you need to qualify for the OUSCI at www.driveoptima.com while space remains!