OPTIMA's 2016 Search for the Ultimate Street Car- The Final 15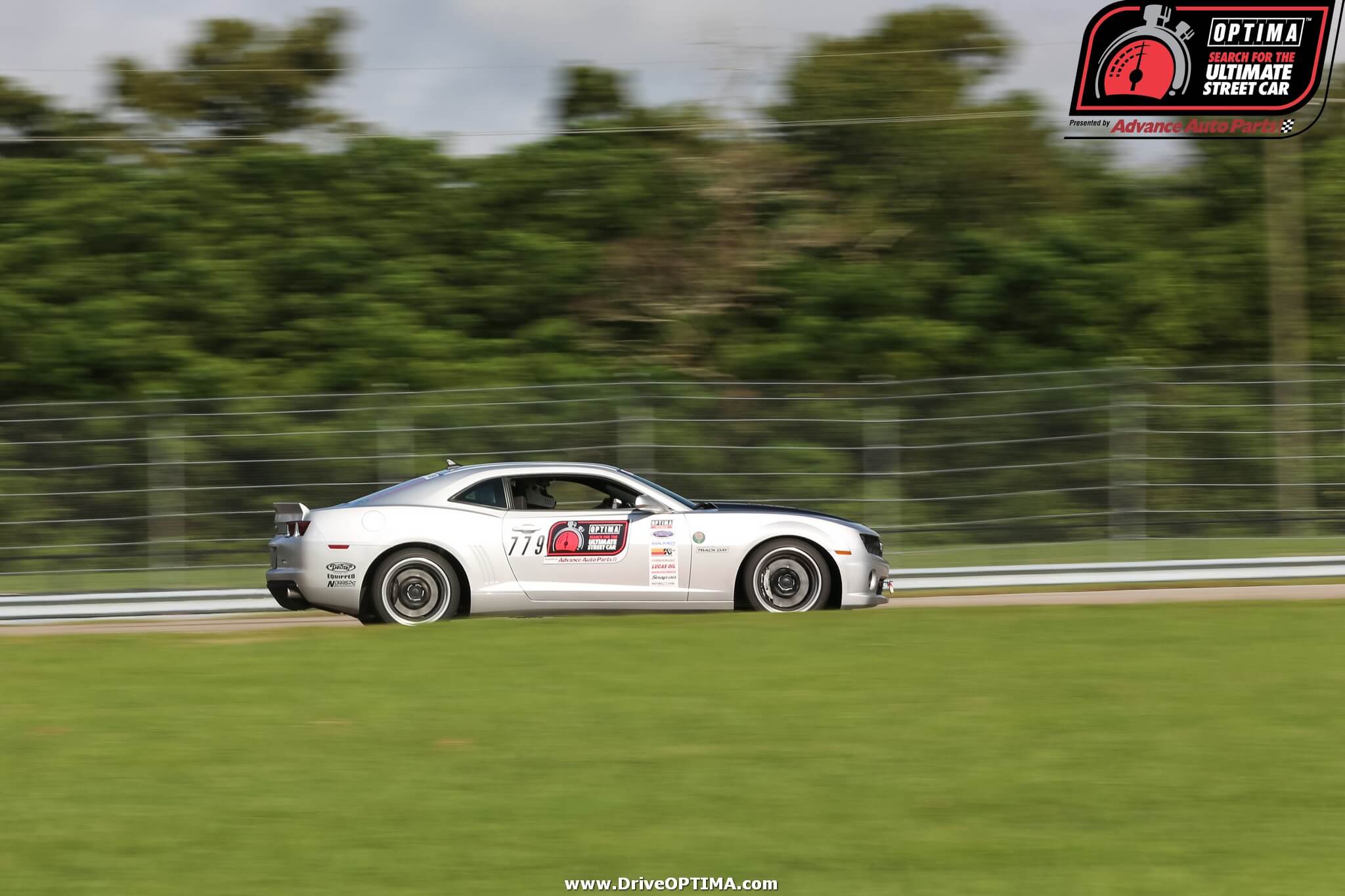 Sponsor

Location
OPTIMA's 2016 Search for the Ultimate Street Car, presented by Advance Auto Parts, comes to a close on October 8th and 9th at Auto Club Speedway in Fontana, California. Five more invitations to the OPTIMA Ultimate Street Car Invitational (OUSCI) presented by K&N Filters, will be handed out there, regular season championships will be determined and the final 15 invitations to the SEMA Show and OUSCI will be decided.

Those final 15 invitations are based on the point totals competitors accumulate throughout the ten OUSCI qualifying events, although only the totals from a competitor's best three events count toward their season-long totals. That means a competitor could run in all ten events, but their points will only be based on their best three finishes. As we've watched the last few events unfold, we've witnessed a lot of upheaval in the standings and we expect even more at Fontana. This final qualifying event will also be the third event many West Coast competitors will run, which means several competitors could see significant jumps in the standings. At the same time, that movement could mean several other competitors could fall significantly in the standings.

We will try to be as conservative as we can in our estimates and remind everyone that these are only estimates of how things could unfold, based on how competitors performed earlier in the year. We do want to share this information, as we want competitors heading into the final event to have a good understanding of how many points they may need to accumulate, in order to have the best chance possible of being invited to the OUSCI. For the sake of this modeling, we will presume none of the cars on the current Final 15 list will win a class or Spectre Performance Spirit of the Event invitation at the Fontana event, although that could happen. If it does happen, for each competitor that earns such an invitation (up to five), everyone else on the Final 15 and first-five out lists would move up one position. However, we only saw one such competitor win their way in at NOLA Motorsports Park (Robert DeuPree) and there are several strong first-time competitors, who could continue such a trend at Fontana.

With that in mind, we'll begin by looking at the projected First Four in list. Of the Final 15 entries into the OUSCI, the top non-qualifier in each of the four classes would earn an invitation, based on their season-long point totals.

Projected First Four


| | | | | | | |
| --- | --- | --- | --- | --- | --- | --- |
| | Driver | Vehicle | Class | Current | Potential | Change |
| 1 | Carrie Willhoff | 2015 Corvettte | GTS | 895 | 1343 | Unranked |
| 2 | Andrew Nier | 2011 Mustang | GT | 831 | 1247 | Unranked |
| 3 | Chad Ryker | 1968 Camaro | GTV | 1239 | 1262 | No Change |
| 4 | Ryan Johnson | 2006 Lotus | GTL | 884 | 1326 | Unranked |














Right away, we see three competitors in Carrie Willhoff, Andrew Nier and Ryan Johnson, who will all be running their third event of the season, which could catapult them all the way to the top of the entry list in the Final 15. Any competitor or all could also win their class invitation at Auto Club Speedway, which would move everyone else on the list up accordingly, but again, we're projecting a scenario where that doesn't happen.

In this scenario, Danny King and Chris Porter, who held the positions in the GTS and GTL classes respectively, would both drop down and outside of the First Four. We should also note that Darren Reed is registered for Fontana, but indicated he did not plan on attending. If Reed did compete, we project that he could pass Nier and move into the First Four spot for the GT class.

The Next Six


| | | | | | | |
| --- | --- | --- | --- | --- | --- | --- |
| 5 | Danny King | 2011 Porsche | GTS | 1319 | 1319 | -1 |
| 6 | Toby Thompson | 2010 Corvette | GTS | 1317 | 1317 | -1 |
| 7 | Chris Neal | 2014 Corvette | GTS | 1276 | 1276 | -1 |
| 8 | Todd Earsley | 2016 Focus RS | GTS | 1235 | 1249 | -1 |
| 9 | Greg Thurmond | 1965 Corvette | GTL | 1223 | 1247 | Unranked |
| 10 | Kevin Schultz | 2008 S2000 | GTL | 827 | 1241 | Unranked |

The remaining 11 cars in the Final 15 are invited based on their season-long point totals, regardless of the class in which they compete. In this group of the next six cars, we see that even though Danny King dropped out of the First Four, he is still comfortably projected to be in the OUSCI field. The same is true for Toby Thompson and Chris Neal and none of those three are scheduled to run at Fontana.

Todd Earsley is scheduled to run at Fontana and this is where things really begin to tighten up in the field. Earsley currently has 1235 points and we project he could add 14 more to that total. The actual outcome could be more or less than 14 points, but as we see Andrew Nier, Greg Thurmond and Kevin Schultz move into the top-ten with Fontana being their third event of the season, we see the how much things are starting to get shaken up in the standings. Within just the first ten listed, we already see the potential for five competitors to move into those spots, who weren't even in the top-20 coming into Fontana.

The Last Five In


| | | | | | | |
| --- | --- | --- | --- | --- | --- | --- |
| 11 | Chris Porter | 1986 Porsche | GTL | 1239 | 1239 | -7 |
| 12 | Randy Johnson | 2002 Corvette | GTS | 1233 | 1233 | -4 |
| 13 | Scot Spiewak | 2003 Corvette | GTL | 1225 | 1232 | -2 |
| 14 | Efrain Diaz | 1969 Camaro | GTV | 1203 | 1229 | -2 |
| 15 | Casey Woodside | 2010 Camaro | GT | 1229 | 1229 | -5 |
| | | | | | | |

This is where things really start to get nerve-wracking for competitors. Chris Porter, Randy Johnson and Casey Woodside are all well East of the Rocky Mountains and are not scheduled to compete at Fontana. That means their fate as it relates to entry into the OUSCI rests in the hands of their fellow competitors.

Scot Spiewak and Efrain Diaz are also scheduled to run at Fontana and both could improve their points position in doing so. In Efrain's case, he will almost certainly need to add points to make the Final 15, but even at our projection of Efrain adding 26 more points, he still ends up tied with Casey Woodside for the final invitation to the OUSCI. The Lingenfelter Design & Engineering Challenge is the first tie-breaker in the series, so we would look at the raw D&E scores of each competitor at the most-recent event that they both competed in. That allows us to use the same set of judges to compare the vehicles in their most-recent form.

In the case of two tied competitors, who did not compete in the same event this season, we would look at each competitor's most-recent raw D&E score. Looking at the raw score allows us to account for the fact that a 22-point raw score at one event may have been good enough for 10th place at a smaller/less competitive event, but only 15th place at a larger/more competitive event. Ideally, we'd like to evaluate the D&E score as much as we can, based on the car and not the quality of the field in which it was judged. In this specific example, both Efrain and Casey competed at NOLA Motorsports Park, where Efrain's Camaro had a higher score in D&E, which would give him the final invitation to the OUSCI.

The First Five Out


| | | | | | | |
| --- | --- | --- | --- | --- | --- | --- |
| 16 | Darren Reed | 2014 Camaro | GT | 1227 | 1227 | -6 |
| 17 | Christine Thompson | 2015 Corvette | GTS | 1196 | 1196 | -3 |
| 18 | Matt Alcala | 2006 Mustang | GT | 1186 | 1195 | -3 |
| 19 | Mills Robinson | 1967 Camaro | GTV | 1179 | 1179 | -3 |
| 20 | Jane Thurmond | 1964 Corvette | GTV | 786 | 1179 | Unranked |

Just as we had a projected tie in the Last Five In, we also have a projected tie in the first five out. As we also mentioned before, Darren Reed is registered for Fontana, but not planning on running, which could leave him on the outside looking in when everything gets sorted out. However, there is only a projected two-point difference between Reed in the 16th position and Woodside and Diaz in the 15th position, although Woodside already has two more points than Reed and Diaz's total is only projected. Scot Spiewak is currently two points down on Reed, but is registered for Fontana and could move past Reed at that event and into the OUSCI field.

Matt Alcala's Mustang could end up being a real wild card in this field, as his projected total of 1195 points is based on the performance of his Mustang as it ran at events earlier this season. Alcala is registered for Fontana in his Camaro, but he has told us that car won't be ready and he will likely bring his Mustang, which scored 400 points at each of it's two prior events. Alcala's average score this season in three events is 395 points, which is how we arrived at his projected score of 1195 points (395 points + 400 + 400). However, Alcala's Mustang which is known to have a very weathered and faded paint job, is in the paint booth now and will arrive at Fontana with a new paint job.

Will that upgrade be enough to allow Alcala to score more points in D&E at Fontana and move into the Final 15? If his average score with his old paint job was 395 points and he needs 1230 points to pass Diaz and Woodside, he'd only need a score of 430 points at Fontana to catch and pass both competitors, which could be well within range for him. Because these are only projections, he'd probably want more of a cushion in points. That places as many as eight competitors potentially finishing the season with point totals between 1227 and 1241 points and at least two of them could be left on the outside of the OUSCI field when everything is decided.

As we mentioned before, these projections presume no one currently on the Final 15 list will win their way into the OUSCI at Fontana. Before folks start making predictions on how many, if any of those competitors will win their way in, we'd like to share four reasons why that might not happen at all.

GTV

Jim Stehlin's '73 Camaro qualified for the 2016 OUSCI at NCM Motorsports Park in the GTV class with a score of 387 points. Keith Smith's '71 Camaro has already posted a score of 396 points at Thunderhill and Todd Lilly's '66 GTO wasn't far behind that mark at 382 points at Thunderhill. That is the only event either ran all season long, but one or the other could potentially win their way in at Fontana.

Aaron Thrash's '75 Trans Am is also registered for GTV class, although this will be his rookie appearance in the series. He is tentatively listed in the expert run group, which could suggest he has the speed in timed events to also contend for a class win. Additionally, OUSCI veterans, Cris Gonzalez, Marry Pozzi and Mike Hamrick are all registered in the Intermediate run group and could make the GTV class very interesting!

GT

Camaros have dominated the entry list in the GT class at events this season, but two Mustangs on the entry list could challenge for the class win at Fontana. As we saw in GTV, Scott Anthony's Fox body Mustang is currently in the expert run group, which generally means he knows how to wheel a car and could be in contention for a class win. Additionally, Brett Madsen's Mustang is also listed in registration. When 5.0 Mustangs & Super Fords profiled his '99 Mustang, the car was missing some interior components that would prove costly in D&E. However, if Madsen has moved his Mustang closer to street car and further away from weekend race car, the 2016 SCCA National Champion could contend for a class win.

GTS & GTL

Things get even more interesting when we delve into the GTS and GTL classes for Fontana. We include them together, because of one car in particular, Scott Fraser's 2014 Porsche GT3. The GT3 is the car most-often cited as the "game over" car in OPTIMA's Search for the Ultimate Street Car. We've had a few compete in the past with mixed results and Curt Trawick's 2016 GT3 RS has already qualified for the 2016 OUSCI. However, this is the car many cite as the one with the most potential to clean everyone's clocks at least on the track, with the right driver.

If that is true, then Scott Fraser might be the right driver for that car. Fraser owns three SCCA National Championships, two more in the provisional Cam-S Class and four Pro Solo National Championships. He was also named SCCA Driver of the Year in 2012. The GT3 is close enough to 3200 pounds, that Fraser could potentially move into the GTL class, although he is currently signed up for GTS. Either way, if he can get up to speed quickly with his presentation in the Lingenfelter Design & Engineering Challenge (and he's been doing his homework in that regard), he could not only win his class at Fontana, but could run the table in Vegas come November.

Depending on where Fraser ends up, Austin Barnes' 2012 Evo in GTS and Bong Soliman's 2008 S2000 in GTL could also contend for class wins and OUSCI invitations. If that happens and class invites and the Spectre Performance Spirit of the Event award go to competitors outside the Final 15, that could result in a major shake-up in the final OUSCI qualifying event of the season. If you're in Southern California, be sure to get to Auto Club Speedway on October 8th and 9th and if you're not, be sure to tune into the OPTIMA Batteries Periscope account to get live updates throughout the weekend.