OPTIMA's 2016 Search for the Ultimate Street Car Preview- Thunderhill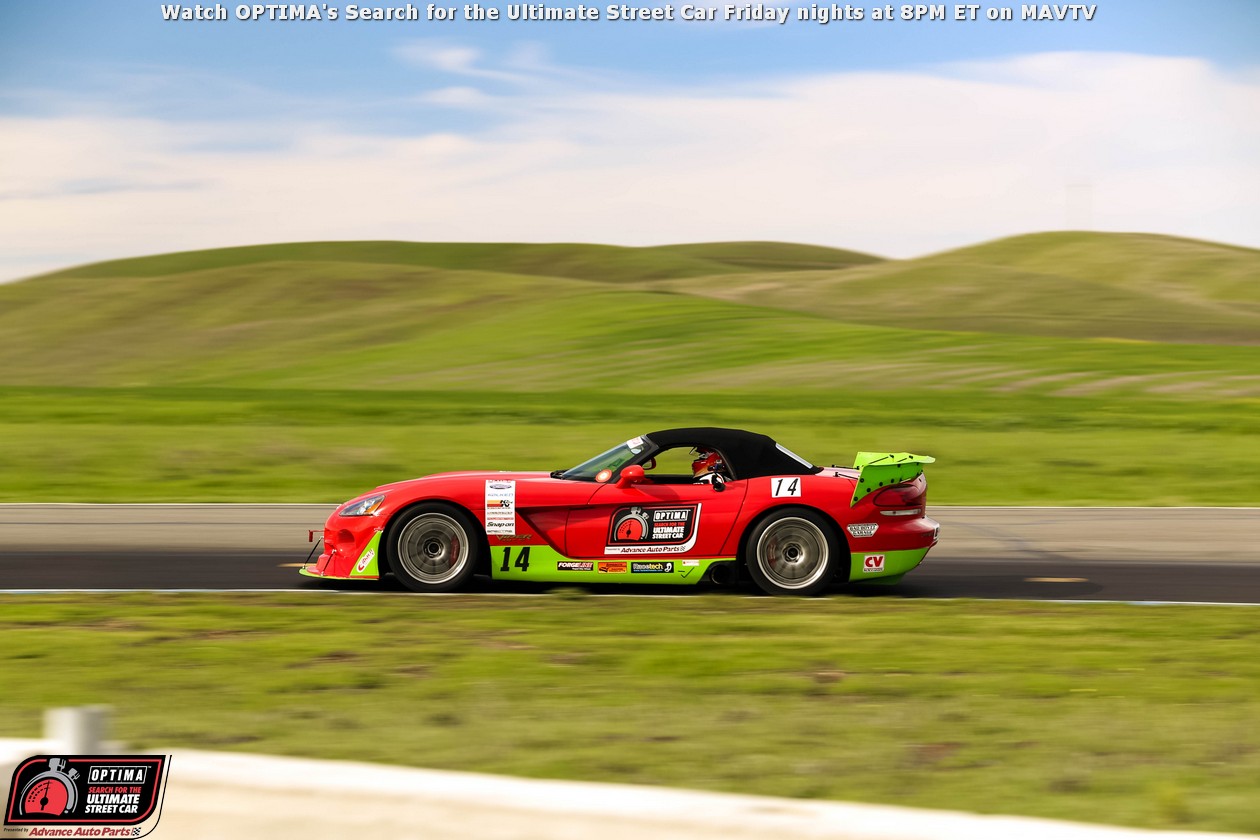 Ultimate Streetcar
Sponsor

OPTIMA Batteries

Location

Willows, CA
OPTIMA's 2016 Search for the Ultimate Street Car, presented by Advance Auto Parts, begins February 27th at Thunderhill Raceway in Willows, California. With less than a month before the first event, we're taking a look at the field signed up so far and identifying some of the key opportunities that could be had for those looking to make it to the 2016 OPTIMA Ultimate Street Car Invitational (OUSCI) and the SEMA Show in Las Vegas, as well as those looking to capture a national series points championship.

As of February 1st, the field is currently at 61 entries, which has already eclipsed the 57 vehicles that finished the event in 2015 and space for 14 more entries remain, which could easily be snapped up in the remaining weeks. However, as we look at the field today, we'll share some key information that could be a deciding factor for folks sitting on the fence and deciding whether they'll enter this event.

Three metrics we'll be using throughout the year are Expert Ratio, Intermediate Ratio and Novice Ratio. These ratios illustrate the percentage of entries for the event that are signed up in each run group. This is significant in 2016, because points are distributed across all classes, before determining class winners (see the full rundown on the 2016 points system here and listen to a very informative podcast on the subject here).

The Expert Ratio for Thunderhill currently sits at 31%. That means less than a third of the field currently registered for this event has indicated they'd like to be placed in the Expert run group. Experts tend to be the most-experienced competitors and often place near the top of the field. With three different run groups (Expert, Intermediate Novice), one might expect the run group distribution to be relatively-equal across the three groups, but past events have showed us that is not always the case. As competitors eye up the opportunity to earn an invite to the 2016 OUSCI at this event, they'll note the expert ratio actually drops below 30% if defending champion, Danny Popp is excluded (he automatically receives an invite to defend his title).

Points accumulation is also an important consideration for competitors in the series and identifying the Intermediate Ratio can help predict how challenging it will be for mid-pack competitors to earn points at a given event. Unlike the Expert Run Group, the Intermediate Run Group signed up right now totals 27 entries for a ratio of 44%. Clearly the largest percentage of the field sits in the Intermediate Run Group, which means there are a lot of points up for grabs and a lot of folks who have the opportunity to capture them. If past competitors look at the field and know how they've stacked up in the past against some of these cars, they'll have a good idea of their chances to snag a lot of points in Thunderhill.

As the first two run groups have already indicated, the Novice Ratio is only 18% as of February 1st. This series focuses on a safe and fun experience for everyone, so we're always excited to see new faces, many of whom will run in the Novice Run Group. Some of these competitors often only run as one-day competitors, meaning they may not all be on the Falken Tire Road Course Time Trial on Sunday. If that is the case, an even smaller Novice Run Group could offer a great opportunity for those who do run the road course to lay down some very fast lap times relative to other run groups. Typically, Novice drivers are not allowed to pass anywhere on the road course, but with a smaller group and plenty of room on the track, these drivers could have plenty of space to post a quick time, with minimal concerns about catching slower traffic.
As we look at class entries, the GTV Class is the largest of the four classes at Thunderhill, with 24 entries to date. The field is also stacked with plenty of heavy-hitters, including OUSCI regulars, Mike Maier, Jake Rozelle and Larry Woo. The changes in Design Engineering points could not only shake things up at the top, but throughout the field, as newcomers like Sean Fogli bring in some impressive rides that hold the potential to capture valuable D&E points.
Where there are a lot of known entries that seem to be occupying the GTV class at Thunderhill, the GTS class leans toward being one of mystery. There are currently 14 entries here, with quite a few new names on the list. New to this series doesn't necessarily mean track newbie though. Lynn Proctor is signed up in a Viper that topped a field of 52 SCCA competitors by nearly two seconds at a recent Snake River Region SCCA event. Corvettes and Nissan GT-Rs dominate the entry list. We'll see if they are able to dominate the podium as well.

Corvettes also dominate the entry list for the GTL Class, but with Danny Popp having already secured his invite to the 2016 OUSCI, the class appears to be wide-open for other contenders. Corvette entries of Rich Willhoff, Duke Langley and Karl Dunn all have prior OUSCI experience, but they may not be the only ones in contention for a podium finish. The lone all-wheel drive entry at this point is a Subaru entered by Leon Vinokurov, an engineer at WORKS Motorsports. Could he be a darkhorse contender for an OUSCI invite or could it come from someone else, like rookie, Ryan Johnson, whose Lotus topped a field of more than 70 competitors at a recent Las Vegas SCCA event? Could Ken Thwaits see a qualifying opportunity in GTL for his Mitsubishi Evo and jump over from the GT class?

The GT Class may provide the biggest qualifying opportunity of any of the four classes at this event. There are currently only nine GT cars signed up for Thunderhill, which makes it the smallest of the four classes. Additionally, just three of those cars have been assigned to the Expert Run Group. Two of those comptitors, Ken Thwaits and Jordan Priestley, tend to be top class contenders at every event they enter, while the third, Chris Darquea is making his rookie appearance in a 2006 Ford Mustang.
Even if Darquea has extensive driving experience, the diversity of Search for the Ultimate Street Car series driving segments makes it a challenge for even SCCA National Champions to be competitive right out of the box. There are plenty of great road course drivers, who don't do nearly as well on the autocross and vice versa. There's an even larger group of competitors who may do well at either or both of those segments, but have no prior experience in running a Speed Stop. That makes it extremely difficult for first-timers to win their class at these events.

While that might make Thwaits or Priestley the likely favorites for GT, there are variables with both drivers that could impact that result as well. Thwaits is well-known to have a stable of vehicles at his disposal and while his 2014 Z/28 is the car he registered for Thunderhill, it is essentially a place-holder, that could be substituted for one of his other vehicles. Ken tells us if the weather forecast looks suspect for the weekend, he is likely to switch over to his Mitsubishi Evo, which would move him out of the GT class and into the GTL class.

Likewise , Jordan Priestley recently-acquired a sixth generation Camaro, which he is planning to bring to Thunderhill. If he decides to run the sixth gen, he may no longer be considered a favorite in the GT class, as he would with his fifth gen, which is a known quantity that has several events under it's belt. Those three wildcard factors could leave the GT class wide-open for someone to snatch up an OUSCI invitation.

We'll find out how it all shakes out in a few weeks. If you haven't signed up yet for the first OUSCI qualifier of the year, you can do it now at www.driveoptima.com. If you'd like to watch past TV coverage of the series, the OPTIMA Network has it all and it's a free download on Amazon Fire TV.