OPTIMA's 2017 Search for the Ultimate Street Car- GTS Preview for Road America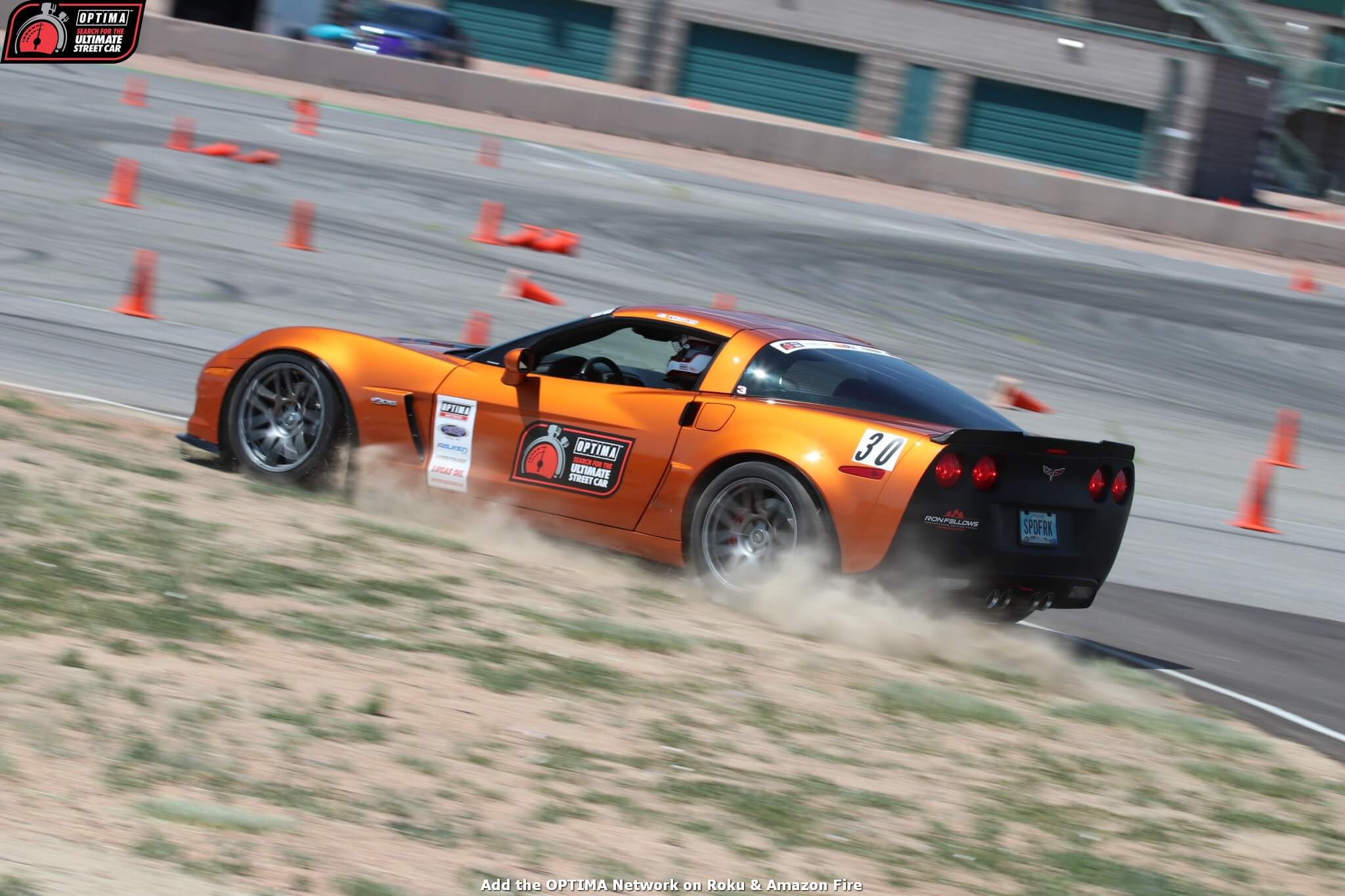 Ultimate Streetcar
Sponsor

OPTIMA Batteries

Location

Elkhart Lake, WI
Just one qualifying event remains in OPTIMA's 2017 Search for the Ultimate Street Car Series. Once that concludes, all the qualifiers will head to Las Vegas for the SEMA Show and the 2017 OPTIMA Ultimate Street Car Invitational (OUSCI). Before we can do that, we need to find out who the final invitees will be, as well as who the regular season champions will be in all the classes running in the series. One of the classes that is far from decided is the RECARO GTS Class for two-seat coupes and all-wheel drive cars built after 1989, that weigh at least 3,200 pounds.

The difference between Jeremy Swenson's 2011 ZR1 and Jake Rozelle's 2003 ZO6 was just six points after the first four events. In their only head-to-head competition, Rozelle edged out Swenson by a single point at Pike's Peak International Raceway and set the tone for a tight battle that would go all the way to the very end. Swenson made the trek all the way to New Jersey Motorsports Park, where he posted his best score of the season (487 points), which opened up a lead over Rozelle, who took to the track the following weekend at Auto Club Speedway to close the gap. If Rozelle posted 482 points, he'd re-take the lead from Swenson, but he ended up with 484 points, giving him a scant, three-point lead heading into the final regular season event at Road America.

The two competitors will once again square off at Road America, but the outcome won't simply be a matter of who scores the most points or whether Swenson can out-score Rozelle by four points. Only the top-three performances of the season count toward a competitor's season-long point totals, so math needs to be done at both ends of the spectrum. For example, Jake Rozelle currently has 1,418 points heading into Road America. If he scores 459 points at Road America, his score won't change, because 459 points is his third-best point total of the season. However, if he scores 485 points at Road America, his total for the season will jump up to 1,444 points (475+484+485). With that in mind, we'll take a look at how many points a RECARO GTS competitor would need to score at Road America, if 1,420 points was enough to win the regular season class championship.

Austin Barnes 453 points
Jake Rozelle 461 points
Jeremy Swenson 463 points
Jordan Priestley 495 points

So it's clear four RECARO GTS competitors have a mathematical shot at winning the class championship at the final event, although it would take a near-perfect performance by Jordan Priestley and struggles in the rest of the top contenders in the class for him to remain in contention. Competitors can't score more than 500 points at a single event, so if it takes 1,426 points to win the championship, Priestley wouldn't be in the mix. So how does Austin Barnes' Dodge Viper, which currently only has 967 points, suddenly become the favorite to win the class?

Barnes has only run in two events so far this season, which places him 11th in points. However, with the successful completion of his third event at Road America, he'll be able to add those points to his season-long points total. So far, his best two finishes have covered Jake Rozelle's best two finishes by eight points and Swenson by 10 points. That means if Rozelle wants to hold onto the lead and win the class championship, he'll need to beat Barnes by at least nine points AND beat Swenson by at least three points. If Swenson wants to win, he'll need to beat Barnes by 11 points AND Rozelle by three points. Barnes doesn't need to beat either one at Road America, but he needs to finish close enough to both of them, to keep them from capturing the title.

The points championship is far from the only battle going down at Road America in the RECARO GTS Class. Each class in OPTIMA's Search for the Ultimate Street Car will receive three invitations for competitors who have the highest point totals during the regular season, but did not already receive an invitation. We are projecting those invitations will go to one of four competitors- Lynn Proctor's Viper (who will not be at Road America), Eric Fleming's Corvette, Priestley or Brandon Williams' GT-R. Even if one of those four doesn't end up with one of the class invitations, they will likely finish near the top of the list for ten invitations handed out to non-qualifiers with the highest point totals in the series, regardless of class.

Those at-large invitations bring us to what could shape up to a third battle within the battle at Road America. The defending class champion, Steve Kepler, has yet to run an event in 2017 in his 2013 Nissan GT-R. However, he has to be considered a favorite to win the class at Road America, which would punch his ticket to the OUSCI. If that were to happen, it would push everyone looking for an invitation based on point totals back one position. That could mean the third class qualifier could fall into one of the ten at-large invitations, pushing out someone at the bottom of that list.

However, the OUSCI invite may not go to the class winner at Road America and that could move everyone on the points list up by a position. If someone like Brandon Williams or Michael Rovere finishes fourth behind Swenson, Barnes & Rozelle (all of whom have OUSCI invitations already), everyone below them on the list could move up one position. There are other competitors, like Toby Thompson, Randy Johnson & Tyrone Walker, who are capable of strong finishes, but need to earn their invitation at Road America, because they won't have enough points to make it to Vegas after Road America.

As nice as it might be to be able to predict all the variables that could happen at Road America, the series by it's very nature is unpredictable. There are several rookies signed up for Road America, who could surprise everyone and either win the RECARO GTS Class or grab the invitation. Could a first-timer, like Martin Fedko's Viper, rise to the challenge and grab an invitation to Las Vegas? We'll find out in just a few weeks. If you'd like to get more familiar with many of the folks mentioned in this preview, add the OPTIMA Network on Roku, where you can watch past episodes of our TV series free and on-demand.