OPTIMA's Search for the Ultimate Street Car 2015 Post-Bowling Green Points Race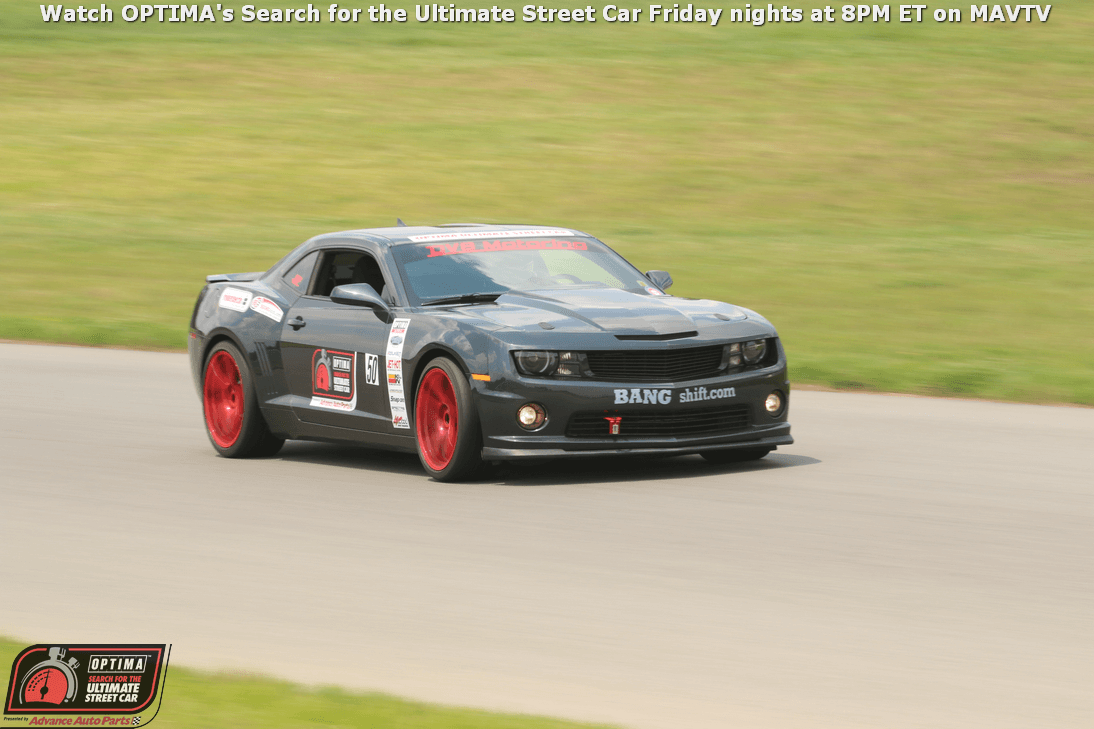 Ultimate Streetcar
Sponsor

Advance Auto Parts

Location

Bowling Green, KY
Four events have now been run in OPTIMA's 2015 Search for the Ultimate Street Car, presented by Advance Auto Parts and there is still much to be decided. The field already has 21 competitors, who have won their way in or received a coveted K&N Filters Spirit of the Event invitation and it is already shaping up to be very competitive, with seven of those qualifiers coming from the Camaro camp alone. Corvettes account for three entries, but after Brandon Douglas' C10 and Mike Gallagher's Cadillac CTS-V, the field takes a hard left toward the Far East.

Four Mitsubishi Evos have entered the mix, along with another all-wheel drive entry from the Subaru camp in Thomas Smith's 2005 Subaru STi. David Carroll's '75 Datsun 280Z rounds out the contingent from that corner of the globe. On the European side, we have 2014 competitor, Monty Pack, returning in his 2011 Porsche GT3 RS and newcomer, Clay Shearer, qualifying in his 2015 Porsche 911. Incredibly, Mike Maier's '66 Mustang is the lone qualifier from the Blue Oval camp and no one from the land of Mopar has found a way in yet, although several have tried. That also means Ken Thwaits' $3000 bounty for first-time Mustang or Challenger owners, who can beat him and win the GT class has also gone unclaimed. With the next qualifying event in Detroit's backyard, one would think there might be a stronger showing from the Ford Mopar camps.

Turning our attention to the points chase, we see Mike Maier holding the narrowest of leads (less than a point) over Jake Rozelle in the GTV class. Both of those competitors have already qualified, meaning third-place Larry Woo's 1968 Camaro (203.5333 points) is poised to add to the F-body competitors in the 2015 OUSCI field, if he can hold onto his lead. Woo is on pace to accumulate over 300 points on the season if he enters a third event and could eclipse 400 points if he runs a double point event.
In the GTS class, James Forbis' '07 Corvette holds another narrow lead (just over three points) over second place Dustin Rogers' Mitsubishi Evo. Neither of those drivers has qualified yet for the field, nor has third-place GTS competitor, Spaz Miller's Mitsubishi Evo.

In the GTL class, 2014 OUSCI competitor, Ronnie Soliman has already eclipsed the 300-point mark, running in three of the first four events. No one else in GTL has run more than two events, so defending 2014 OUSCI Champion, Danny Popp's '03 Corvette sits in second place. Rich Wilhoff's '06 Corvette is in third place at just under 200 points after two events and is in position to take the class invite, if he can hold onto that spot. He is also registered for the final qualifier at Auto Club Speedway, which is a double points event.
If any class exemplifies how tough the competition has gotten in just one year, it's the GT class. It wasn't just Ken Thwaits putting his money where his mouth is, challenging new Mustang and Challenger owners to beat him and win the class (and none have to date). Nowhere has the competition been fiercer than the GT class, where 91 competitors have chased points through the first four events. Dannie Pinard has competed (and done well) in all four, yet his best three events have only accumulated him a total of 255.1667 points. In fact, 11 competitors have run at least two events in the GT class, but only five have managed to score at least 200 points.

As we've said before, we don't see how anyone will be able to qualify for the OUSCI based on points if they don't have at least 300 by the end of the season. Using Dannie Pinard's totals as an example, if we doubled his lowest point event (77.5667) and added in his next two lowest point totals, we'd already be at 321.6671 points. With competitors like Martin Pond already planning to run all three double point events, it seems likely that the class regular season point champions and the next 11 overall based on points will have totals well north of 300. Considering the average second place finish in GT through four events scored 110.79 points, that would suggest competitors might need north of 330 points to make the OUSCI field.
That's not to say making into the OUSCI field will be near-impossible, as in some cases it might get easier. Ryan Mathews won the GT class at NCM Motorsports Park, but because he already qualified at Texas Motor Speedway, second-place Bryan Johnson was given the invite. The same was true in the GTL class at NCM, which defending OUSCI Champion, Danny Popp, won, allowing second-place Andy Smedegard into the field. If more OUSCI-qualified drivers compete and do well in upcoming events and the fields grow in size, the points available will shrink, meaning the number needed to get an event invite will shrink as well. KN Filters also awards a Spirit of the Event invitation at each of the OPTIMA Search for the Ultimate Street Car Series events, which has no bearing on point totals, allowing everyone to have a shot at making it into the big show. In addition, the Road America qualifying event will have four Spirit of the Event invites available (one for each class).

With that in mind, we'll lay out the case for why you should sign up for any of the remaining five qualifying events:

Michigan International Speedway (June 20-21)- It is the first double points event of the year and as of Tuesday morning, only had 56 entries. Even if ten more signed up by Saturday morning, it would still be about ten less than the field at NCM Motorsports Park. That means more points are available, even if someone doesn't pick up a class entry at that specific event. The double points will create a major shake-up in the point standings and will be a wake-up call for many, who previously-thought they were in a good position to qualify for the OUSCI.

Charlotte Motor Speedway (July 25-26)- This is another double points event and with the geographic limitation of the Atlantic Ocean and it's placement in the schedule, this event may also have a slightly smaller field, offering the potential for more points to be scored. With two double points events in the books after this event, this will be the bucket of ice water that follows the ignored snooze button for competitors sleeping on early season point totals. Expect the fields to get bigger as a result for the final three events.

Pike's Peak International Raceway (August 8-9)- The good news is Pike's Peak is kind of in the middle of the country, so it doesn't require a cross-country trek for anyone to compete. The bad news is that it's still about 1,000 miles or more away from many population centers, like Los Angeles, Houston and Chicago. It's likely going to be a haul for most of the competitors who make it out there, but the payoff could be huge. While not a double-points event, if the field doesn't fill up, it could offer the potential for the most points available in a single points event on the schedule. A smaller field would also offer better odds on getting an invite at the event or scoring valuable points toward season-long totals. Upcoming qualifiers at Road America and Fontana will also help discourage some from making the journey to Colorado, in favor of one of the closer remaining qualifiers. This event could be the sleeper opportunity of the season!

Road America (August 29-30)- While not a double points event, it is Road America and always one of the favorite tracks on the schedule and a bucket list track for motorsports enthusiasts around the world. Given it's long history of large fields, this event is likely to sell out, but it will also offer eight opportunities to get into the OUSCI, including four KN Filters Spirit of the Event invitations.
Auto Club Speedway (October 10-11)- This is the last qualifying event and also a double-points event. That means anyone who wants in to the 2015 SEMA Show and the OUSCI and hasn't already locked in a spot will be here. Last year, we saw several West Coast competitors watch helplessly as the last qualifying event went down at Pittsburgh International Race Complex, hoping they had accumulated enough points to hang on to an invite. In 2015, the shoe is on the other foot, as the final qualifying event is on the West Coast and it's a double points event.

Let's take the emotion out of this event early and look at qualifying on points strictly from a numbers standpoint. Through the first four events, an average of 10 cars from each class scored 100 points or more at each event. As a double points event, it would seem plausible that ten cars could score 200 points or more at Auto Club Speedway, although some of those cars will have already qualified. The competitor with the most season-long points in each class, based on their top-three events will get an invitation to the 2015 OUSCI, followed by the next 11 competitors, regardless of class.

If you don't enter the Auto Club Speedway event and are hoping to get an invitation based on season-long points, you'll probably be safe with a 200-point cushion. However, the critical factor is where you set that cushion. If you're 15th overall in points after Road America and you have a 200-point cushion over 16th place, you'll be rolling the dice to get to Las Vegas, versus being first overall in points with a 200-point cushion over 16th place.

Some competitors may look at that math and panic, because they've already run in two events, haven't qualified and don't even have 200 points total, let alone a 200-point cushion (don't worry, only four non-qualifiers have 200+ points right now). That's what the third event is all about. Add 200 points onto your current total for running a double points event and you'll begin to see a better picture of what's to come. The bump spot right now for season-long points is Mike Hamrick's '66 Mustang with 163.1367 points, with Martin Pond's '80 Zephyr just .2367 points behind. Add a third event and 200 points onto either of those totals and perhaps we're looking at a potential bump spot for points north of 350 points for the season?

We'll start up our last five in and first five out based on points after Michigan, as the standings will get moved around quite a bit at that event, but don't wait too long to begin your planning for the rest of this season. Sign up for an upcoming qualifying event today!