OPTIMA's Wall of Power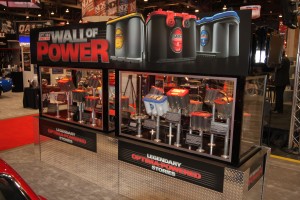 Events
Sponsor

OPTIMA Batteries

Location

Las Vegas, NV
The folks at MyRideIsMe.com recently anointed the OPTIMA Wall of Power display among the coolest displays at the 2010 SEMA show in Las Vegas. That's a pretty high honor, considering all the companies who had displays set up at SEMA and we're flattered they thought so much of us.
Batteries aren't always considered the most glamorous part of a vehicle, especially when there are shiny forced blowers and turbos or loud exhaust pipes that draw all kinds of attention. We knew we would have to do something unique to draw attention to our batteries and the amazing stories behind them and we think the Wall of Power does a pretty good job of accomplishing that for us.
We're always on the lookout for new Power Stories to add to our Wall of Power, so if you have a great story about an OPTIMA battery in a car, truck, boat, plane, or anywhere else, send us an email at info@optimabatteries.com! If you'd like to read MyRideIsMe.com's review of the Wall of Power, including some cool video links, click here.