OPTIMA angler, Chris Lane, nearly makes history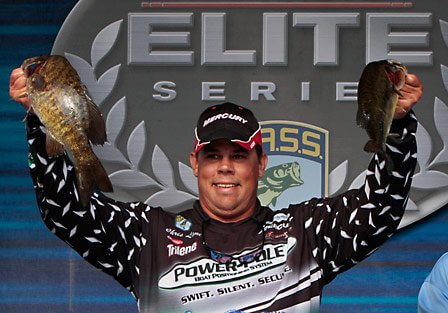 Marine
Sponsor

OPTIMA Batteries

Location

Okeechobee, FL
When Ish Monroe brought in a 34 lb, 5 ounce bag in on the first day of the 2012 Bassmaster Elite Power-Pole Slam, he found himself with the largest first day lead in Bassmaster history at 8 pounds, 12 ounces. After the second day, Monroe's lead swelled to 13 pounds, 11 ounces, the largest day two lead in Bassmaster history. However, 2012 Bassmaster Classic champion and OPTIMA-sponsored angler, Chris Lane, wasn't ready to give up.
Lane made steady progress throughout the event and when he brought in a 31 pound 3 ounce bag on day three, he slashed Monroe's lead to just 10 ounces. After the final weigh-in on Sunday, Lane totaled a whopping 95.9 pounds worth of fish, more than enough to win just about any event on the tour. However, Ishama Monroe came up big when he needed to and surpassed the century mark for the second time in his career, finishing with a total weight of 108.5 pounds.
Third place was more than 11 pounds behind Lane and his second place finish moved him into the top-10 in the race for the Toyota Tundra Angler of the Year. Thankful for the win, Monroe knew no lead was safe with Chris Lane on his tail. "Chris Lane is the best in the world right now and having him on my back was a scary feeling," said Monroe.
Twelve of OPTIMA's other sponsored anglers also finished in the money at Lake Okeechobee. The Elite Series now takes about a month off, before it resumes at the Bull Shoals Quest in Mountain Home, Arkansas on April 19th. You can run the same BLUETOP marine batteries trusted by champion anglers in your boat.
Buy factory-direct today!