OPTIMA at the Demolition Derby!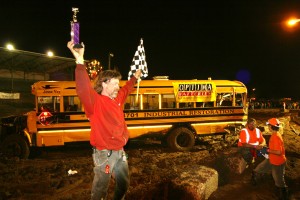 Events
Sponsor

Location
We've talked a lot lately about our sponsorship of Kalitta Motorsports and the NHRA and for good reason- we're really excited to be involved in NHRA racing, both as a team sponsor and a major contingency sponsor. As excited as we are, our passion for motorsports isn't limited to professional racing, where million dollar race budgets, national TV contracts and famous faces are the norm. We have just as much fun hanging out at our local county fair with motorsports enthusiasts who may be competing in the demolition derby with a car that was "donated" to them by a family member.
We made the trek out to the Ozaukee County Fair last weekend and distributed more than 100 OPTIMA batteries to these men and women and let them give it their all. Demolition derby driving is one of the hardest forms of motorsports on batteries, not just because of all the vibration involved in the collisions, but because engines are often stalled and re-started multiple times during the course of an event and very few of these cars sound anxious to turn over.
It's a grueling test of our product, but it's also a whole lot of fun! When the night comes to an end and the winners emerge from their car (or bus), their reactions and excitement are every bit as fun to watch as all the pros on TV. These men and women are doing this because they love it. Bragging rights and a trophy are the biggest tangible rewards any of these drivers are likely to see for their efforts, so we're more than happy to add a free battery into the mix!