OPTIMA Batteries Announces Winner of 2014 Ultimate Street Car Invitational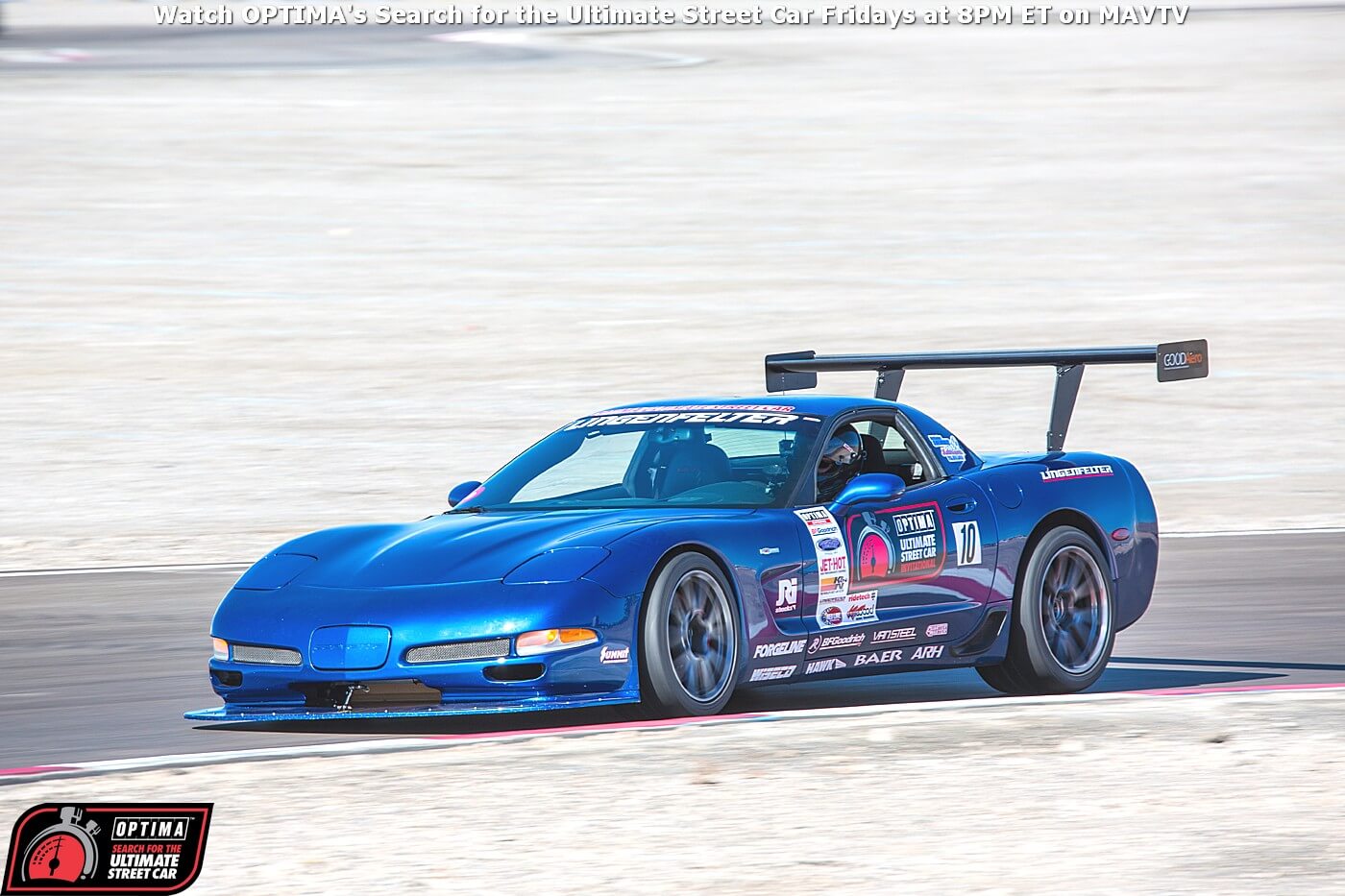 Ultimate Streetcar
Sponsor

OPTIMA Batteries

Location

Las Vegas, NV
OPTIMA Batteries, the global leader in high-performance automotive and marine batteries and digital battery chargers, is proud to announce the overall winner of the 2014 OPTIMA Ultimate Street Car Invitational. After two action-packed days of competition, and challenges from past champions and newcomers alike, Danny Popp and his 2003 Chevrolet Corvette Z06 were able to garner enough points to claim the prestigious title for 2014.
"It's been incredible to drive on the most historic tracks during the 2014 season," says Popp after holding up the huge Invitational trophy. "We will definitely be back next year!" Danny also won the OPTIMA Ultimate Street Car Invitational in 2011, and his name will now be engraved on the traveling trophy for yet another year after an incredibly close win (less than one point) over Brandon Ranvek's well-crafted 2006 Mitsubishi Evo. Betim Berisha took third overall driving a 2011 Porsche 911TT.
A total of 103 vehicles ultimately competed in the event, held for the first time at Las Vegas Motor Speedway over the weekend of November 8th and 9th. They faced a series of competitive driving events, including the Wilwood Speed Stop Challenge and the Ridetech Autocross during the day on Saturday. Later that evening, competitors navigated public roads on the Detroit Speed Road Rally Challenge, which ended with the Showtime Motorsports participant reception at the new Shelby American headquarters in Las Vegas.
The high-speed BF Goodrich Hot Lap Challenge took place on the 2.4-mile road course all day Sunday, with all of the competitors pushing themselves and their vehicles to the absolute limit. The road course action was paced by the Red Line Oil Camaro, which set a baseline lap time for all the competitors to challenge. Driven by experienced road racing champion and OPTIMA PowerPro Brand Ambassador James Clay, the 2014 Roadster Shop Camaro was then put to work as a camera car, following the competitors as they ran the course and captured the excitement for television.
Each vehicle's overall quality and craftsmanship was reviewed by a carefully-chosen group of judges during the Lingenfelter Performance Design & Engineering Challenge, which required two days to complete. Every portion of the Invitational event offered precious points, and when scores were finalized at the end of the last day, Danny Popp, had acquired more than any other competitor.
A large group of spectators was on hand to witness the event as it unfolded. A crowd estimated at over 1,000 watched intently as each on-track event took place, cheering on their favorites and sharing their enthusiasm as the best-performing vehicles completed their challenges. The new Las Vegas Motor Speedway location proved to be very fan-friendly, and future events will surely continue to draw large crowds. For the first time, a manufacturer's midway was assembled at the event site, and a wide range of performance industry parts makers displayed their products and services to interested competitors and spectators.
While Danny Popp was named the overall winner, the individual event winners are also very deserving of mention.
Wilwood Speed Stop Challenge
First Place: 2006 Mitsubishi Evo RS (Brandon Ranvek)
Second Place: 2011 Porsche 911TT (Betim Berisha)
Third Place: 2012 Porsche 911 Turbo S (Larry Woo)
Ridetech Autocross
First place: 2006 Mitsubishi Evo RS (Brandon Ranvek)
Second place: 2003 Chevrolet Corvette Z06 (Danny Popp)
Third place: 1965 Chevrolet Corvette (Brian Hobaugh)
BF Goodrich Hot Lap Challenge
First place: 2003 Chevrolet Corvette Z06 (Danny Popp)
Second place: 2010 Chevrolet Camaro (Ryan Mathews)
Third place: 2013 Chevrolet Camaro (Bryan Johnson)

Lingenfelter Performance Design & Engineering Challenge
First place: 1964 Buick Riviera (JF Launier)
Second place: 1959 Chevrolet Corvette (Alan Palmer)
Third place: 1964 Chevrolet Corvette (Dan Livezey)
The 2014 OPTIMA Ultimate Street Car Invitational event will be broadcast on the MAVTV Network on November 21 at 8:00 p.m. Eastern Time. Check your local listings and set your DVR to make sure you don't miss a moment of this exciting show. If you missed it, be sure to add the OPTIMA Network on Roku for free and watch all the past TV coverage.
The 2014 OPTIMA Ultimate Street Car Invitational was presented by K&N Filters. This year's event sponsors were BFGoodrich, Detroit Speed, Lingenfelter Performance Engineering, Ridetech, Wilwood Disc Brakes, Snap-On tools, Jet-Hot Coatings, Red Line Oil, Showtime Motorsports and the MAVTV Network.