OPTIMA Batteries Ride Shotgun Experience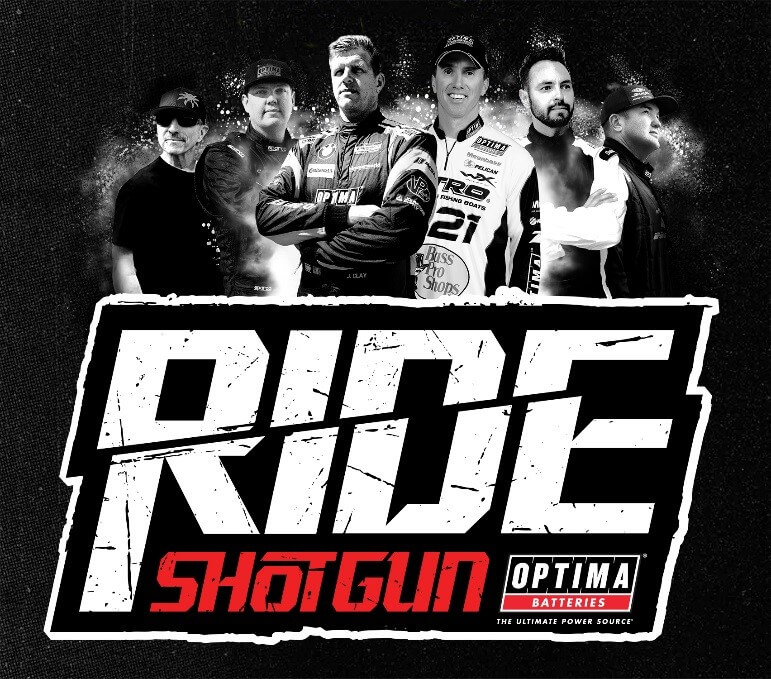 Events
Sponsor

OPTIMA Batteries

Location

Glendale, WI
OPTIMA Batteries is proud to announce its inaugural Ride Shotgun promotion, offering lucky enthusiasts a once in a lifetime opportunity to experience thrilling adventures with six OPTIMA PowerPro Ambassadors. Enthusiasts interested in entering the promotion will be able to explain why they deserve the chance to ride shotgun with their favorite OPTIMA PowerPro Ambassador. One lucky winner will be selected for each unique Ride Shotgun experience.
The Ride Shotgun promotion runs until September 15, 2019 with final winners being announced at the 2019 SEMA Show in Las Vegas on November 5th.
Ride Shotgun with James Clay at the 24-Hour Race in Nürburgring: The winner of this experience will travel to Germany for the legendary 24-hour Nürburgring race where they will receive crew passes and join James for the pre-race/practice run on the track.
Ride Shotgun with Betim Berisha at the Pikes Peak Airstrip: The winner of this experience will travel to Colorado to meet BBI Autosport owner Betim Berisha and run the Pikes Peak Airstrip Attack held at the Colorado Springs Airport. The winner will enjoy the thrill of going 180 mph in 13 seconds and receive press passes with exclusive access to the event.
Ride Shotgun with Loren Healy at King of the Hammers: The winner of this experience will travel to King of the Hammers where they will receive press passes to meet Loren and his team, and suit-up to ride shotgun on the King of the Hammers course as well as a qualifying run.
Ride Shotgun with Mike Weiss at a Drag Event: The winner will meet Mike Weiss and the Weistec team for a two-day drag racing event, where they will ride shotgun during a run down the drag strip like a true crew member.
Ride Shotgun with Edwin Evers: The winner of this experience will travel to a fishing tournament location where they'll meet professional angler, Edwin Evers. They will receive press passes with exclusive access to tournament events and venues and enjoy a day out on the water bass fishing with Edwin.
Ride Shotgun with Larry McRae on the Rubicon Trail: The winner of this experience will travel to Georgetown, UT to meet legendary Jeep enthusiast, Larry McRae, for dinner and pre-trip planning for the Rubicon trail ride. The winner will ride with Larry, tackling some of the most epic trails and Jeep destinations on the Rubicon trail, ending the experience at Lake Tahoe.
You can see more of the OPTIMA Battery Ride Shotgun experience on the OPTIMA Batteries YouTube Channel.