OPTIMA Chargers Digital 400 12V Performance Charger and Maintainer- The wait is over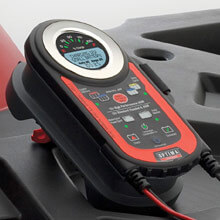 Tips & Support
Sponsor

OPTIMA Batteries

Location

Milwaukee, WI
Announced at the 2012 SEMA Show, the OPTIMA Chargers Digital 400 12V Performance Charger and Maintainer is now available. The Digital 400 is ideal for maintaining all 12-volt lead-acid batteries, including flooded and AGM batteries and it has specific settings designed to maximize the lifespan and performance of OPTIMA batteries.
With the Digital 1200 already available, many consumers will want to know what the difference is between to the two products. As their names suggest, each unit has a different maximum charging rate. The Digital 1200 will charge at a maximum rate of 12 amps, while the Digital 400 will charge at a maximum of 4 amps. Both chargers can fully-charge your 12-volt lead-acid battery, it just may take longer for the Digital 400 to get the job done.
The Digital 400 is also significantly smaller than the Digital 1200, making it ideal for powersports applications as well as longer-term battery maintenance. The Digital 400 also comes with a wall organizer bracket for easy long-term mounting. While the Digital 1200 does come with some additional features, including an integrated USB charging port, additional auxiliary maintainer port and an integrated LED light on the positive clamp, the Digital 400 has a smaller price tag, with free shipping from OPTIMA Batteries Direct.
If you have a car, truck, motorcycle, boat, RV, lawn tractor, ATV or other vehicle that only sees seasonal use, now is the perfect time to pick up one of our battery chagers. Buy your charger today!