OPTIMA Faceoff at Road America Awards Four OPTIMA Invitational Entries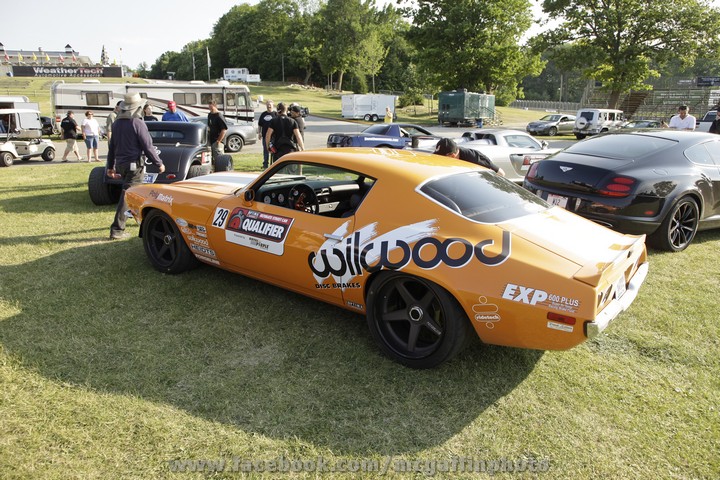 Ultimate Streetcar
Sponsor

OPTIMA Batteries

Location

Elkhart Lake, WI
The OPTIMA Faceoff at Road America, presented by Royal Purple, returned to Elkhart Lake, Wisconsin in 2012, with 38 participants. The event, which was also televised on the SPEED™ channel, kicked-off on Friday, June 22nd with a car show and charitable OPTIMA Build-A-Bike event benefiting children from Milwaukee area Boys Girls Club and YMCA.
The real fun began Saturday as all participants voted for their vehicle of choice in the Lingenfelter Performance Design & Engineering Challenge and drove 60+ miles through Wisconsin's scenic Kettle Moraine State Park to Road America in the Detroit Speed/JRI Shocks Road Rally. Once there, enthusiasts had a chance to see professional drivers test the legendary track during the NASCAR Nationwide race.
Finally on Sunday the participants got on the track to test their own skills during the BFGoodrich Hot Lap Challenge won by Danny Popp (2010 Lingenfelter Camaro), Wilwood Disc Brakes Speed Stop Challenge won by Darren Draves (2005 Porsche Carrera GT) and Ridetech Street Challenge Autocross won by Britt Marolf (1967 Chevrolet Camaro).
"It was great to be back at Road America this year," said Cam Douglass, Director of Marketing for OPTIMA Batteries. "The participants put up some impressive times, and it was cool to see a diverse group of vehicles take to one of the most historic tracks in the country."
Of the participants that traveled from as far as California to showcase their vehicles on the 2.4-mile half-track, 8-turn road circuit, it was Matt Jamojedny, 2003 BMW M3; Herb Stuart, 1967 Mercury Cougar; Brian Davis, 1999 Pontiac Trans Am and Pedro Gonzales, 1979 Pontiac Trans Am that walked away with the coveted "Spirit of the Event" awards and an invite to the fifth annual OPTIMA Ultimate Street Car Invitational (OUSCI), as determined by the OPTIMA Invitational planning and judging committee.
For some like Gonzales of Saint Francis, Wisconsin it was their first time to ever participate in a competitive event, and the first time they'd been on a race track. While Gonzales has owned his F-body for the past eight years, it's only been in the last four that he started to heavily modify it and put in nearly all the work himself.
"I had an amazing experience," said Gonzales. "I never thought I'd be able to compete with these cars that people have put several thousand dollars into."
In 2010, Davis of Waukesha, Wisconsin participated in the OPTIMA Faceoff at Road America, but only made it halfway through his second lap on the road course before his Trans Am broke down. This time around the 1999 TA made it through the entire day with a theatrical burnout performance on the autocross. Davis purchased the vehicle for $400 totaled, and worked on a shoestring budget to bring it back to life.
Jamojedny of Palatine, Illinois found his vehicle through a Craigslist ad and worked on it for four years before participating in his first time-based event at this year's OPTIMA Faceoff at Road America. "I was happy to be able to show that the BMW is a good track car against all the muscle cars that participated," said Jamojedny.
After speaking with a participant at the 2011 SEMA Show, Stuart decided it was time to join the action. The 1967 Mercury Cougar was originally purchased for Stuart's son, who used the vehicle throughout high school and college, but after the motor let go Stuart took over the vehicle and started a full rotisserie restoration. Stuart currently resides in Suamico, Wisconsin.
Summary of OPTIMA Faceoff at Road America Results:
Lingenfelter Performance Engineering Design Challenge
3. #50 Bret Voelkel
1933 Ford Roadster
2. #11 Chris Jacobs
1966 Chevelle
1. #29 Randy Johnson
1970 Camaro
Wilwood Disc Brakes Speed Stop Challenge
3. #36 Tom Farrington
20.502 – 1966 Chevelle
2. #53 Danny Popp
20.453 – 2010 LPE Camaro
1. #43 Darren Draves
20.394 – 2005 Porsche Carrera GT
Ridetech Street Challenge Autocross
3. #50 Bret Voelkel
41.585 – 1933 Ford Roadster
2. #53 Danny Popp
40.557 – 2010 LPE Camaro
1. #51 Britt Marolf
40.310 – 1967 Camaro
BFGoodrich Hot Lap Challenge
3. #51 Britt Marolf
1:44.336 – 1967 Camaro
2. #43 Darren Draves
1:39.977 – 2005 Porsche Carrera GT
1. #53 Danny Popp
1:39.412 – 2010 Camaro
OPTIMA Batteries Faceoff at HOT ROD Power Tour Overall
3. #43 Darren Draves
2005 Porsche Carrera GT
2. #51 Britt Marolf
1967 Camaro
1. #53 Danny Popp
2010 LPE Camaro
Sponsors of the 2012 OPTIMA Faceoff at Road America include presenting sponsor Royal Purple; race event sponsors BFGoodrich, RideTech, Wilwood Disc Brakes, Lingenfelter Performance Engineering, JRI Shocks and Detroit Speed and Engineering; and associate sponsors MagnaFlow and Roadster Shop. For a full list of results and more information on OPTIMA Ultimate Street Car events, please visit www.DriveOPTIMA.com