OPTIMA Faceoff Preview- The Jackass Camaro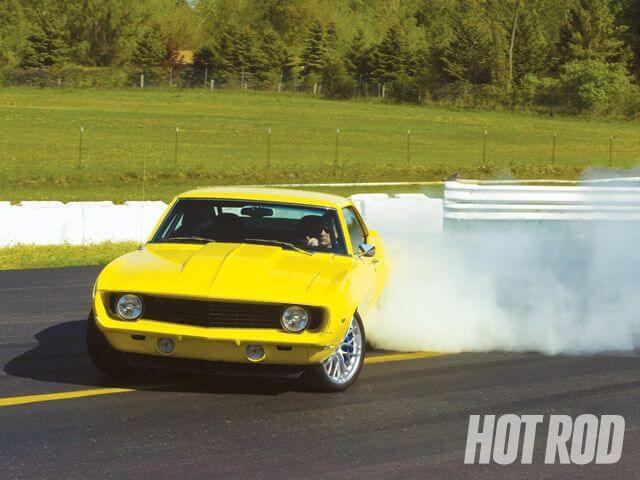 Ultimate Streetcar
Sponsor

OPTIMA Batteries

Location

Elkhart Lake, WI
We are now just a month out from the 2013 OPTIMA Faceoff at Road America, presented by K&N Filters and Royal Purple and with that, we begin to take a look at a very impressive field for this qualifying event for the 2013 OPTIMA Ultimate Street Car Invitational (OUSCI). Since Mark Stielow is the defending 2012 OUSCI Champion and he is entered in the Faceoff, it made sense to preview the champion first.
However, OUSCI fans will note the Camaro in this photo is not Mark's latest creation and OUSCI-winning Mayhem Camaro, but one of Mark's previous builds, the Jackass Camaro. The reason for that is because Mark Stielow and his good friend, Charley Lillard, did what many hotrodders would consider unthinkable- they swapped cars for the summer! There is probably a mutually-high level of trust between the two, as Charley already owns the 1,000-horsepower "Mule" Camaro Mark built several years ago and knows his way around high-horsepower Camaros. Charley knows Mark can probably fix anything he might happen to break on Jackass.
So what makes the Jackass Camaro different than Mayhem or the Mule or Red Devil or any of the incredible Camaros Stielow has created over the years? Well, Jackass is yellow. It is also noted as being the first recipient of an LS9 engine swap. The Jackass Camaro will be able to brag "first to the LS9 party" forever, but being first also means it served as a test bed for improvements on future builds. Both the Red Devil and Mayhem Camaros have significantly more horsepower than Jackass and they also have anti-lock brakes (as well as other upgrades), which was not part of the original build on this yellow beast.
We haven't asked Mark and Charley whether there were going to be any changes to Jackass during the summer, but it wouldn't surprise us to see a few of the upgrades now found on Red Devil and Mayhem to appear on Jackass as well. Even if it appeared at the Faceoff as it was originally built, Jackass is a formidable competitor, Mark is one of the most-accomplished drivers in the Pro-Touring community and his cars tend to be rock-solid reliable. That could result in Stielow winning the Faceoff, but since Mark is already invited back to the OUSCI as defending champion, other invites will definitely be up for grabs.

Find out who made the big show, by adding the OPTIMA Network on Roku, where you can watch all the past OUSCI TV shows for free and on-demand.