OPTIMA-sponsored Angler, Tommy Kemos Named Angler of the Year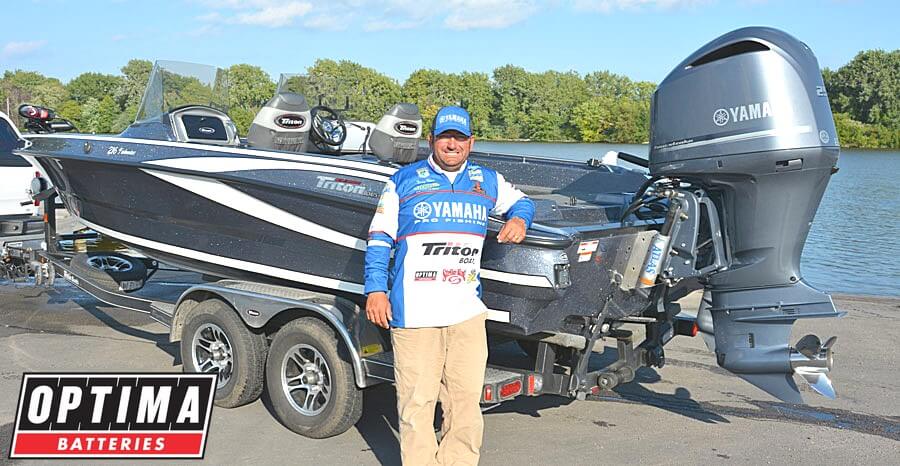 Marine
Sponsor

OPTIMA Batteries

Location

Oconomowoc, WI
OPTIMA-sponsored, veteran professional walleye angler, Tommy Kemos, cinched the coveted Lucas Oil Angler of the Year title at the Cabela's National Walleye Tour (NWT) Championship tournament, held September 18-20th on the Winnebago System at Oshkosh, Wisconsin. The title goes to the angler who accumulates the most points during the course of the NWT tournament season.
Kemos, from Oconomowoc, Wisconsin, joined the Triton Boats Pro Staff early in 2014 and took delivery of his first Triton boat, a fiberglass 216 Fishunter multi-species model, powered by a 250 hp Yamaha 4.2L outboard, immediately prior to the NWT season opener on the Detroit River last April. "The boat literally showed up the day prefishing started, so I had zero time for any shakedown cruises," the pro angler explained. "But as it turned out, the Triton was ready to rock straight off the delivery truck. I couldn't believe how strong it ran and how well it ran in rough water." Tournament officials came close to canceling the first day of competition due to a wind advisory, Kemos indicated. "Yet in spite of huge waves, I was able to make the long run to my fish in Lake Erie at a high rate of speed due to the ability of the Triton's hull to handle extreme water conditions. The boat quartered through the swells so smoothly, quickly and cleanly, I could run through the rough stuff 10 mph faster than my competition. This proved to be a huge advantage, for it allowed me to spend more time fishing and less time running, a benefit I really grew to appreciate as the tournament season progressed."
At the August NWT event on Michigan's notoriously rough Bays de Noc, gales exceeding 30 mph forced most tournament competitors to troll, but Kemos caught his fish by jigging, a technique requiring pinpoint presentations to his targets. "The Triton's rock-solid stability and huge front deck allowed me to pitch and cast jigs to isolated pieces of cover, a subtle presentation tactic that would have been virtually impossible to execute in any other walleye boat under those rough conditions. The two or three other guys who fished jigs in that tournament got soaked up to their waists, but my feet didn't even get wet in my Triton."
Besides praising the Triton's rough-water running and fishing prowess, Kemos credited the livewell system of his 216 for playing a major role in his Angler of the Year victory. "With the intense competition on the NWT circuit, you simply can't afford to have any of your fish die," he said. "I've fished the professional walleye circuit for 14 years, and this is the first season where I didn't lose a single fish. The credit for this goes to Triton's state-of-the-art livewell system, which babies your caught fish all day long regardless of how far you run and how rough the water gets." The load-carrying capacity of the 216 also impressed Kemos. "During the 2014 NWT events, I used a variety of presentation techniques including trolling, jigging and crankbait casting, so you can imagine how many rods, reels and tackleboxes I needed to have on board. My Triton swallowed up all the lures and tackle I could throw in it, and kept everything neat and organized so I could locate the exact rod or lure I needed quickly. And even though the boat is rated for a 300 hp outboard, it was able to carry a massive payload and still run stronger than my competition's boats with a more fuel-efficient 250."
Kemos summed up his freshman year on the Triton Walleye Pro Staff this way: "I've fished out of virtually every brand of multi-species boat on the market, but I was absolutely blown away by the 216 Fishunter. The winning combination of rough-water capability, speed, fishability and riding comfort put Triton head and shoulders above the competition."
"We're extremely proud to have Tommy Kemos on our Pro Staff," said Triton Boats founder Earl Bentz. "Professional walleye anglers are a tough breed, and they demand a boat with extreme capabilities. Triton is best known for its bass boats, but to have an angler of Tommy's stature earn the NWT Angler of the Year title in our 216 Fishunter proves we're dead serious about building world class walleye boats as well."
Congratulations to Tommy on a great season from everyone at OPTIMA! You can buy the same BLUETOP batteries champion anglers rely on and have them shipped factory-direct to your home!

Update:
Why do we still promote Tom Kemos' Angler of the Year title, if he no longer uses OPTIMA Batteries? Because when he did win it (and it was the only time he ever won it), he was running OPTIMA BLUETOP batteries.