OPTIMA sponsored Designer, Murray Pfaff Celebrates Ten Years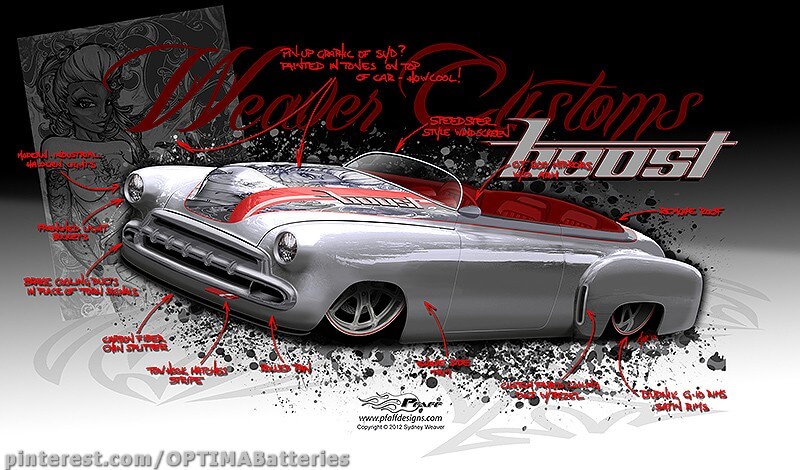 Cars
Sponsor

OPTIMA Batteries

Location

Royal Oak, MI
If you are into hot rods even a little bit, you've probably come across something Murray Pfaff has designed. Even though Murray has only been creating renderings and designs for ten years, his work is already highly-acclaimed and he is sought out by some of the top builders in the industry.
Why does someone need a rendering of a car they are going to build? There are a lot of reasons. Sometimes builders aren't exactly sure how their finished project will turn out and they'd like to get some visual references before they start chopping, cutting and fabricating sheet metal. Murray's designs help them (and the vehicle owners) decide if their plans are something they really want to do or if they should move in another direction.
Vehicle renderings also provide instant marketing materials for builders looking for sponsorships. Just the fact that someone has spent several hundred dollars on a high-quality rendering shows potential sponsors that they are serious about their project and have a clear vision for what they want to accomplish. A great visual rendering is oftentimes far more persuasive than even the longest, most-descriptive list of modifications.
Designers also help sort through color combinations and accents on a project, often serving in a stylistic capacity. You love stripes and flames? A good designer will help you figure out how to incorporate both without making your end result look tacky. The same is true for wheels and ride height. Do you want 18-inch wheels or will 20s look better? How close to the ground do you want the car to sit?
Renderings also help builders and their customers stay on the same page. Where verbal and even written forms of communication can be mis-interpreted, when two parties look at a picture and agree the car will look like that when it's done, that generally helps clear any confusion that might crop up- Were we going to shave the door handles? How big will that scoop be?
In addition to designing cars, Murray also designs logos and if you've been to an OPTIMA event, you've probably seen his work there on t-shirts. Magnaflow exhaust will be helping Murray celebrate his tenth year in business at the 2013 Detroit Autorama, where several of Murray's most-famous designs will be on display. Be sure to check it out if you get the chance. If you don't think you'll be headed to Detroit for the show, be sure to check out PfaffDesigns.com