OPTIMA Sponsored Shockwave Hydroplane Runs Well at Kennewick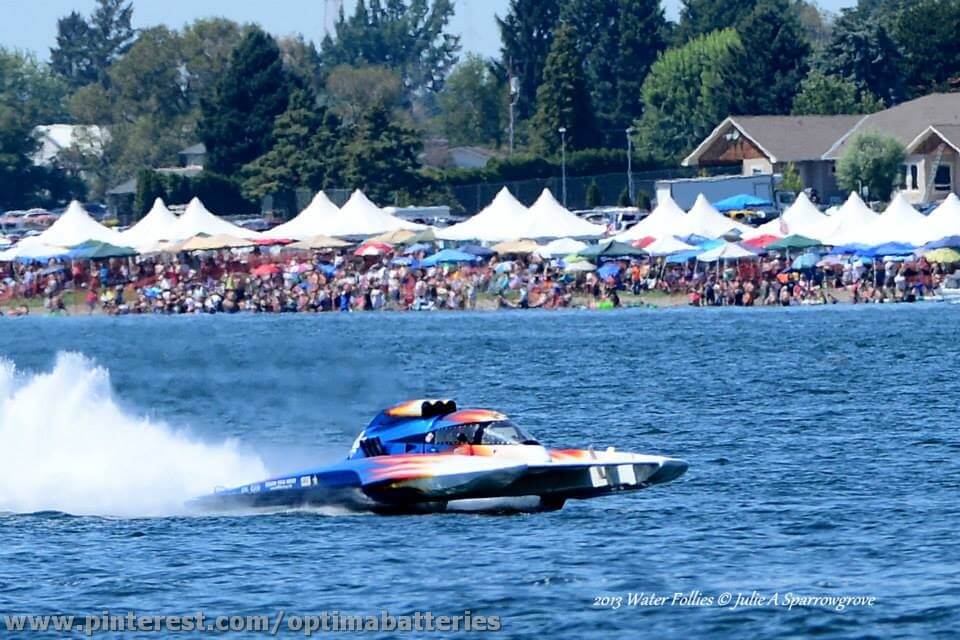 Marine
Sponsor

OPTIMA Batteries

Location

Kennewick, WA
The OPTIMA-sponsored Shockwave Racing Grand Prix Hydroplane Team went to Kennewick, Washington for the Lamb Weston Columbia Cup event on July 26-28, 2013. The first day of the three-day event brought some testing sessions in the morning and a Dash for Cash in the afternoon. In the Dash for Cash event, driver Dustin Echols battled with the other drivers to get lane one for the start, ultimately succeeding.
When the green flag dropped for the start of the race it was a close contest on the 1 2/3-mile course, the GP-12 of Schellase Racing, along with the GP-19 Miss Everett were not making it easy to get to the checkers first for the win, but Dustin kept pushing it and was able to take the victory.
Saturday morning brought a qualifying session along with two heat races. Team Shockwave was first out for the qualifying session and was able to set the bar high with a lap of 125.72 mph on the 1 2/3-mile course on the Columbia River. When qualifying ended, they sat atop the qualifying results for the weekend. When the green flag dropped for the first heat race of the day, all six hydroplanes took off from the start with Shockwave finishing in the second position.
In the second heat race on Saturday, Shocwave made another fast run and again battled for the lead, but were assessed a penalty after the checkered flag for being too early on the score up buoy, dropping them to fifth place.
Sunday was the final day of racing and the GP-17 Team Shockwave was working hard to find even more speed for the final event later in the day, making some changes for the heat race Sunday morning. Once again, all six hydroplanes made the call for the heat race Sunday morning. It was a great race up front for the lead on all three laps and when they crossed the finish line, Shockwave GP-17 hydroplane and driver Dustin Echols finished first.
Sunday afternoon brought the winner-take-all Grand Prix West final. It was going to be another great race between all six GP West hydroplanes and everyone was improving on speed and getting faster all weekend. When they came around for the green flag start, it was a deck to deck race between three hydroplanes, with everyone pushing their equipment to the limit and engines roaring loudly. After the three laps were completed, Team Shockwave GP-17 finished in second place.
It was a great weekend for GP-17 Shockwave racing, completing all the races with little or no problems. They learned alot and gathered plenty of data for the 1 2/3-mile courses. The next race is set for August 30-Sept 1 at Couer d' Alene, Idaho. We wish Team Shockwave continued success this season! You can buy the same OPTIMA BLUETOP batteries they run in their boat direct from the factory!