OPTIMA-Sponsored Top Fuel Racer, David Grubnic Picks up a Victory in Topeka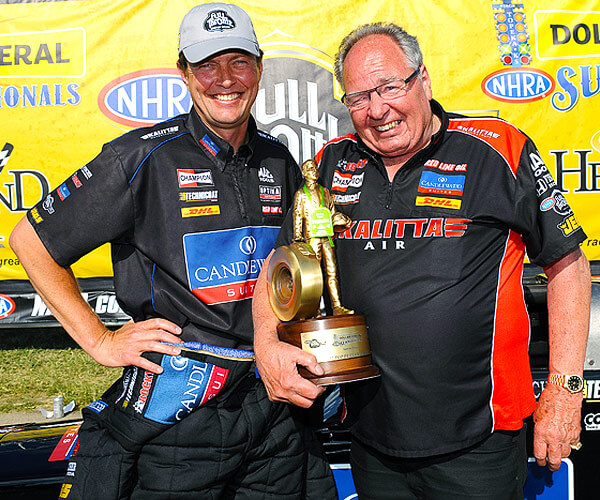 Events
Sponsor

OPTIMA Batteries

Location

Topeka, KS
OPTIMA-sponsored native Australian David Grubnic scored an emotional and overdue victory Sunday in final eliminations of the Dollar General NHRA Summer Nationals at Heartland Park Topeka in Topeka, Kan. Grubnic piloted his 8,000-horsepower, 320+mph Candlewood Suites Top Fuel dragster to his first win of the 2012 NHRA Full Throttle Drag Racing Series and made his first trip to the winner's circle since 2006.
The win for the affable fan-favorite known as "Grubby" is the third of his 18-year Top Fuel career and his second in Topeka. Grubnic, who last reached a final round at Chicago in 2011, became the first non-native North American driver to win an NHRA Top Fuel event in 2005 at Heartland Park.
"What a great day for me and the whole Kalitta Motorsports team," Grubnic, a 49-year old resident of Bozeman, Mont., said. "We seem to have some great success in Topeka. Wow, I just can't thank Connie (Kalitta, team owner, crew chief, and drag racing icon) and everyone on our Candlewood Suites team enough. We had some luck today, but we made some great runs, too, so I'm so happy to be able to get our guys a win today.
Grubnic qualified his Candlewood Suites hot rod in the number seven (3.841 seconds, 319.29 mph) spot for Sunday's 16-car Top Fuel eliminations. He defeated Bob Vandergriff, Steve Torrence, and Brandon Bernstein en route to a final round match-up with Spencer Massey.
The two drivers gave the huge crowd of NHRA fans at Heartland Park Topeka a magnificent race in the final round. A race between two of the fastest and quickest accelerating race cars on Earth was decided by a scant 0.0097 seconds at the 1,000-ft. finish line as Grubnic turned on the win light, 3.893sec., 319.07 mph to 3.910 sec., 309.98 mph.
With his win in Topeka, Grubnic assures himself a coveted spot in the Traxxas Top Fuel shootout, a special non-points event to be held at the Mac Tools U.S. Nationals in Indianapolis in September. He moves up two positions in NHRA Full Throttle Top Fuel championship points from No. 10 to No. 8.
Team Kalitta Top Fuelers have dominated at Heartland Park Topeka since the track opened in 1989 with a total of 10 "Wally" trophies (Scott Kalitta – 6, Grubnic – 2, Doug Kalitta – 1, and Hillary Will – 1).
Grubnic's Top Fuel teammate Doug Kalitta, driver of the Kalitta Air Top Fuel dragster, reached his second consecutive semi-final round Sunday in Topeka. Doug qualified his entry in the number nine (3.844 sec., 312.57 mph) position and defeated J.R. Todd and Antron Brown before rolling to the starting line to face Massey in his fourth semifinal of 2012. Both drivers' dragsters had problems, but Massey was able to get the win, 4.601 sec., 267.32 mph to 4.151 sec., 267.91 mph.
Doug moves up one position to sixth place in NHRA Full Throttle Top Fuel points.
Both of the Team Kalitta Funny Cars had a short Sunday with first round losses. Jeff Arend, driver of the DHL Toyota Camry Funny Car and No. 13 (4.150 sec., 300.60 mph) qualifier, was defeated by Ron Capps in the opener. Alexis DeJoria, driver of the Tequila Patron Toyota Camry Funny Car and the No. 11 (4.135 sec., 303.91 mph) qualifier, was defeated by Jack Beckman. Arend is No. 10 in Full Throttle Funny Car points and DeJoria is No. 14.
See more drag racing photos from Kalitta
here
.