OPTIMA Unplugged presented by DCE and Volta Power Systems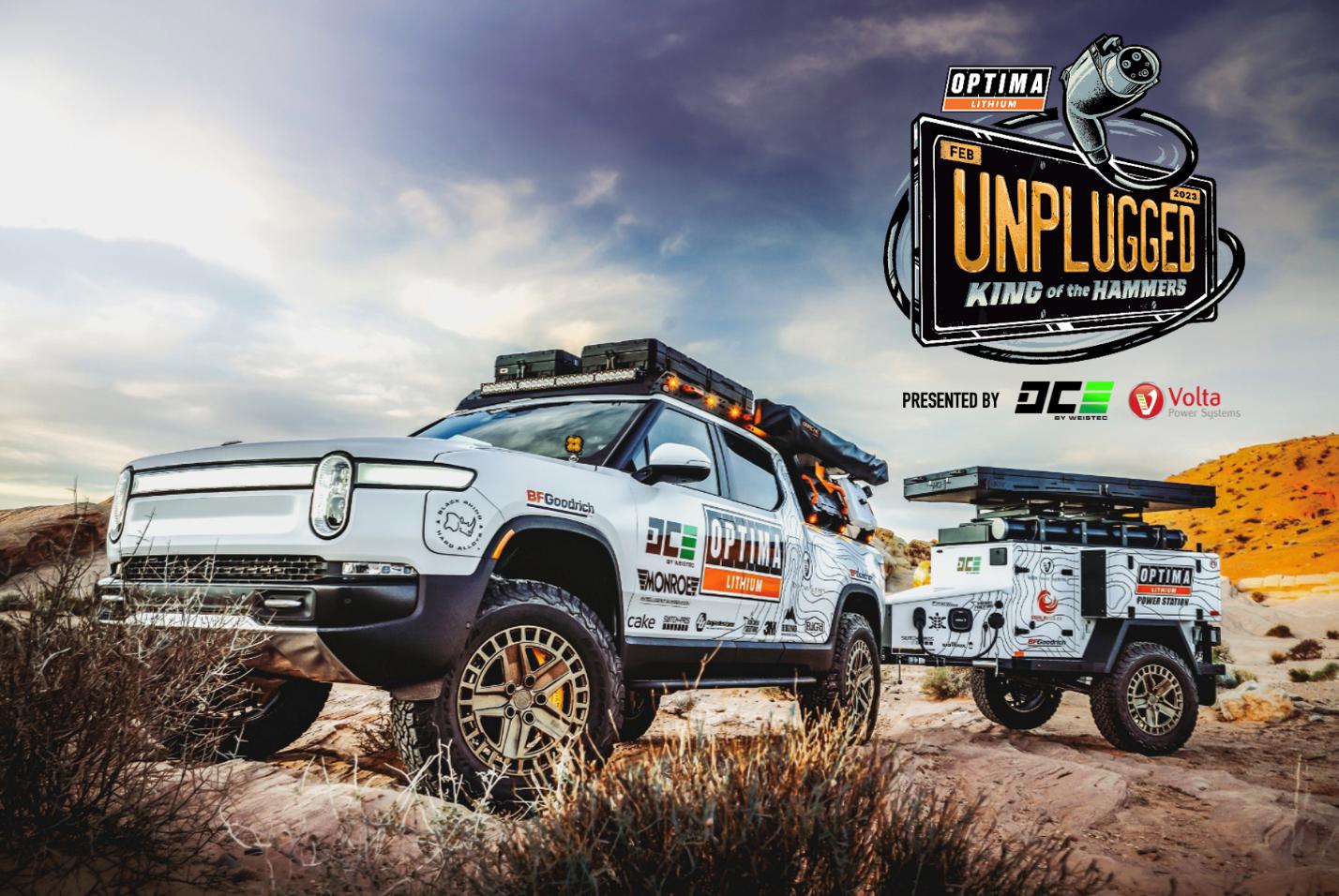 Events
Sponsor

OPTIMA Batteries

Location

Johnson Valley, CA
If you own an electrified vehicle (EV, HEV, PEV or any vehicle that promotes electrification), please join us for an exclusive and unique off-the-grid experience on Wednesday, February 8. OPTIMA Unplugged presented by DCE and Volta Power Systems is a single-day experience exclusively for hybrid, PHEV, and EV owners and enthusiasts.
This first-ever off-road electrified vehicle event is free courtesy of OPTIMA Batteries and partners DCE and Volta Power Systems. It is an off-the-grid poker-run style rally driving your own vehicle exploring Johnson Valley, California. This tour is an entry-level off-road adventure that does not require any vehicle modifications, and stock vehicles are okay (all-wheel drive is a requirement). Lowering tire pressure onsite is suggested, but that's it. The rally will be attended by industry icons such as Tanner Foust, Vaughn Gittin Jr., Loren Healy, Erik Miller, Christopher Polvoorde, Richard Waitas and more.
Long known as one of the bucket list off-road events to attend, The 2023 Progressive King of the Hammers powered by OPTIMA Batteries (KOH) takes place in the middle of a desolate, remote and practically uninhabited dry lakebed called Johnson Valley. However, during the week of King of the Hammers, the dry lakebed turns into one of the world's largest temporary cities, Hammertown, with over 50,000 people setting up home for the week. The city is complete with fully organized streets, street signs, food trucks, shopping, concerts and lots more. It is Burning Man meets off-road.
To some, it may sound too big and hardcore, but as a presenting sponsor, OPTIMA Batteries has worked closely with the owner and management of KOH to create a unique experience. We have secured enough space and time to have an exclusive event for drivers with little or no off-road experience. We may drive through some soft sand and a few hills, but the organized drive will be quite tame. If you choose to do more, you are welcome to venture on your own before or after our event.
The tour will include stops at iconic King of the Hammers trails and allow attendees to watch qualifying for the Race of Kings. It will end with lunch provided at Chocolate Thunder, where we will watch the world's first all-electric Ultra4 race car tackle this world-renowned trail with King of the Hammers founder Dave Cole.
There are fast charging stations within 50 miles of Johnson Valley. For those who need to top off at camp, eight Level 2 chargers will be set up at OPTIMA Unplugged in Hammertown. Experts are on hand to provide tips and tricks for safe off-roading. Manufacturers and distributors of all types of off-road gear and equipment will be available. We will also have tools for light-duty mechanical support, such as tire changes at the OPTIMA VIP campsite and on the trails. Overland Ruff Racks and Magnaflow will provide lunch and water during the ride. After the rally, refreshments will be provided at the OPTIMA VIP campsite in Hammertown.
The event will take place in Johnson Valley during King of the Hammers (KOH) on February 8, 2023. Detailed event maps will be provided to all participants.
Schedule:
8 a.m. - Check-in at the OPTIMA VIP campsite
9 a.m. - Poker run/rally
12 p.m. - Lunch on top of Chocolate Thunder and poker run hunt prizes
2-5 p.m. - Ride along with Dave Cole in the world's first fully electric Ultra4 race car
The event is free but limited to 100 vehicles. OPTIMA will provide two wristbands/entries into Hammertown (a $50 value) and a vehicle entry for the OPTIMA Unplugged Rally. Everyone will get an OPTIMA Unplugged T-shirt but sign up early, as the first 50 signups will receive a very special heated vest and hat set with a retail value of over $200. Overnight accommodations are not provided, and attendees must make their own arrangements if they wish to stay after the drive. There is lots of camping space available on the lakebed if you choose to stay.
USE THE LINK TO SIGNUP
Click Here To Sign Up: OPTIMA Unplugged at King of the Hammers 2023
(Registration required to attend)
FAQs
How can I charge my vehicle on the dry lakebed? We recommend that you charge up at one of the closest recommended charging stations before coming to the event. There are commercial fast charging stations in Yucca Valley, Hesperia, Victorville and Barstow within 50 miles of Johnson Valley. But if vehicles need a charge on the dry lakebed, Level 2 charging stations will be available for use free of charge.
Where can I stay for the night at King of the Hammers? Accommodations are not provided. Free camping is available and encouraged, but all attendees must make their own arrangements and bring camping gear.
Can I bring anyone with me? Yes, the event is free for you and one other person. Additional guests may be allowed at the rally but must purchase an entry to KOH and get email approval from the rally.
What if my vehicle isn't modified or lifted? The route is on very light off-road trails, and any stock all-wheel-drive vehicle can manage.
Do I need to register for this event? Yes, registration is required in advance to participate in the event to ensure adequate supplies of gear and food are available.
Once I'm registered for the drive, do I need King of the Hammers tickets? Nope! Your entry includes two wristbands to get into KOH and enter Hammertown. There are no requirements after registering for the drive.

I have no off-road experience. Will I be in over my head? This drive does not require any special skills or prior experience.