OPTIMA'S ORANGETOP Lithium Marine & RV Batteries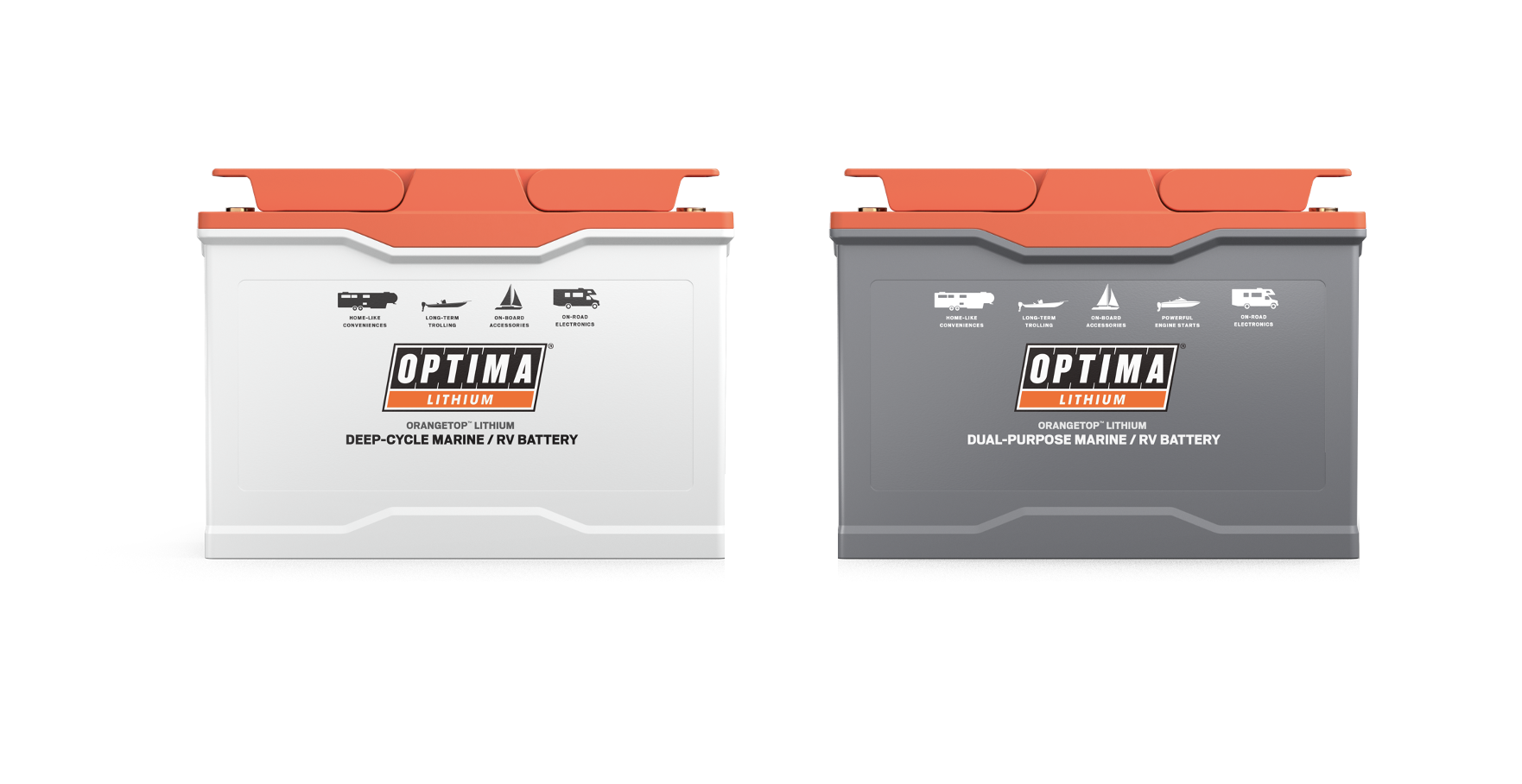 Marine
Sponsor

OPTIMA Batteries

Location

Las Vegas, NV
OPTIMA Batteries announced more new products at the 2023 SEMA Show, than in any prior year, including our new ORANGETOP Lithium batteries designed specifically for marine & RV applications, using the same cutting-edge HYPERCORE LITHIUM technology present in OPTIMA's ORANGETOP motorcycle batteries. These new group 31 batteries will be available as either dual-purpose or deep cycle models, with innovative features such as NMEA 2000 functionality, smartphone app-based Bluetooth connectivity and an impressive energy storage capacity.
The dual-purpose and deep-cycle ORANGETOP marine and RV batteries will be fully-compatible with OPTIMA's new D200+, D400+ and D1200+ battery chargers and performance maintainers, which were also announced at the SEMA Show, as well as most other battery chargers with settings specifically designed for 12-volt lithium batteries. Both ORANGETOPS for marine and RV applications provide clear status and charging information through multicolored LED state-of-charge indicator lights.
These batteries introduce an industry-first feature allowing up to four parallel or in-series connections, facilitating inter-battery communication to eliminate the common issue of uneven charging and discharging observed in other batteries on the market.
OPTIMA's patented CPR function, a standard feature in all ORANGETOP batteries automatically detects parasitic energy draws, disconnecting the battery while retaining sufficient power to allow for one more start of the engine. An advanced microprocessor-controlled battery management system (BMS) automatically oversees and regulates all functions, providing cell balancing and monitoring cell state of charge for enhanced performance and a longer lifespan.
OPTIMA Batteries has also announced the introduction of an OPTIMA Batteries app, that empowers users to monitor real-time battery data, set alarms for abnormal voltage or temperature and access essential information such as state of charge, battery and cell health, battery status, error logs and product manuals.
Continuing OPTIMA's legacy of robust and dependable power, all ORANGETOP batteries feature an industry-leading IP67 rating for dust and water intrusion resistance while maintaining exceptional vibration resistance. These batteries will be available in two configurations- a dual-purpose model with 120Ah of capacity and a deep-cycle option with 150Ah of capacity (D31M OPTIMA BLUETOP batteries offer 75Ah of capacity). These additions to the ORANGETOP battery lineup streamline the lithium battery ownership experience, ensuring optimal performance and longevity for seasonal marine and RV use.
These batteries harness lithium iron phosphate (LiFePO4) technology combined with OPTIMA HYPERCORE technology to optimize low-temperature performance. They offer the benefits associated with other lithium batteries, such as reduced weight and increased cycle life and efficiency, while exclusively delivering OPTIMA's renowned safety, durability and performance standards. Some of OPTIMA's top professional anglers have been field-testing these batteries throughout the 2023 season to ensure top performance in the most-demanding conditions. Pricing and a release date for retail availability will be announced in 2024, but we can offer a comparison now between these two new OPTIMA offerings and our existing Group D31M BLUETOP AGM battery.


| | | | |
| --- | --- | --- | --- |
| Model | D31M | Q31M-DC150 | Q31M-DP120 |
| Type | Dual Purpose | Deep-Cycle | Dual Purpose |
| BCI Size | Group 31 | Group 31 | Group 31 |
| Capacity (Ah) | 75 | 150 | 120 |
| L x W x H | 12.81 x 6.56 x 9.38 | 13 x 6.8 x 8.6 | 13 x 6.8 x 8.6 |
| Weight (lbs) | 59.8 | 41.9 | 37.5 |