OUSCI Competitor Bob Benson's 1972 De Tomaso Pantera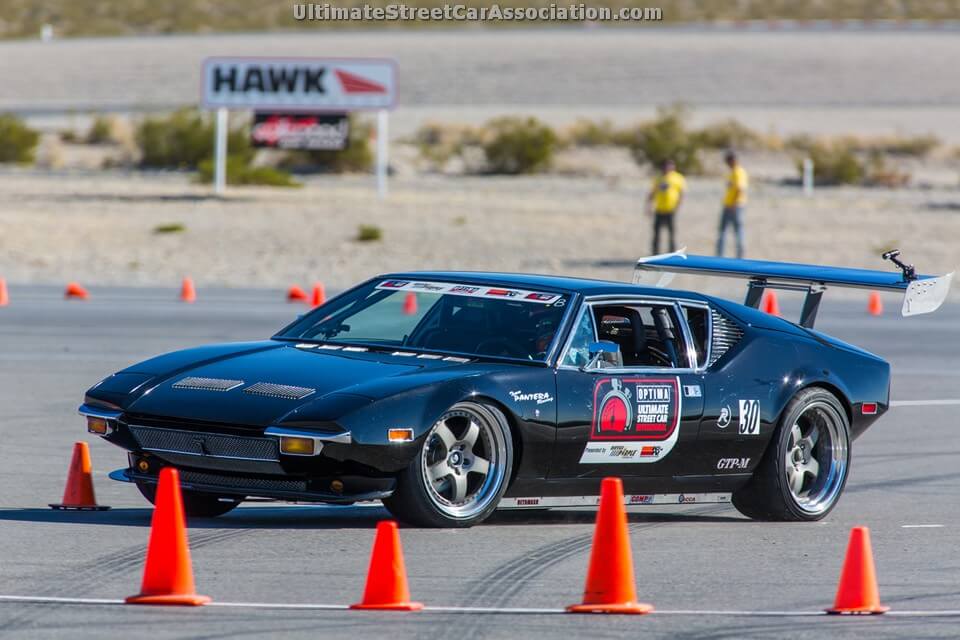 Ultimate Streetcar
Sponsor

OPTIMA Batteries

Location

Pahrump, NV
The title "Ultimate Street Car" is meaningless if our event doesn't invite the icons of the streets, including those from past generations. Bob Benson brought what many consider to be one of the quintessential supercars of the 1970s, his 1972 De Tomaso Pantera, to the 2013 OPTIMA Ultimate Street Car Invitational (OUSCI), presented by Royal Purple and K&N Filters. However, Bob's Pantera is a world apart from where it was 40 years ago.
With so many modern upgrades and refinements in his Pantera, it shouldn't come as a suprise to hear that an experienced driver like Benson could more than hold his own against an OUSCI field that runs the gamut all the way up to 2014 models. Top-30 finishes across the board were the norm for Benson in all but the BFGoodrich Hot Lap Challenge, where Bruce Raymond's Pontiac GTO edged him out for 30th position by just .006 thousandths of a second.
While that was disappointing to Bob, he more than made up for that in the Wilwood Speed Stop Challenge, where he finished 12th overall in a very tight field. In the RideTech Autocross, Benson's 23rd-place finish was just .273 seconds out of a scoring position and a nearly-identical scenario repeated itself in the Lingenfelter Performance Design Challenge, where Benson's Pantera finished just four points and two positions outside the top-20.
Bob's performance in the RideTech Autocross was even more impressive, considering his Pantera flooded out on hard stops in the event. Had he known that would happen on the autocross, Benson said he would've put a sloped spacer under the carburetor.
Overall, the Pantera's ability to complete the Detroit Speed Road Rally and Bob's strong performance in the Wilwood Speed Stop Challenge helped elevate him into the upper-half of the field, tying for 27th place with James Shipka's Camaro and Jonathan Ward's ICON Thriftmaster pickup.
Benson was very impressed with the quality of cars in the field, although he noticed a lot of LS motors and vehicles that he would consider to be "show only." He was also suprised at the number that broke, although he didn't indicate if he thought that was a lot or not many at all (only two cars were unable to compete in any of the on-track events, due to mechanical issues).
Bob thought Brian Hobaugh's Corvette was exceptional, although that wasn't a surprise, as Benson has watched Hobaugh compete in his SCCA region, since he was a 16-year old. "Danny Popp impressed me the most with his track runs," said Bob. "Especially coming onto the front straight and rolling over the rumble strips throttle down. Cool stuff!"
Benson's advice for future competitors is to relax and have fun. Although he was disappointed after the Autocross didn't go as he'd hoped, Bob recovered nicely and had fun on the road course, before really letting it rip in the Speed Stop Challenge. He really enjoyed driving his car hard, which is why he built it the way he did. Overall, Bob really had a great time at the event and tells us he plans on participating in several West coast events next year with another one of his cars, a Blue Firebird. "I need to work a few things out in that car," says Benson. "Right now, my Italian car is the reliable one. Go figure!"

You can watch the TV coverage from this iconic motorsports event for free on the OPTIMA Network on Amazon Fire TV.