OUSCI Competitor Bob Bertelsen's '71 Chevrolet Camaro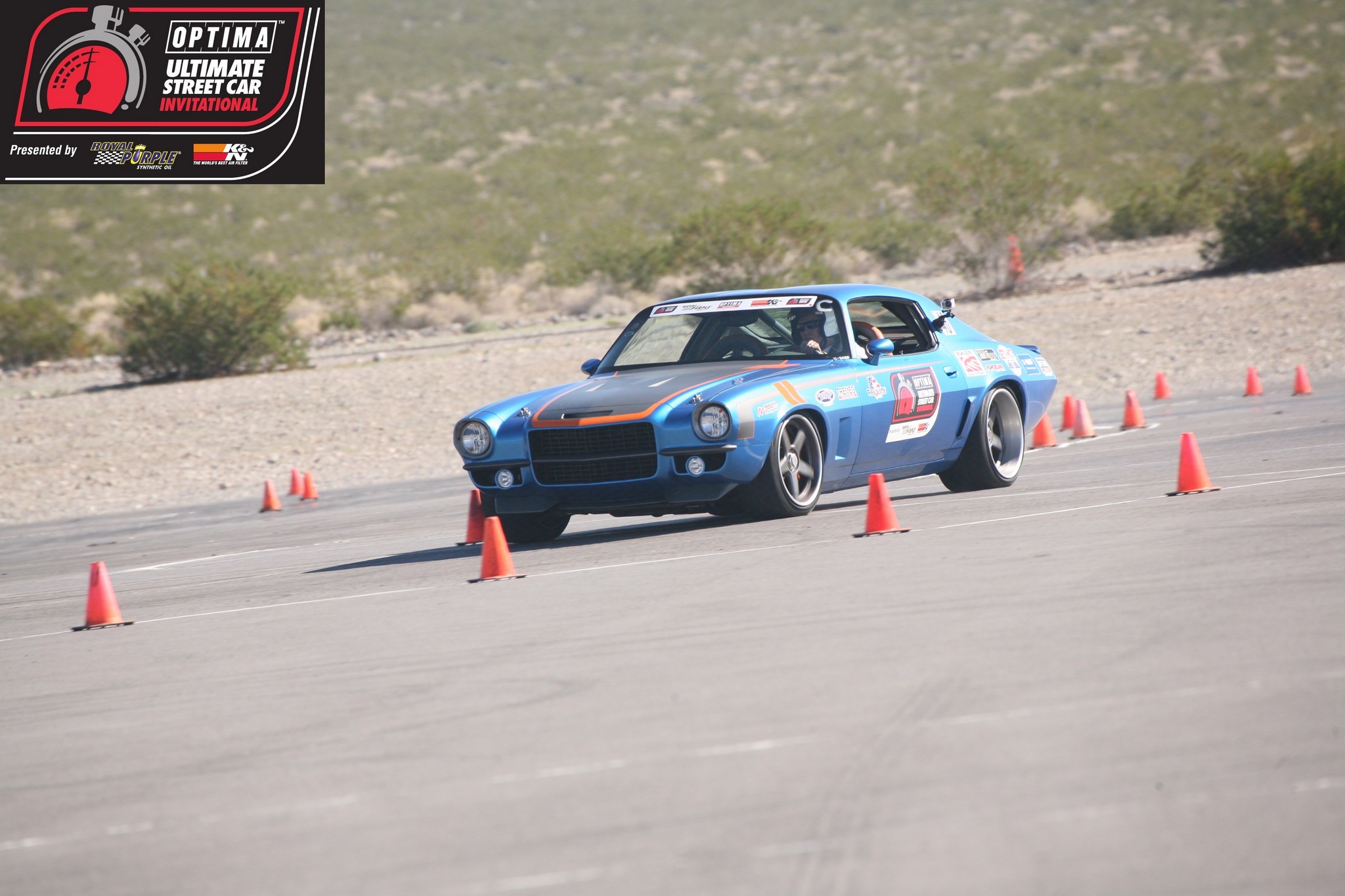 Ultimate Streetcar
Sponsor

OPTIMA Batteries

Location

Pahrump, NV
When Bob Bertelsen gets to building an F-Body, people pay attention and take notice. Bertelsen previously-competed in the OPTIMA Ultimate Street Car Invitational (OUSCI) in his Code Red Firebird. This year, Bertelsen returned with his all-new Brute Force Camaro. The LS-powered Camaro already had an impressive pedigree coming into the OUSCI, having been named a Goodguys Muscle Machine of the Year finalist, as well as picking up Best in Show at Holley's 2012 LS Fest.
Would that translate to success at the OUSCI? Bob hoped for a finish somewhere in the range of 10th to 15th, which is not an easy task. He started out well, by capturing all ten points from the Detroit Speed/JRI Shocks Road Rally and then grabbed third place in the Lingenfelter Performance Design Challenge.
Once he hit the track, Bob proved Brute Force was more than just a show queen. Bob was consistent in his first two laps, but then found himself dealing with an oil catch can that was overflowing onto his headers, as well as a blown head gasket. With a top-25 finish in his back pocket, Bob repaired the issues and moved on to the next event.
Hitting cones became an issue for Bertelsen on the RideTech Autocross, but he still managed to pull out a 20th-place run. If fact, the one thing Bob said he would do differently if he could, would be to avoid the cones on the autocross.
Bob's best discipline came in the Wilwood Speed Stop Challenge, where he notched a 14th place finish, placing him solidly in 14th overall. Bertelsen says he has only himself to blame for not finishing higher, likely referring to the cone encounters he experienced on the autocross.
Based on that experience, Bob's advice to future competitors is to make every lap count. While the potential can be great for many of the competitors in the OUSCI, the event itself can be very unforgiving. Outside of warm-up laps on the road course, there are no practice runs. Each competitor is given three chances to post their best times in each discipline, so everyone needs to bring their "A" game.
One competitor who did just that was Brian Hobaugh, who finished second overall in his 1973 Chevrolet Camaro. Bertelsen cited Hobaugh as the competitor who most-impressed Bob, which says a lot, as Bob has gone head to head with some of the biggest names and baddest machines out there. You can watch all the past TV coverage from the OUSCI for free, anytime on the OPTIMA Network on Roku.