OUSCI Competitor Brian Davis' 1999 Pontiac Trans Am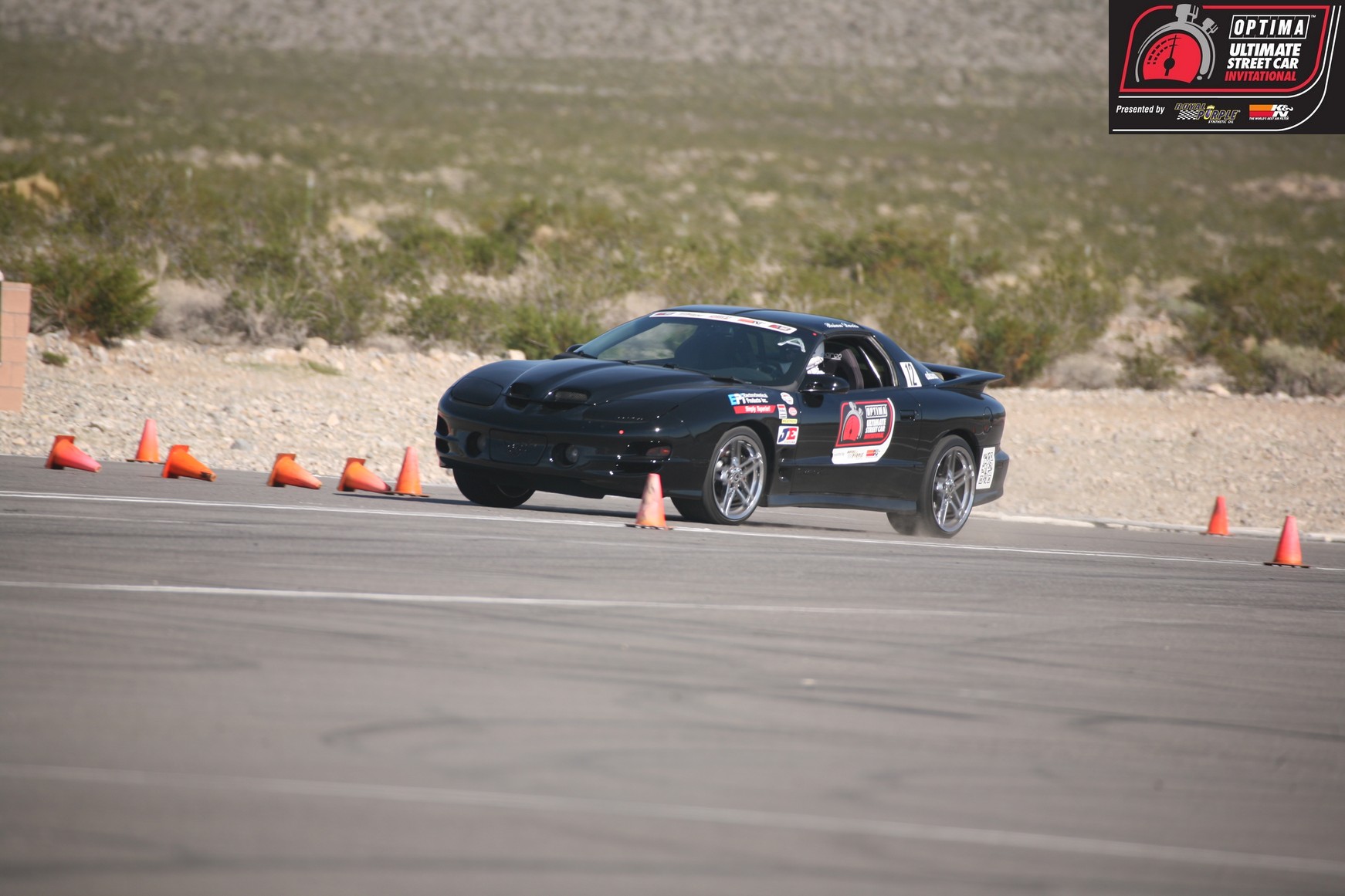 Ultimate Streetcar
Sponsor

OPTIMA Batteries

Location

Pahrump, NV
Their cars may have been built 20 years apart, but Brian Davis & Pedro Gonzalez both received Spirit of the Event invitations to the 2012 OPTIMA Ultimate Street Car Invitational (OUSCI), presented by Royal Purple and KN, at the OPTIMA Faceoff at Road America. Unlike Pedro, Brian was not a newcomer to such events and had run in open track day events before. However, he still found the OUSCI to be extremely challenging.
Knowing these events as he does, Brian made sure to pick up the maximum ten points in the Detroit Speed/JRI Shocks Road Rally, which placed him in a tie for 34th place overall with several other vehicles. Davis knew his car likely wouldn't place in a scoring position in the Lingenfelter Design Challenge, so if he hoped to score any additional points, he knew they'd have to come on the track.
Brian ended up being the most consistent competitor in all events, finishing no higher than 35th and no lower than 38th in any of the events in the 52-car field. However, what might seem like a disappointing performance to some turned out to be a blessing for Brian.
Have you ever been to a golf outing, where the winner of the long drive contest gets a new driver? Does it make any sense to give that guy a new club that will make him even better, while everyone else languishes in mediocrity? Wilwood Disc Brakes sees it the same way, which is why in celebration of their 35th year in business, they decided to award the 35th-place finisher in the Wilwood Speed Stop Challenge with a $350 gift certificate, which happened to be Brian.
Regardless of the fact that Brian's wife views the gift certificate as the equivalent of an automotive version of the "major award," between that and RideTech's Renegade award, we think it's pretty cool that folks deeper in the field get rewarded for coming out to the track and giving it all they've got.
Brian knows his Trans Am's potential is greater than his ability behind the wheel and feels strongly that with a better driver, the car could easily run five to seven seconds faster in the BF Goodrich Hot Lap Challenge. Brian also had trouble getting the proper air pressure in his tires, which probably impacted his performance in the RideTech Autocross.
If there was anything he could've done differently, Brian probably would've tried to get more laps at the track under his belt, including a few with a driving instructor, who could show him the best line and help get his car dialed in. He was really impressed with the cars and drivers in the field and felt there were more than a few guys like him, who built great cars, before they learned how to drive them really fast.
He was surprised to find out he beat 15 cars in the Hot Lap Challenge, although as we've read in some of the other post-race recaps, there were some folks in the back of that field battling tuning gremlins. The Freightliner drift truck really amazed Brian, but the competitor who impressed him the most was Ryan Mathews and the 1966 Ford Mustang from Detroit Speed. "He kept the car looking very original, but it really was a lot faster than many cars that I was sure were going to beat it," says Davis.
If Brian Davis can get out there and have a great time in his Trans Am, there's no reason you shouldn't give it a try in your car or truck. Who knows, you could find yourself at the 2013 OUSCI!