OUSCI Competitor Chris Smith's 1967 Chevy C10 Pickup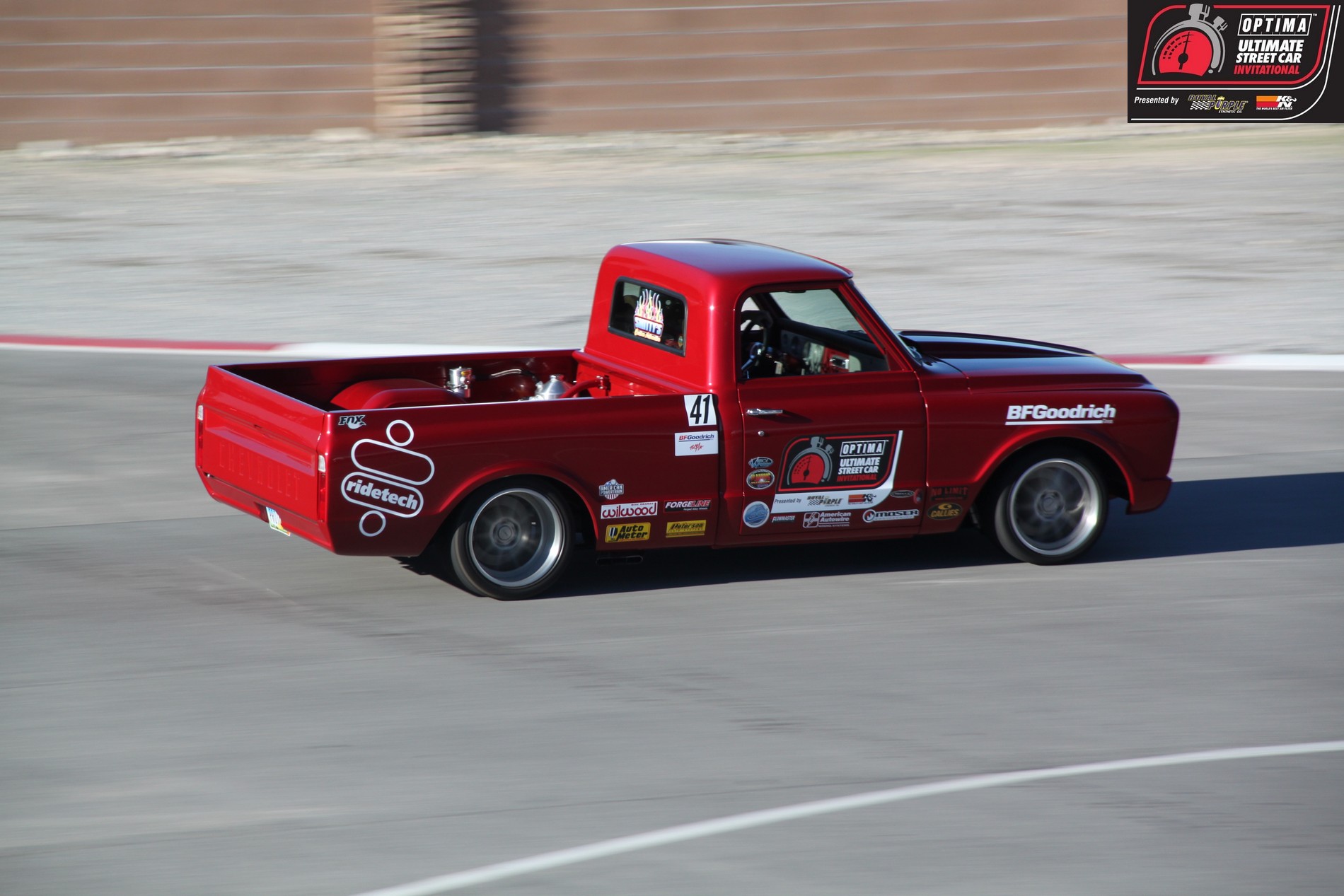 Ultimate Streetcar
Sponsor

Location
Just as the field for the 2012 OPTIMA Ultimate Street Car Invitational, presented by Royal Purple and KN, was filled with diverse entries, the level of preparedness of the competitors both in terms of prior racing experience and their vehicles varied as well. One could sum up Chris Smith and his '67 Chevy C10 as follows- 700 horsepower truck that has been finished for a while, with a driver who has moderate previous racing experience, primarily in autocrossing.
The X factor for Smith was the quality of his build and the judges in the Lingenfelter Performance Design Challenge rewarded him with a second-place finish, which helped him place in the top-20 overall, in 16th spot.
On the track, things didn't go quite as well for Chris, as he was one of many competitors who would've benefited from more time on the big track in the BF Goodrich Hot Lap Challenge, Still, Smith's truck performed flawlessly and he logged a 32nd-place finish there. Moving over to the Wilwood Speed/Stop Challenge, Chris performed in similar fashion, finishing 33rd, although he acknowledges he probably left something on the table.
The RideTech Autocross presented the biggest challenge for Smith, as he feels he really missed on the air pressure in his tires and was only able to place 41st. If he had a chance to run the OUSCI again, Chris would probably not rush as much, knowing he had more time to prepare his truck in between runs. He'd probably also spend a little more time preparing setups for each discipline in advance of the event.
Still, Smith had no issues to contend with on the truck all day long (although he indictes he had plenty leading up to the event itself). He was very impressed with the diversity of the field- imports, domestics, show cars, borderline race cars and exotics all had representatives in the field. While Chris felt all the competitor's vehicles were impressive, he thought the Camaros owned by Mark Stielow and Brian Hobaugh really stood out in the crowd and on the track.
The only advice Chris would offer to future competitors would be to come prepared to run and prepared to have fun. We always see the finished product at the OUSCI, but if you'd like to see Smitty's Custom Auto's build of this truck from bare frame to finish, be sure to check out this build thread on 67-72ChevyTrucks.com. You can also follow them on Facebook. While you're at it, why don't you give this story a +1 on Google+?