OUSCI Competitor Darren Nickleson's 1969 Pontiac GTO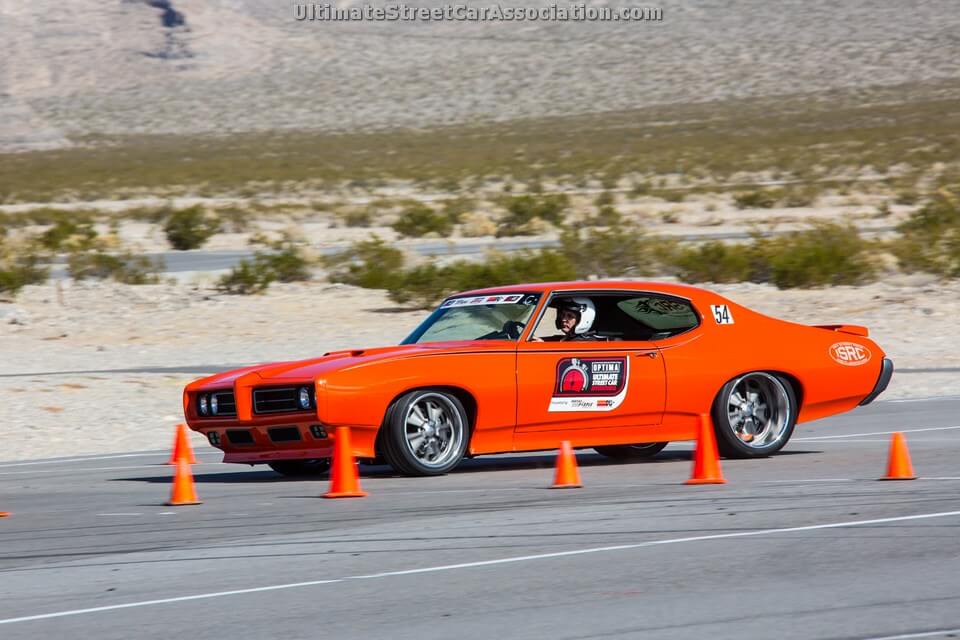 Ultimate Streetcar
Sponsor

Location
Just a handful of the thousands of vehicles on display at the SEMA Show are invited to compete in the OPTIMA Ultimate Street Car Invitational, presented by Royal Purple and KN FIlters and Darren Nickleson's '69 GTO was one of the lucky golden ticket invitees in 2013. While these invitees tend to do well in the Lingenfelter Performance Design Challenge, competing in and in some cases, just completing the rest of the event can be a challenge.
Nickleson's GTO not only showed very well in the Design portion of the event, but it also completed the timed portions of the event as well- a challenge many SEMA show cars are simply not capable of meeting. "Being a golden ticket recipient was more than I expected," said Nickleson. "Then, to be chosen as one of the ten to participate in the OUSCI was unbelievable. Getting in the top-20 overall was completely unexpected. As a builder, it doesn't get any better."
Nickleson's fourth-place showing in the Lingenfelter Design Challenge, combined with his ten points in the Detroit Speed Road Rally was enough to elevate him to a 19th place finish overall, but Darren wasn't done yet. Just before coming to SEMA, the vacuum pump on the GTO was causing Nickleson some problems, so he removed it. However, solving that problem created another. At high rpms, some oil blew out of the dipstick tube, which smoked when it burnt off the headers.
Some show cars of the caliber of Nickleson's might've been parked on the spot at the first sign of smoke or a drop of oil, but Darren continued to drive it through the event and having a great time doing it. In fact, the only thing Nickleson says he would've done differently would've been to relax more during the event. He also would've liked to have joined everyone the following weekend at the Goodguys event in Scottsdale.
Darren was very impressed with all of the cars in the field, telling us the quality, style, technology and performance of the other cars was simply amazing. The one thing that surprised Nickleson at the event was how professionally everyone approached the timed events. "Everyone was serious, but at the same time, having fun," said Darren. "You can't get better than that!"
This was the first OUSCI experience for Nickleson, so he was rightfully nervous. However, if he finds his way back for a return visit, he promises to relax and have even more fun. If you'd like to see how Darren's "Judgemental GTO" build came together, be sure to check out more of the car on the Indy Street Rods and Classics Nickleson's Body Shop facebook page. The folks at Lateral-g also did a full feature on the JudgeMental GTO and there is also an extensive build thread at Pro-Touring.com.