OUSCI Competitor Lynda Jacobs' 1966 Chevrolet Chevelle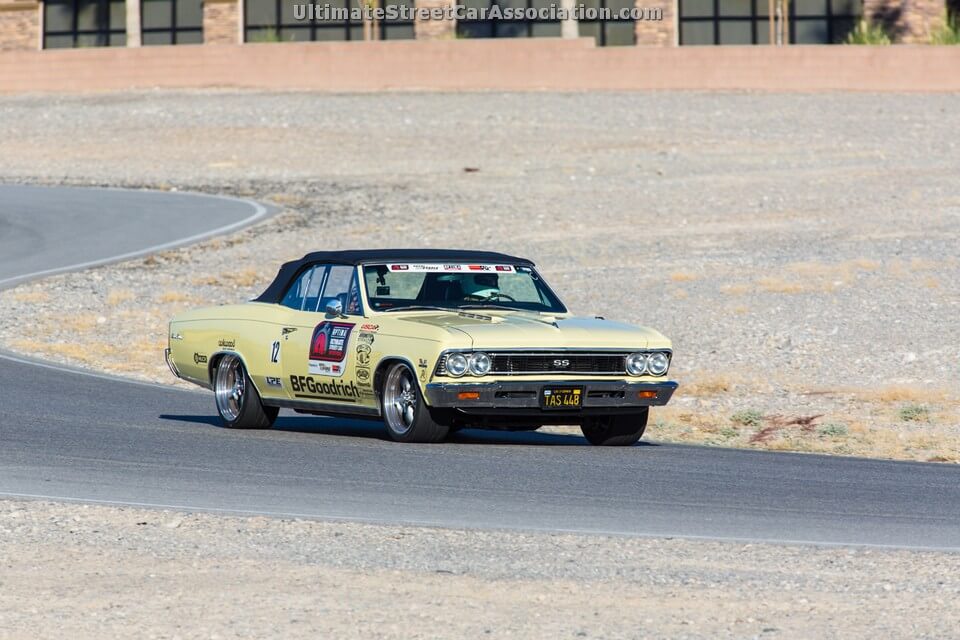 Ultimate Streetcar
Sponsor

OPTIMA Batteries

Location

Pahrump, NV
The Jacobs family are no strangers to the OPTIMA Ultimate Street Car Invitational (OUSCI), presented by Royal Purple and K&N Filters. Chris Jacobs is a past competitor and they have made a point of at least attending the event every year. With all that experience, Lynda knew exactly what to do to prepare for the OUSCI.
Just a few weeks prior to heading out west, Lynda took a trip East to Gingerman Raceway. Even though Lynda had plenty of seat time in her '66 Chevelle, more practice and preparation is always a good thing. Jacobs tells us the 140 miles she drove on the road course in Michigan not only helped hone her driving skills, but also identified a few areas on her car that could've been problematic for her in Nevada.
Some of those issues were addressed prior to the OUSCI, but Lynda tells us she still plans to upgrade the transmission, torque converter, shifter, front brakes and spindles before she tracks the car again. She also expects a 416 stroker will be under the hood before too long. "I love the LS3, but miss the torque of my old big block," admits Lynda.
Lynda has spectated at the OUSCI over the last five years, so she is very familiar with the event and the types of cars that run in it. The 2013 event felt to her like the most-diverse she had ever seen (and it was), with a multitude of European and Import cars, as well as several late-model domestics in the mix. "I did have the feeling that I'd brought a Butternut Yellow knife to a gunfight- lots of big horsepower and modern technology," said Jacobs. "In the end, it's always the driver that makes the difference. I have seen a lot of really incredible cars do poorly and it seems a great driver in a mediocre car will always beat a so-so driver in an incredible car."

That made Lynda's practice sessions even more important and although she was unable to run the sub-2:00 minute lap time she'd hoped for in the BFGoodrich Hot Lap Challenge, she still managed to pick up a top-40 finish in that event. She also joined a half dozen competitors who posted passes in the 39-second range in the RideTech Autocross and managed to post a quicker time in the Wilwood Speed Stop Challenge, than many competitors, who had the benefit of anti-lock brakes and traction control at their disposal.
The outcome of the Lingenfelter Performance Design & Engineering Challenge surprised Lynda the most, which isn't surprising to us. With such a diverse and incredibly well-built field of cars, it's tough for anyone to reach a consensus on their favorites. In fact, we received a dozen different responses from OUSCI competitors, when we asked them which competitor and car impressed them most.
Larry Woo's Camaro was Lynda's favorite. "Larry's Camaro was in contention to win the Lingenfelter Design & Engineering Challenge at the OPTIMA Faceoff at Road America and even though he didn't receive any design points at the OUSCI, he still finished 10th overall, He did an awesome job of driving and made it through all the events, even though he hurt his engine on the road course." said Jacobs.
Larry's Camaro was one of four competitors to finish in the top-10 without the benefit of Design points, although it would've taken an 11th-place or higher finish in the Lingenfelter Performance Design Challenge for Woo to take 9th-place overall from Bret Voelkel's '33 Ford. Overall, Lynda finished mid-pack, tied for 37th, which is about where she anticipated she would end up. "Nothing broke and I didn't go off course," said Lynda. "Overall, I was very pleased with myself and my car."
Jacobs also offered great advice for future competitors. "Take the challenge seriously, as it can be a very intimidating event," says Lynda. "Watch the online videos as much as you can to familiarize yourself with the venue, because you need to have a certain level of comfort with yourself, your car and the facility to be safe. If you feel intimidated or scared, the chances of having something bad happen escalate. Above all, enjoy your time at SEMA and Spring Mountain as much as possible, because it goes by way too fast." We can attest to that, especially now that the first Search for the Ultimate Street Car event is just about three months from now!