OUSCI Preview- Albert Melchior's 1973 Pontiac Trans Am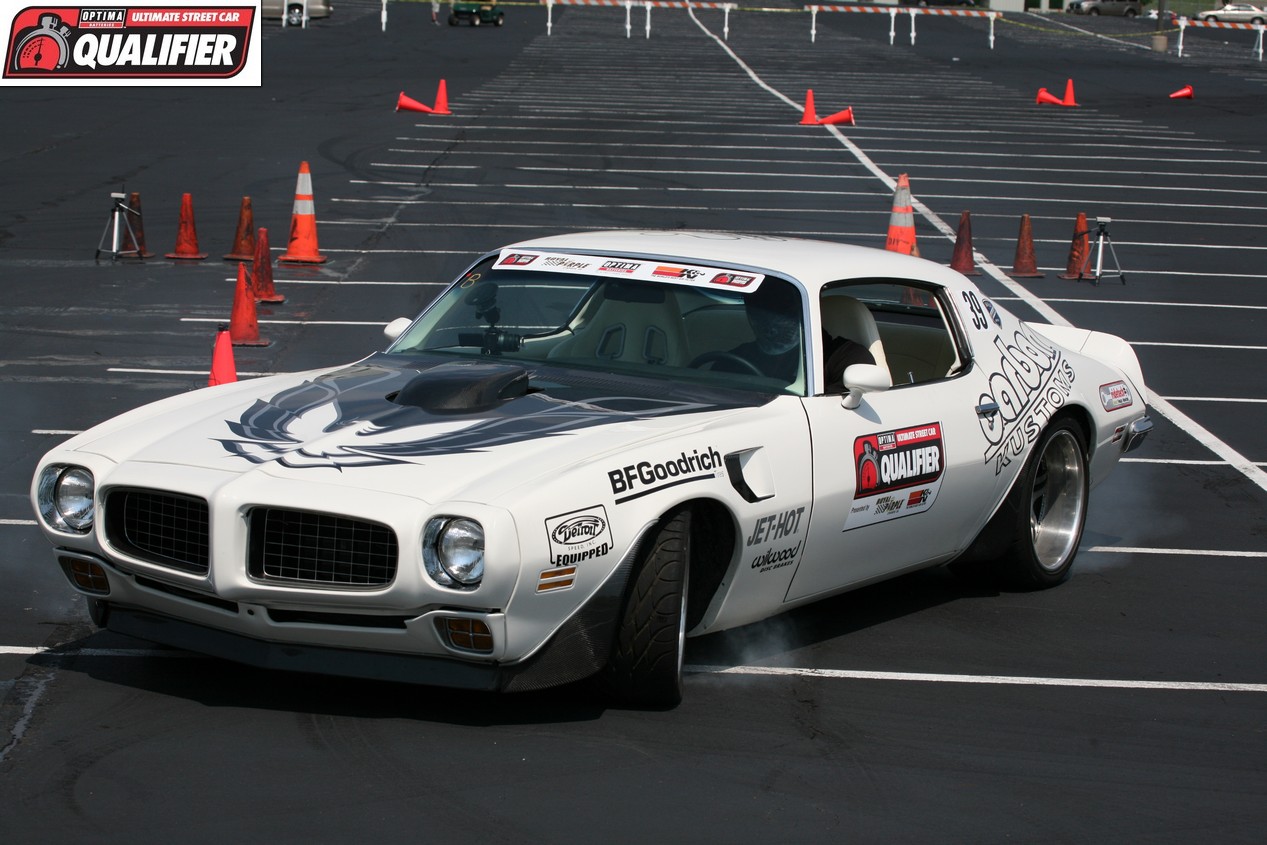 Ultimate Streetcar
Sponsor

Location
Canadian Albert Melchior is a fixture in the Pro-Touring community and a founding member of the Rat Pack. His 1973 Pontiac Trans Am is the focus of today's preview for the 2012 OPTIMA Ultimate Street Car Invitational, presented by Royal Purple and KN. If Albert's Poncho looks familiar, you may have seen it in last year's OUSCI or watched OUSCI host, Bill Goldberg skid it through the Wilwood Speed Stop Challenge at the Arlington Faceoff earlier this year. Actually, that's exactly what is happening in this picture.
Regardless, this Pontiac has seen plenty of changes since it's last appearance on the big stage. The TA is still running Pontiac power in the form of a stroked 455 cubic-inch mill, that now displaces an even healthier 475 cubes. Albert describes even more surprises under the hood- "The motor has the new CV-1 Canted valve Pontiac head and a custom-built Jesel roller shaft system (first ever for Jesel on that head) and a ton of custom machine work performed by RP Motorsports and Astro Machine.
Albert said the end result is a 50-60% increase in power over his previous engine (now 580 HP), which is a significant step up in anyone's book. The beast is topped by a Holley fuel-injection system and backed by a Magnum T-56 six-speed transmission. Other goodies include custom-built, stepped headers and a 3 1/2-inch exhaust system, a full carbon-fiber front clip (from Carbon Kustoms, of course) with a new blue bird design, a Detroit Speed Engineering subframe, RideTech coilovers, a full-floating nine-inch rear end and Wilwood disc brakes on all four corners. Albert also tells us he is trying to squeeze 335-series BFGoodrich rubber into all four wheel wells on a set of custom-built three-piece rally-style wheels.
How will all of this translate in the OUSCI? Albert has competed in plenty of these events and knows his car well, so we expect his predictions will be fairly-accurate. We're not sure why, but he felt the Detroit Speed Engineering/JRI Shocks Road Rally might present some problems for him (we're not sure why). He felt the Lingenfelter Performance Design Challenge would be his strongest chance of picking up points and then he placed himself mid-pack on the Wilwood Speed Stop Challenge, RideTech Autocross and BFGoodrich Hot Lap Challenge.
We're sure Albert's Pontiac won't disappoint anyone, unless Albert doesn't let Goldberg get behind the wheel again and risk flat spots on his new BFGs. Anything can happen and when it does, you'll want to be there. Tickets are already moving faster than last year's brisk pace. Make sure you get your tickets before they're all gone.