OUSCI Preview- Brian Finch's 1971 Chevrolet Camaro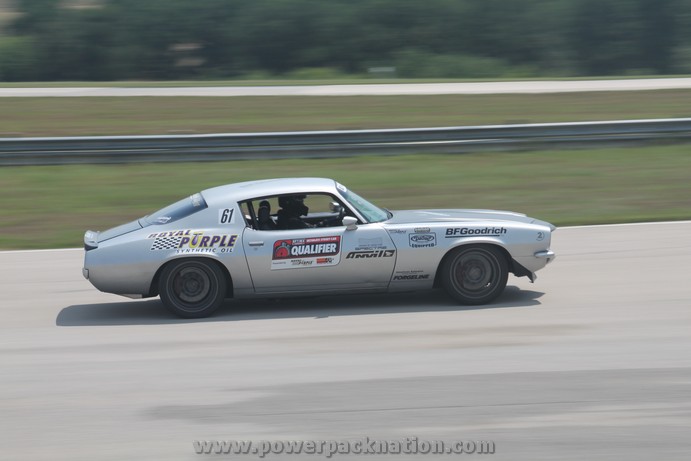 Ultimate Streetcar
Sponsor

OPTIMA Batteries

Location

Las Vegas, NV
If there is anyone in the field for the 2012 OPTIMA Ultimate Street Car Invitational (OUSCI), presented by Royal Purple and K&N Filters, who knows what it takes to be competitive, it would be Brian Finch. When we ask competitors in this year's field who the top contenders are, Finch's name seems to always be mentioned and for good reason. We can't think of a driver who has competed in more events in the past three years. Finch is always out there, honing his skills and fine-tuning his '71 Camaro. The result of those efforts are consistent finishes near or at the top of every event he enters and that is his goal for the 2012 OUSCI.
Power comes from a juiced 427 cubic-inch LS7 from Kurt Urban Performance. That's right, Brian's F-body is on the bottle to the tune of 150 horsepower. That raises the total on tap to about 800 ponies, which Finch feels should be good for a top-five finish in the BFGoodrich Hot Lap Challenge. Speaking of BFG, Finch will be bringing plenty of sponsored rubber along with him and expects he will peform very strongly in the RideTech Autocross as well.
Finch feels his specialty and best chance for a top finish is in the Wilwood Speed Stop Challenge. Baer brakes has provided all-new stopping power and the added slalom component should favor a strong autocrosser like Finch.
Areas where Brian doesn't anticipate a high score would include the Lingenfelter Performance Design & Engineering Challenge and the Detroit Speed Engineering/JRI Shocks Road Rally. How could Finch, a seasoned OUSCI veteran, be concerned about his performance in the road rally? As you are reading this, the body panels from Finch's Camaro are occupying various corners of his garage and his engine is somewhere other than under where the hood would be, if the hood were on the car right now.
We're not sure why Finch would have his car in pieces, while so many other competitors have their cars buttoned up and are trying to squeeze in last-minute track sessions, but we have to trust Finch knows what he's doing and his Camaro will be ready by the time it reaches Las Vegas. By the way, if you missed the 2012 OUSCI, you can always go back and watch it free, anytime on the OPTIMA Network on Roku.