OUSCI Preview- Brian Hobaugh's 1973 Chevrolet Camaro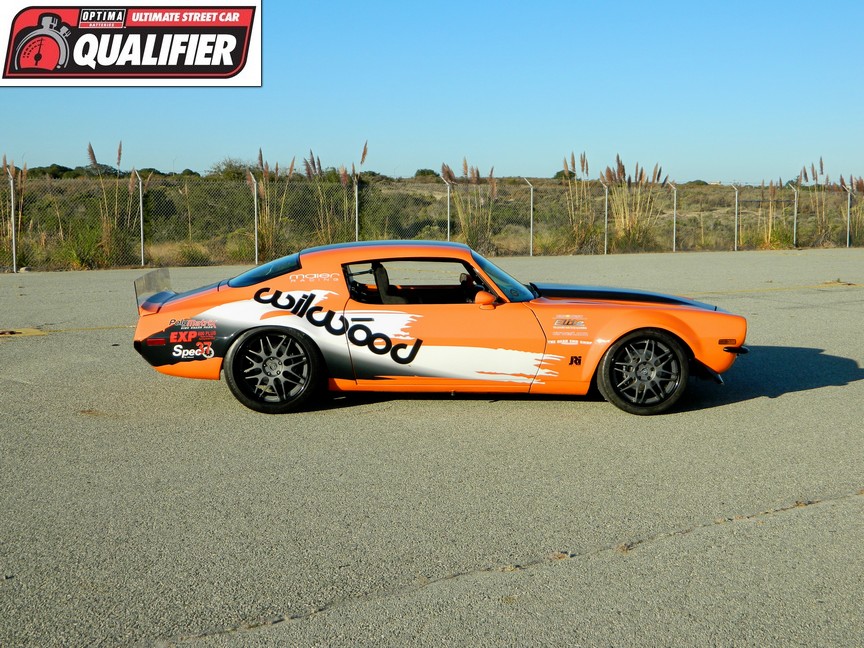 Ultimate Streetcar
Sponsor

OPTIMA Batteries

Location

Pahrump, NV
Brian Hobaugh finished third in last year's OPTIMA Ultimate Street Car Invitational (OUSCI) in his 1973 Chevrolet Camaro and fourth place wasn't even close. He is back again for the 2012 OPTIMA Ultimate Street Car Invitational, presented by Royal Purple and K&N, yet we've heard very little from other competitors regarding Hobaugh being a contender to win it all this year. How is that even possible?
Perhaps Mark Stielow, Danny Popp and Kyle Tucker are just the three names that first pop into everyone's mind when they think of the toughest competitors in this field? (Brian did mention all three as top contenders) Whatever the reason, Brian Hobaugh absolutely must be considered one of the favorites coming into this year's event. Forget the fact that he has a proven combination that has already placed very well in this competition, Hobaugh knows how to drive! Brian has been autocrossing competitively for more than 25 years and with a year's worth of experience under his belt specific to Spring Mountain Motorsports Ranch, he will be ready to capitalize on the slightest error anyone else makes.
Brian's Camaro has all the right components, from the 416-cubic inch Mast Motorsports LS3, that generates 611 horsepower, to suspension and handling components from Maier Racing, JRI Shocks and of course, the very best braking components Wilwood has to offer.

Hobaugh's knowledge of the event format and the fact that his car has been thoroughly sorted out by an experienced competitor makes for a very potent combination that is sure to help him in his second OUSCI. You simply cannot contend for victory in the OUSCI without scoring the maximum number of points available. Brian knows this and even though he usually rides around Vegas in taxicabs, he'll make sure he pays attention during the Detroit Speed Engineering/JRI Shocks Road Rally.
Hobaugh's Camaro has several thousand hours worth of work into it, with nearly every inch of it modified or upgraded in some way. The judges saw the attention to detail last year and Hobaugh scored well, but will he be able to repeat that performance in the Lingenfelter Performance Design & Engineering Challenge this year?
Brian finished seventh in the BFGoodrich Hot Lap Challenge in 2011 and three of the cars that finished above him are not in the 2012 field. Will he move up or will other new entries step into those spots? Either way, Hobaugh is likely a top-10 lock if the car holds up it's end of the deal.
Likewise, Hobaugh was third in last year's RideTech Autocross, with Mary Pozzi and Danny Popp finishing ahead of him. Mary is not in the field this year and Danny is in a different car. Will this be Brian's event this year? He seems to be a virtual lock for a top-5 spot.
Brian finished just outside the top-ten in the Wilwood Disc Brakes Speed Stop Challenge, due in large part to several of the cars in front of him having anti-lock brakes (although not all). We know Stielow Popp will both have ABS in this year's field and finished ahead of Hobaugh last year. How much ground can he make up in this year's field?
Brian feels the RideTech Autocross will be his strongest event and for good reason. However, many questions remain about how well he can place in the other events. That's why we go to the track and sort things out there. If you missed your chance to see this OUSCI in person, add the OPTIMA Network on Roku for free and watch all the past TV coverage!
If you'd like to see more of Brian's ride in action, check out this video. There are also several features on Brian's car at StreetLegalTV.com and a good thread over at Lateral-g.net.