OUSCI Preview- Dennis McCarthy's 2012 Lucra LC470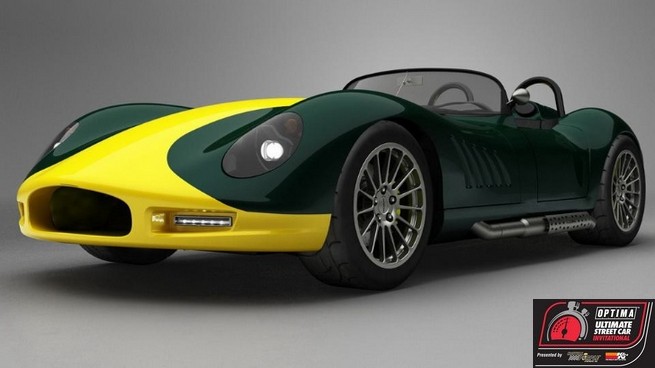 Ultimate Streetcar
Sponsor

OPTIMA Batteries

Location

Hollywood, CA
If there is one thing that is certain about the 2012 OPTIMA Ultimate Street Car Invitational (OUSCI), presented by Royal Purple and K&N Filters, it is that you are guaranteed to see some wild and exotic rides. Dennis McCarthy's 2012 Lucra LC470 would likely fall into both categories.
Don't feel bad if this is the first time you've heard of this car, although you can feel better about your automotive knowledge base if you thought this car looked similar to a vintage Lister, Jaguar or Chevrolet, as those certainly served as inspiration. The company has been producing these cars since 2011 and they are about to become very famous.
We'd like to take credit for that impending fame, but instead we must give credit to the new Universal Studios feature film, Fast Furious 6, which will feature this very car, in addition to many other amazing machines. This particular model features a one-piece carbon fiber body, hiding a tubular steel chassis. There is also a smooth undertray that significantly cuts down on drag at high speeds and the Lucra is certainly capable of that!
There are a wide array of engine options for the Lucra, all of them GM-based powerplants. This particular car will be sporting an LS3, which displaces 385 cubic-inches and produces 550 horsepower. The engine is mated to a five-speed Tremec TKO 600RR, making it well-suited for the wide array of events found in the OUSCI.
Four-wheel disc brakes are an obvious feature, complimented by PBR vented calipers and carbon-kevlar pads. The suspension is independent in both the front and rear, with forged aluminum upper and lower control arms, aluminum pro-shocks and composite springs.
The Lucra is designed to very capable on the race track, but still very user-friendly on the street. The LS engines are a proven combination and as expensive as a day of filming a movie can be, we are confident this car will be ready to complete the Detroit Speed & Engineering/JRI Shocks road rally.
The LC470 does pose an interesting conundrum for our judges in the Lingenfelter Performance Design & Engineering Challenge. It is basically a stock vehicle as it comes from the factory, but the design and execution of this car probably far outstrip what most folks would expect from a factory ride.
The LC470 is easily capable of low-9 second passes in the quarter mile. All the attributes we've already mentioned, plus the 47/53 weight distribution and low profile should also help it in the RideTech Autocross, BFGoodrich Hot Lap Challenge and the Wilwood Speed/Stop Challenge. The question is whether the driver, Dennis McCarthy, will be the limiting factor in it's performance on the track.
While McCarthy is not a professional race car driver, it is fair to say that he drives for a living or at least as a part of his job, just as Mark Stielow does as an engineer for General Motors. Dennis is a picture car coordinator, hence the connection to the Fast Furious movie, but he has also worked as a stunt driver in Live Free or Die Hard, Fast Five, Batman Begins and Herbie Fully-Loaded.
Stunt-driving in Hollywood requires the ability to be very precise and very repeatable under very stressful and often high-speed scenarios. In other words, many of the same requirements of a professional race car driver, minus all the sponsorships and trophies. We think Dennis will more than hold his own behind the wheel.
Will Dennis and the Lucra have enough to come out on top? Watch the TV coverage from the 2012 OUSCI free on the OPTIMA Network on Amazon Fire TV.