OUSCI Preview- Herb Stuart's 1968 Mercury Cougar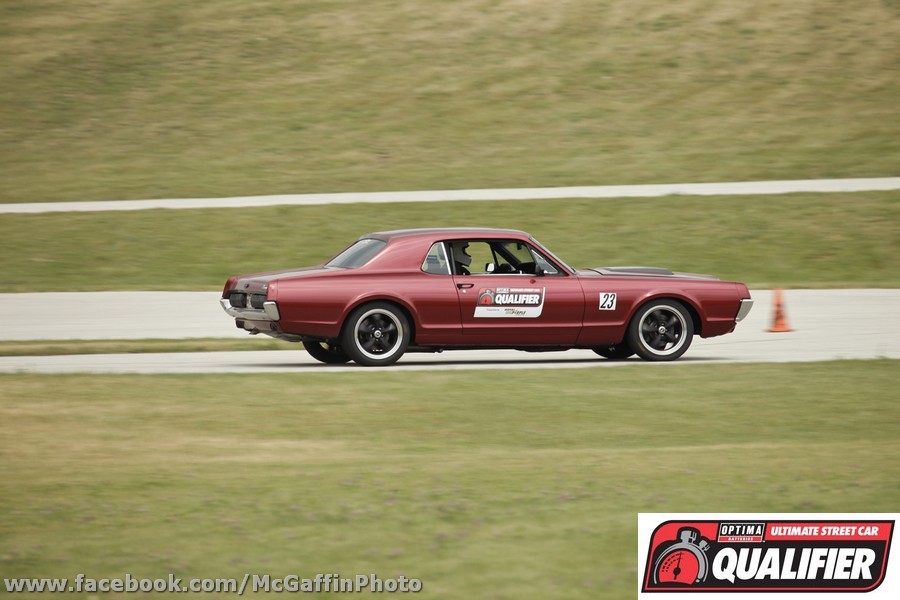 Ultimate Streetcar
Sponsor

Location
If there's one thing you can count on in the OPTIMA Ultimate Street Car Invitational, presented by Royal Purple and KN, it's a wide variety of vehicles. Yesterday, we took a look at Mark Capener's 2011 Lamborghini, built by one of the world's top Lambo tuner shops and today, we're looking at Herb Stuart's 1968 Mercury Cougar, built by a high school auto/tech teacher. While the two cars may be on the opposite ends of the spectrum in terms of budgets, the end result is still the same- very cool cars.
Herb originally bought the Cougar for his son, but when the previous engine called it quits, Stuart started in with some heavy modifications. The classic cat is now powered by a modern 400 horsepower V8 sourced from a 1999 Mustang Cobra and backed by a TR45RS 5-speed transmission. While some OUSCI entrants push the ragged edge of what would be considered a "street car," Herb rides in comfort with full heat, defrost, air-conditioning and a solid 23 mpg on the highway.
Those attributes and the fact that Herb's car has been built since 2007 should serve him well in the Detroit Speed Engineering/JRI Shocks Road Rally. Since Stuart has never done an OUSCI road rally before, he'll be looking for advice to make sure he gets the full number of points available. Our advice would be to follow the directions to the letter of the law. If you need a picture of your car with Elvis, make sure you find him. If you need a receipt from the In 'N Out Burger drive-thru window, make sure you get it and don't be late for your checkpoints.
Scoring 10 points in the Road Rally counts the same as a sixth-place finish in the Lingenfelter Performance Design Challenge, so they are definitely points worth having. Herb questions whether his homebuilt ride will garner much favor with the judges, but we wouldn't be surprised if he picked up a few points there, as the judges will likely acknoweldge how much more challenging it is to build a '68 Cougar, than a '68 Camaro or even a '68 Mustang.
In that regard, Herb feels he's really put the car together well and it has proven itself very capable on the track, as Herb has been running in open track events with the Northwoods Shelby Club since 2007. Stuart tells us the 3,350-pound car is very well-balanced and stops with confidence, thanks to a set of Wilwood disc brakes. Herb's extensive track experience and dialed-in ride should give him an edge over many competitors in the BFGoodrich Hot Lap Challenge, although he feels his heavy foot may hurt him somewhat in the RideTech Autocross.
Because Herb is a high school teacher with limited resources, he would like to extend a special "thank you" to his sponsors for the OUSCI, Ron Morris Performance, Summit Racing and the Northwoods Shelby Club. Herb is still looking for more help to get his car out to SEMA and the OUSCI and tells us there is plenty of square footage available on his Cougar for someone who would like to get some air time on the SPEED Channel. If you are interested in helping Herb realize this dream, please drop him a line at jandhstuart@new.rr.com
Herb is also the advisor for the Oconto High School Beat the Heat program, which helps get high school kids interested in racing in a positive environment, so should he hit paydirt on sponsorship support, he assures us that any exces resources will go right back to helping the kids in that program. If you'd like to cheer for an underdog in the OUSCI, we think Stuart is a great choice, who might surprise a few folks. Buy your OUSCI tickets today, while supplies last!