OUSCI Preview- Jeff Cleary's 1967 Chevrolet Corvette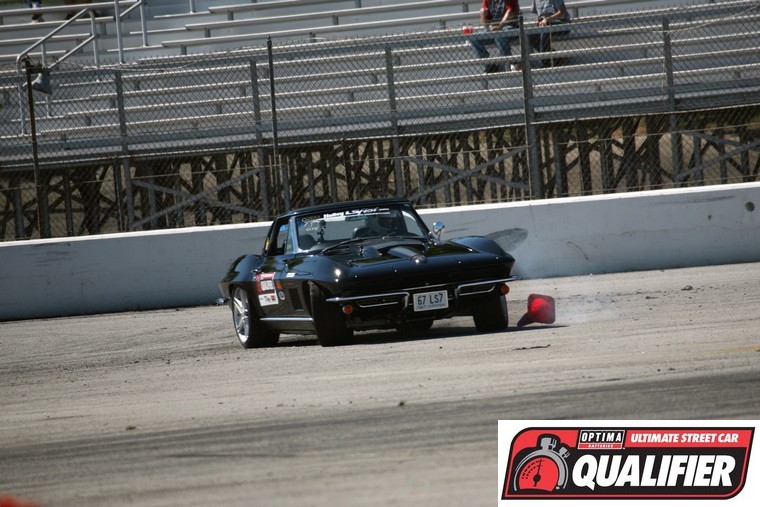 Ultimate Streetcar
Sponsor

OPTIMA Batteries

Location

Pahrump, NV
We first spotted Jeff Cleary and his outrageous '67 Corvette at Holley's LS Fest back in 2011. It was hard to miss before it ran a 10-second pass in the quarter mile and once that happened, everyone was talking about the stealthy 'Vette, including Race Director, Jimi Day, who had to give Jeff the boot for running too fast without a roll cage.
Jeff took the news very well and asked if he could still hang out and watch the activities, which he did. Fast forward to 2012 and Jeff found his way back to LS Fest, this time with the proper safety equipment and continued to wow the skinny slicks crowd, who ripped out their interiors in search of the times Cleary clicks off almost effortlessly.
Is this Corvette sounding familiar yet? If so, perhaps you caught it on the cover of Corvette Fever back in November of 2009. If not there, then perhaps Chevy High Performance's coverage of the previous two LS Fests? There's also the February 2011 issue of Hot Rod magazine, where it was included in the story on America's hottest engine swaps and most recently, Vette Magazine, back in June of this year. You get the idea. This car has caught the eye of many a magazine editor and for very good reason.
If Mark Stielow were to build a naturally-aspirated, ragtop Corvette, it might turn out something like this Sting Ray. Purists can rest easy, knowing Jeff started with the most-derelict C2 he could find, that could still be saved and went wild from there. The early Vette now rests on a SRIII Motorsports' tube frame chassis, with a C5 front suspension and C4 rear suspension and all the expected upgrades. Through some industry connections, Cleary was able to snag an early production LS7, which was then fortified by J2 Race Engines and tuned by Virginia Speed to produce 603 horsepower and 522 lb.-ft. of torque. If those sound like very specific numbers, they are and they are measured at the rear wheels.
Cleary didn't just build a world-beater in terms of performance, he paid attention to the details. KL Enterprises in Martinsburg, West Virginia designed and fabricated a custom hood hinge system, that lifts the hood up and out, instead of down and into the engine compartment. The Vintage Air is well-concealed up front and hidden in the back is an ample stereo system featuring two channels front and rear, as well as a subwoofer, Alpine 5-channel amp and a 40-gig iPod. Details like that will have to make Cleary's Vette a serious contender for the Lingenfelter Performance Design Challenge.
While some OUSCI participants are thrashing on their rides as you read this, Cleary's car has been done for years and road-proven during that time. In fact, don't be surprised if he cruises comfortably in 6th gear and averages north of 25 mpg during the Detroit Speed Engineering/JRI Shocks road rally.
When it comes time to hit the track, Cleary and his Corvette will definitely be ready. Jeff's Vette weighs in at just over 3,000 pounds and with modern suspension upgrades and plenty of power on tap, he will be a force to be reckoned with in both the RideTech Autocross and BFGoodrich Hot Lap Challenge. However, we wouldn't be surprised to see Clearly amongst the very best in the field when it comes time to run the Wilwood Disc Brakes Speed Stop Challenge.
We often talk about how experience can play such a huge role in determining the level of success someone has in these events and we're about to illustrate it for you with Jeff's Speed Stop runs at LS Fest. We don't know if 2011 was the first time Jeff ran in a Speed Stop Challenge, but his best time last year was a 10.36-second pass, which is very impressive and expected of a car that can run 10.7s in the quarter mile and stop on a dime with the help of 14-inch rotors and six-piston calipers. However, when Jeff returned to Bowling Green in 2012, he won the Speed Stop Challenge, with a time of 7.40 seconds (he also won the 1/4-mile with a 10.8@132 mph). That is a learning curve if we've ever seen one.
Outrageous performance packed into a car with magazine-quality fit and finish has to place Jeff Cleary's '67 Chevrolet Corvette among the most serious of contenders for the crown of America's Ultimate Street Car. Will he come out on top? Watch all the past OUSCI coverage for free on the OPTIMA Network on Roku.