OUSCI Preview- Matt Collins' Supercharged & Meth-injected 2007 Audi RS4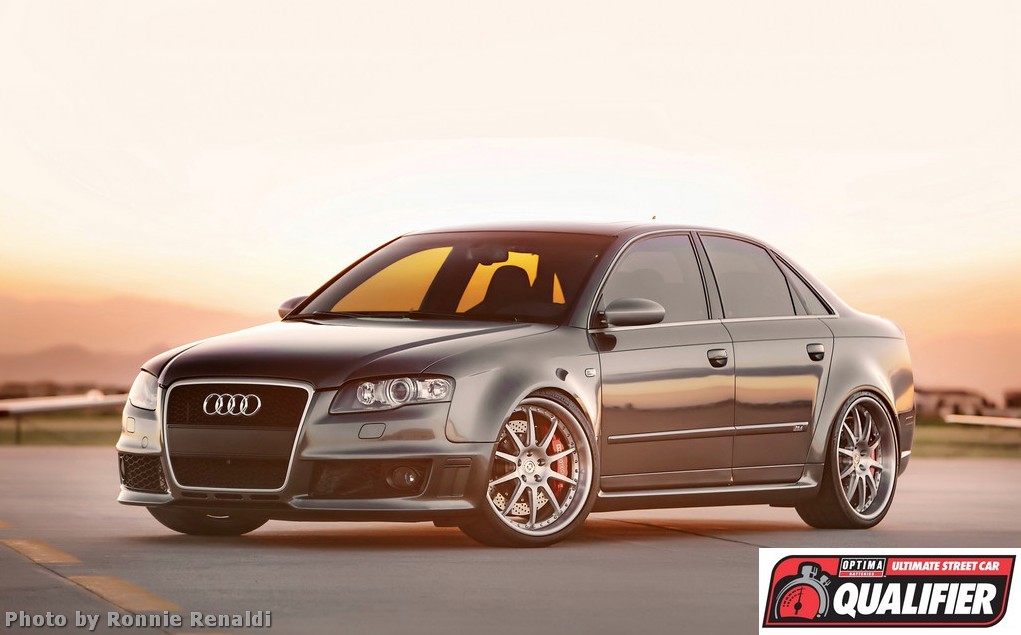 Ultimate Streetcar
Sponsor

OPTIMA Batteries

Location

Pahrump, NV
The features that will immediately jump out at competitors in the OUSCI field is the RS4's all-wheel drive format and anti-lock brakes- two features not found in many of the other vehicles in the OUSCI field and a distinct competitive advantage, particularly in the Wilwood Disc Brakes Speed Stop Challenge. However, traction and braking ability will only get a vehicle so far and there needs to be some motivation under the hood. Collins' Audi delivers in that department as well, with a supercharged and methanol-injected powerplant that delivers nearly 600 horsepower. Can you see why this event is called "The Ultimate Street Car Invitational? "
Collins drives the YouTube-famous RS4 regularly, so there is little doubt it will be able to complete the Detroit Speed Engineering/JRI Shocks Road Rally, although it seems as if at least a few competitors fall short there every year. Gerson concedes the interior is largely stock and questions how much love the Lingenfelter Performance Design Challenge judges will give the car, although it is packed with wildly-expensive European market parts and a very stealthy Snow Performance methanol injection system. The clean execution of the modifications and significant stereo upgrades should get some notice, along with the other tasteful upgrades.

A casual observer might not realize the suspension has been upgraded with Stasis Engineering coilovers with Ohlins remote-reservoir dampers, custom spring rates and Hotchkis sway bars or that braking is now handled by StopTech components, but those upgrades should be evident on the track. The real question will be how much of the Audi's potential Matt Collins will be able to extract. While he doesn't have competitive driving experience, Collins is not a newbie to track day events and he has time on his side.
Because Collins' car has been completed for a while, he has had significant time to dial in the car. Having it tuned in Denver also means it won't have any trouble with the altitude at Spring Mountain Motorsports Ranch. That means he can spend the weeks leading up to SEMA and the OUSCI honing his driving skills, instead of busting his knuckles. How will Collins and the Audi fare? We'll find out soon enough. It's hard to believe the 2012 OPTIMA Ultimate Street Car Invitational (OUSCI), presented by Royal Purple Synthetic Oil and K&N Filters, is less than 50 days away, but it's true! The initial list of entrants has recently been released, so now that the cat is starting to get out of the bag, we'll begin profiling the cars and trucks that will make their way out to Nevada next month for the SEMA Show and the 2012 OUSCI, starting with Matt Collins' amazing 2007 Audi RS4.

The RS4 comes out of the same 3Zero3Motorsports stables that produced 2011 OUSCI participant, Zeke Peterson's 2003 VW Beetle, so even though Matt will be an OUSCI rookie, he will have the backing of a shop that has been to this rodeo before. In fact, Max Gerson, of 3Zero3 recommended Collins' Audi as a potential candidate, based on his experience from helping Peterson last year.