Pedro Gonzalez's 1979 Pontiac Trans Am | 2012 OUSCI Preview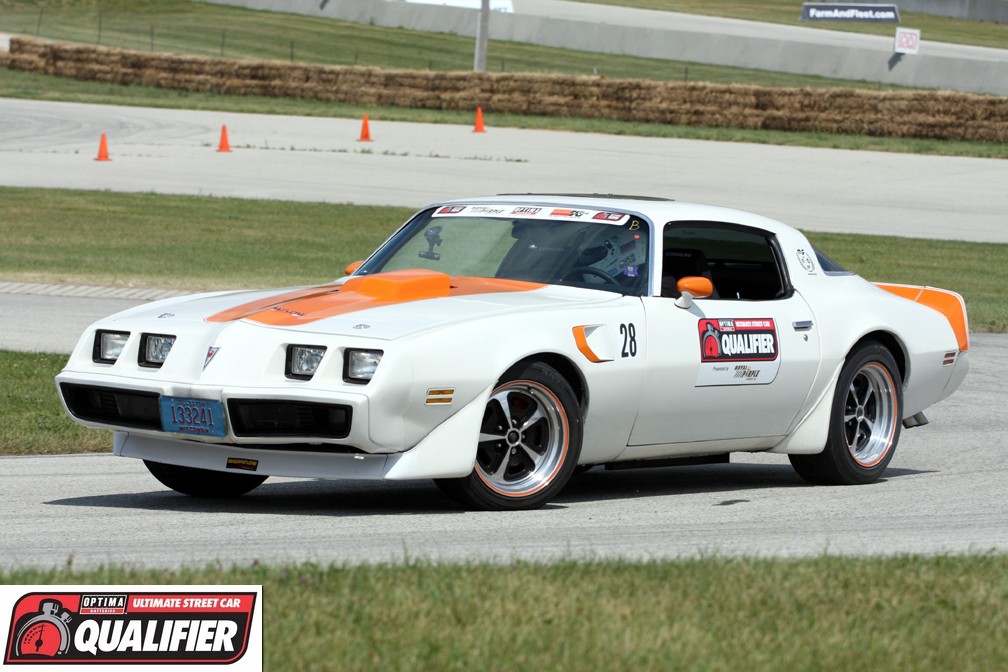 Ultimate Streetcar
Sponsor

OPTIMA Batteries

Location

St. Francis, WI
If you caught the OPTIMA Faceoff at Road America, presented by Royal Purple, on SPEED TV, then you saw plenty of air time for Pedro Gonzalez and his 1979 Pontiac Trans Am. Although Pedro is a longtime enthusiast, the Faceoff at Road America represented his first competitive outing and he was rewarded with an invitation to the 2012 OPTIMA Ultimate Street Car Invitational (OUSCI), presented by Royal Purple and K&N Filters.
Pedro's entry reminds us very much of Telly Violetto's 1978 Pontiac Trans Am, which also was given a Spirit of the Event invitation to the 2010 OUSCI, following his participation in the 2010 OPTIMA Faceoff at Road America. Both are obviously late-70s F-bodies and neither was heavily-modified when they ran in the Faceoff. However, as we saw with Telly's TA two years ago, a lot can change between the Faceoff and the OUSCI at the end of the year.
Pedro came into the Faceoff with a few more modifications than Telly's nearly-stock ride, including an Oldmobile 403 under the hood that has been bored .030 over, mated to Flowtech headers and a Magnaflow exhaust system. Pedro's ride also features a forged crank and heads that have been ported and polished. Factory drums were still in the back of Pedro's ride, but he did already upgrade his front rotors with cross-drilled units from Powerstop and calipers from Wilwood.
Since the event, the folks at Holley have pitched in to help Pedro with a new carburetor and the folks at RideTech have really stepped up, re-vamping Pedro's entire suspension and throwing in one of their Tiger Cages to help stiffen up the chassis.
Pedro tells us the RideTech & Holley parts are bolting on, just like they should. However, the real question is whether Pedro will have enough time to dial in his new combination? As this is being written, Gonzalez is in the midst of a mad thrash to get his car put back together, before it heads west on what could turn into a 2,000-mile shakedown drive to Las Vegas.
With all the new parts going onto Pedro's car, we can't even begin to tell you how much horsepower it will produce, although we expect it will exceed the 400 it produced before the new Holley carb came onboard. We don't know what the RideTech upgrades will do to the weight either, but we expect if Pedro can make it to Nevada, the Detroit Speed Engineering/JRI Shocks Road Rally will be a piece of cake.
Beyond that, Pedro sees an equal opportunity to score points in the remaining events, knowing he'll be up against some very stiff competition in every regard, from the Lingenfelter Performance Design & Engineering Challenge, to the RideTech autocross, Wilwood Speed Stop Challenge and BFGoodrich Hot Lap Challenge. The one thing Pedro does have going for him is some degree of familiarity with the event itself and the general format, as he has been spectating this event for several years, in addition to his participation at the Faceoff.
Pedro watched as other competitors were tripped up by various mechanical gremlins and armed with that knowledge, he will be making his best effort to avoid similar obstacles. If you are looking for an underdog to cheer for in the 2012 field, Pedro is your guy. If you'd like to see him duke it out with the big boys, add the OPTIMA Network on Roku for free and watch all the past coverage.