Pedro Gonzalez's 1979 Pontiac Trans Am | 2012 OUSCI Recap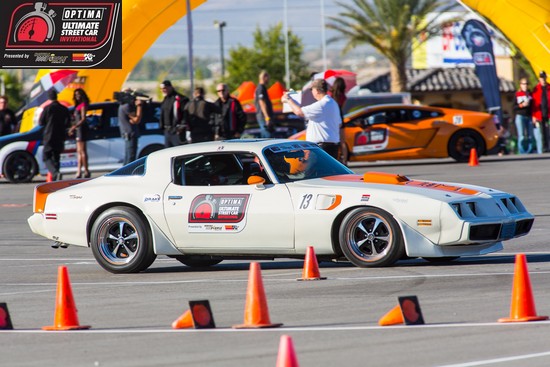 Ultimate Streetcar
Sponsor

OPTIMA Batteries

Location

Pahrump, NV
The OPTIMA Ultimate Street Car Invitational (OUSCI) can be a daunting experience for even seasoned track veterans. After all, competitors only get three chances to post their best time. Nerves, unfamiliarity with the course or events and car setups can easily eat up all three chances and do on a regular basis.
Pedro Gonzalez is a relative newcomer from a participant standpoint, but he has attended several past events, which served him well when he was selected as a Spirit of the Event invitee at the OPTIMA Faceoff at Road America. Pedro knew coming in that he wasn't going to have the most horsepower or the best-handling car, but he also knew he had little to lose.
Not including the laps Pedro turned at the Autobahn Country Club in OPTIMA Jim's Excursion, the 2012 OUSCI was only the second time Pedro had ever been on a racetrack in his car. While some invitees choose to spend the months leading up to the OUSCI honing their driving skills, Pedro opted to tear into his car. Post-Faceoff upgrades included new suspension components from RideTech, as well as one of their Tiger Cages and a new carburetor from Holley.
However, the tradeoff on thrashing on his car meant zero time to shake it down before driving to Las Vegas. You read that right, Pedro made the long haul all the way to Nevada in his F-body (one of the few competitors to do so). Having spectated at past events, Pedro knew the importance of scoring the maximum points in the Detroit Speed/JRI Shocks Road Rally. The ten points he picked up there placed him in a tie for 34th place overall in the 52-car field.
Because he didn't have the luxury of a trailer to bring his car home, Pedro made sure he stayed on the track and maximized his experience without sacrificing his ride home. When the dust settled, Pedro wasn't at the front of the field in any of the various events, but he finished ahead of several competitors in most events.
His biggest surprise in the competition came when he saw the Peak Performance-sponsored Freightliner drift truck smoking it's tires through the turns on the track and the driver who impressed him most was RideTech's Bret Voelkel and his '32 Ford Roadster.
As for advice for future competitors, Pedro offers sage wisdom- "Horsepower helps, but doesn't always make you the fastest. You have to know your car well and have confidence in your car and your own ability," says Gonzalez. "You really have to know just how much to push your car, because there is a fine line between driving your car away from the event and loading it up in pieces." Truer words were never spoken. Be sure to check out all the past OUSCI TV coverage for free on the OPTIMA Network on Roku.