Peter Basica's 2012 Chevrolet Sonic | 2012 OUSCI Preview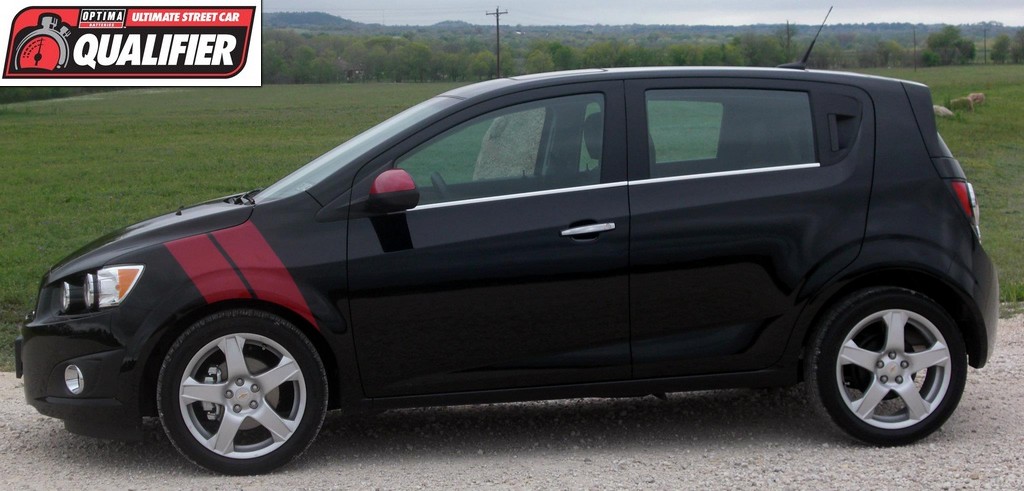 Ultimate Streetcar
Sponsor

OPTIMA Batteries

Location

Pahrump, NV
Peter Basica's name might be on the title of this 2012 Chevrolet Sonic, but if we're really being honest, this car belongs to his daughter, Ljubica Basica, who uses it to drive to high school. This may not seem like the typical entry in the 2012 OPTIMA Ultimate Street Car Invitational (OUSCI), presented by Royal Purple and K&N, but we think this Sonic could very well be the most-intimidating car in the field.
Why would a 3,000-pound car that barely pumps out 150 horsepower be so intimidating to a field full of fire-breathing V8s, many producing three times as much power or more? Because this Sonic is going to beat some of them. The driver of the Sonic is GM Engineer, John Buttermore, who just happened to be the lead development engineer on the car.
As with the other GM Engineer in our field, Mark Stielow, John is no stranger to race tracks. In fact, Buttermore is the reigning and back-to-back champion in his SCCA T1 Corvette. A driver with that pedigree can lay down respectable times in just about any vehicle and a Pedderised Sonic is no exception. In stock form, this car managed a 1:47 at Gingerman, while presumed OUSCI frontrunners, Stielow, Danny Popp and Todd Rumpke all ran in the low 1:30s or high 1:20s.
While Buttermore may not be able to catch the fastest cars in the field in the BFGoodrich Hot Lap Challenge, he'll certainly be able to close the gap considerably over what a stock Sonic could manage. This Sonic has been lowered and corner-weighted with Pedders GMPP Xa coilovers and although the rotors are stock, Carbotech XP 8 pads and SRF brake fluid has been added into the mix. It may come up short against the top contenders, but John's driving expertise combined with a decent-handling car will likely result in some red faces among some of our competitors and we haven't even mentioned the RideTech Autocross.
We don't know whether Buttermore prefers road course racing over autocrossing, but the compact size of this car will likely make it feel like it is on a small road course while autocrossing. Looking to past OUSCI autocrosses, cars like Zeke Peterson's VW Beetle and Ben Therrien's Chevy Cobalt were both solid performers and it is likely Buttermore will show even better. Could a top-10 finish be possible with this car?
Even though the 1.4-liter Ecotec turbo has been breathed on a bit, it just doesn't have the oomph of many of the other cars in the field, so it likely won't get out of the gates with much gusto in the Wilwood Disc Brakes Speed Stop Challenge. However, with the slalom component added to this year's event, it may again perform better than most might expect and don't forget, it does have anti-lock brakes.
Moving to the Lingenfelter Performance Design Challenge, the lightly-modified Sonic will likely not score any points with the judges. However, if the Sonic makes the 2,000+ mile drive to SEMA, we have no reason to believe it won't be able to complete the Detroit Speed Engineering/JRI Shocks Road Rally.
When the dust settles, we fully expect this compact competitor will have outscored more than a few cars in the OUSCI field. Basica may not be tacking Mustang and Camaro kill marks on the quarter panels of the Sonic, but word of mouth will spread about the performance of this pocket-sized performer and no one wants to be known as one of the guys who got beat at the track, by a high school cheerleader's daily driver. If you'd like to see how it all went down, add the OPTIMA Network on Roku for free and watch all the past TV Coverage.