Pinterest- Hot Rodders Need to be There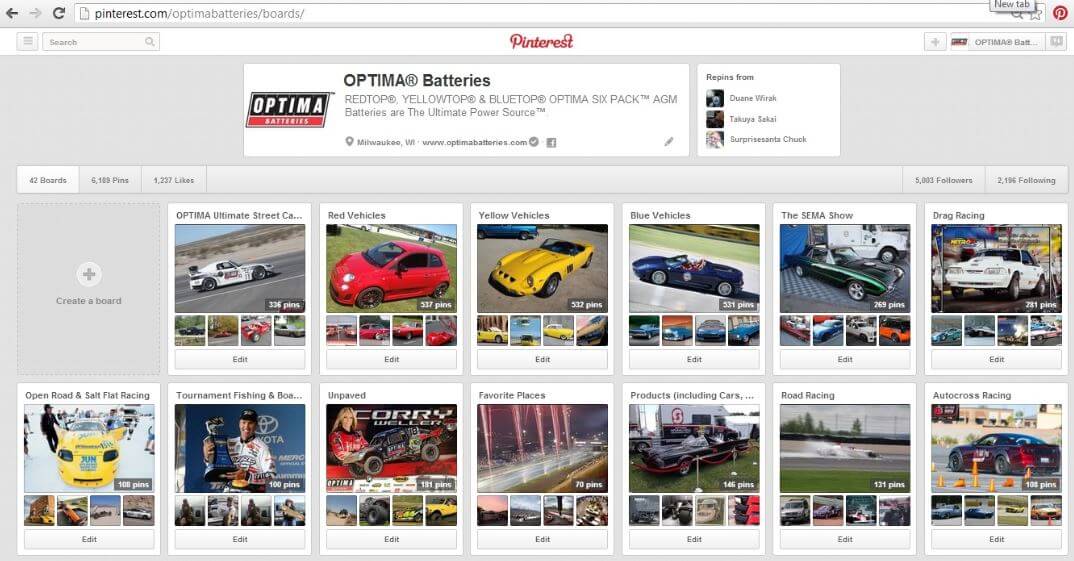 Tips & Support
Sponsor

OPTIMA Batteries

Location

Glendale, WI
Have you heard of Pinterest? If not, let us bring you up to speed. Pinterest is a site for sharing photos and originally became very popular with women. While that is still the case, an increasing number of men are signing up. Why would men care about new hairstyles, favorite recipes or fashion tips? They may not, but Pinterest has plenty of photos that interest men as well.
We signed up a while back and we'll admit, we're pretty addicted to it. Pinterest allows you to create your own cyber bulletin boards, where you can "pin" your favorite pictures. OPTIMA now has dozens of boards, each dedicated to something different.
If you want to see photos of vehicles from SEMA, we have a board dedicated to it. The same is true for drag racing, open road and salt flat racing, boat racing and tournament fishing, off road, road racing and autocross racing and a board that shows our favorite places to do all of that stuff and more. We even have boards set up just for station wagons, red vehicles, orange vehicles, yellow vehicles and blue vehicles! If users find a board they like, they can follow updates to that board or every board from that user.
You can also use Pinterest on your phone. Stuck at a doctor's office with a stack of Ladies Home Journal and National Geographic and not a hot rod magazines in sight? Open up your Pinterest app and start browsing photos of the most-amazing vehicles on the planet. If you have a thing for non-Cobra Jet '69 Mercury Cyclones, search for those and start pinning them to your own board. If you still aren't convinced,
check out OPTIMA's pinboards
and see if there aren't more than a few photos that appeal to you. Once you check it out, we think you'll get hooked! Once you sign up, be sure to follow a few of our boards, so you'll know what is going on in the world of OPTIMA.