PowerPro Ambassador Darrell Reese Mentors Teens on First Truck Rebuild Projects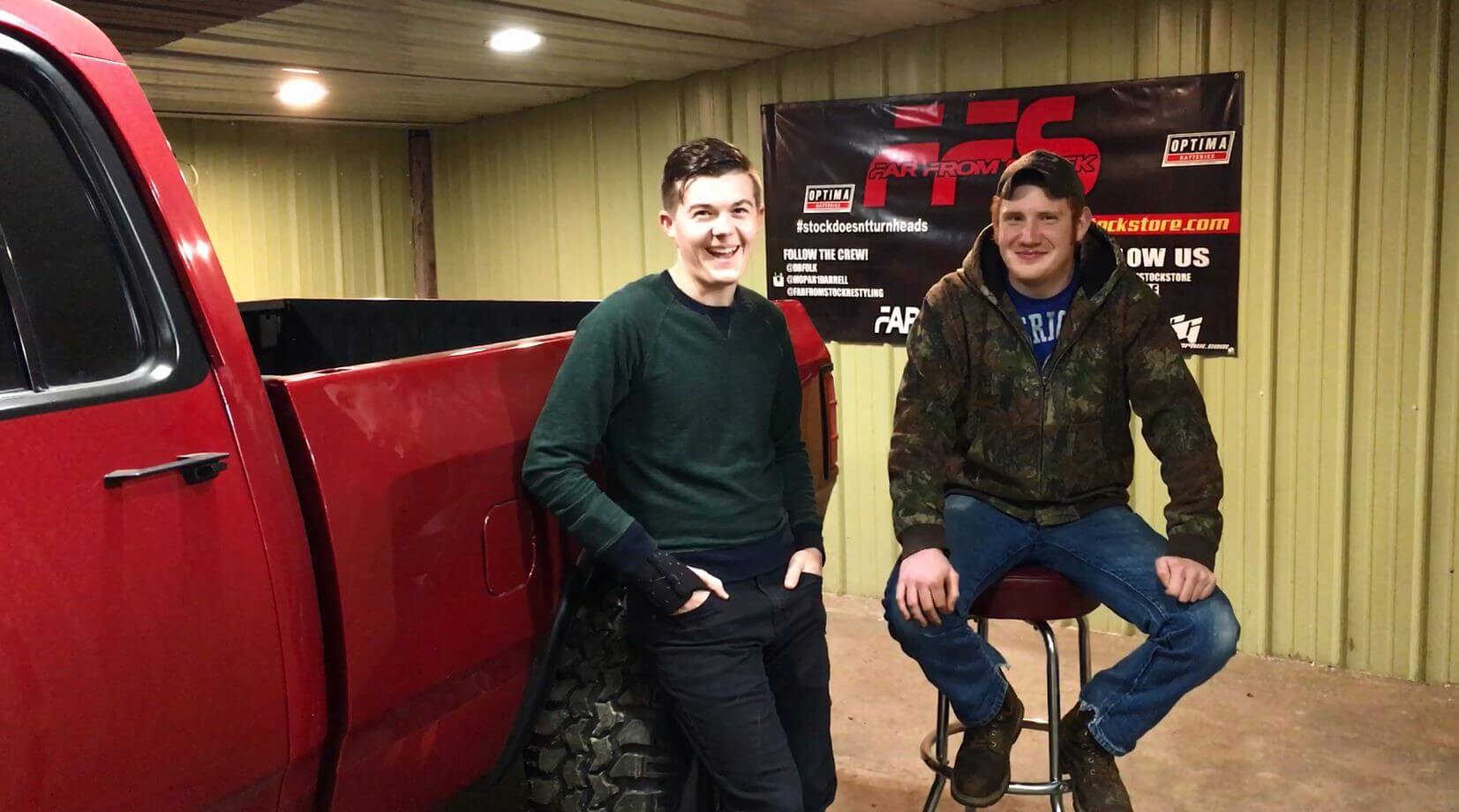 Trucks
Sponsor

OPTIMA Batteries

Location

Junction City, OH
OPTIMA PowerPro Ambassador Darrell Reese is a Mopar loyalist and co-founder of Far From Stock, an automotive lifestyle brand, with a strong social media following. Darrell's unique, custom diesel truck has captured national attention and is proudly displayed at events around the country.
Driving around his hometown of Junction City, Ohio in his red pickup, Darrell turned the heads of two teenage enthusiasts. Noah and Seth would occasionally ask neighbors for automotive advice and now with the help of their mentor Darrell, the boys are working to finish up their first-ever truck builds near the end of the year.
"I appreciate their enthusiasm about what I would have been enthusiastic about at their age. They inspire me every day with their inquisitive nature and goofiness", says Darrell. "I am trying to help them understand what choices they have and a scope or plan. I'm letting them guide their own projects while also trying not to let them steer it in the wrong direction. It's about what they want not what I see being the right course of action."
Noah grew up as a resident mechanic in his dad's shop and he has always enjoyed working on small engines and carburetors on his dirt bikes and four wheelers.
"I ride four wheelers, so I want a vehicle to transport it that has a balance between reliability and modification for speed", says Noah. "I'd love to drive it at Mopar Nationals but even just driving it to the event this year would be a big step for me."
Now that he has graduated high school, he has started to focus his energy into his own build – a '87 RAM D150. When he got the truck, it already had several modifications but more were needed. It was improperly-lowered in the front and didn't ride too well. Noah is working through alternator problems, putting in a new transmission and planning to replace the tires. One day he hopes to make the truck more powerful, but at the moment he is working to make it a reliable vehicle.
"I'm never really finished with a project, but my goal for this one is September of 2017," says Noah.
It's exciting for Noah to finally have a project of his own to be working on with Darrell's help. "I admire Darrell and his knowledge. He's my go-to for any information", says Noah.
Only 17 years old, Seth enjoys hunting, fishing and go-karting, but he is also the business-minded one of the pair; he is building to sell.
"I think if I make the right modifications, I will more than double my money," says Seth.
Last summer he acquired his uncle's truck, parted it and used that money to buy a Dodge truck from Darrell. Since then, he's cleaned up the frame, taken off the trim and is steadily preparing to turn it around to make a profit. He has yet to get his driver's license, but he's hoping to have the Dodge ready to sell by the mid-2017. He's ultimately working towards buying himself a '73-'87 Chevy pickup.
"My biggest piece of advice for these boys is to modify, personalize and break even or make money on every project; don't just consume and move on", says Darrell.
Follow Darrell on Instagram at @mopar1darrell for more updates on the Noah and Seth's projects.