PowerStop Brakes Speed Stop at the 2018 OUSCI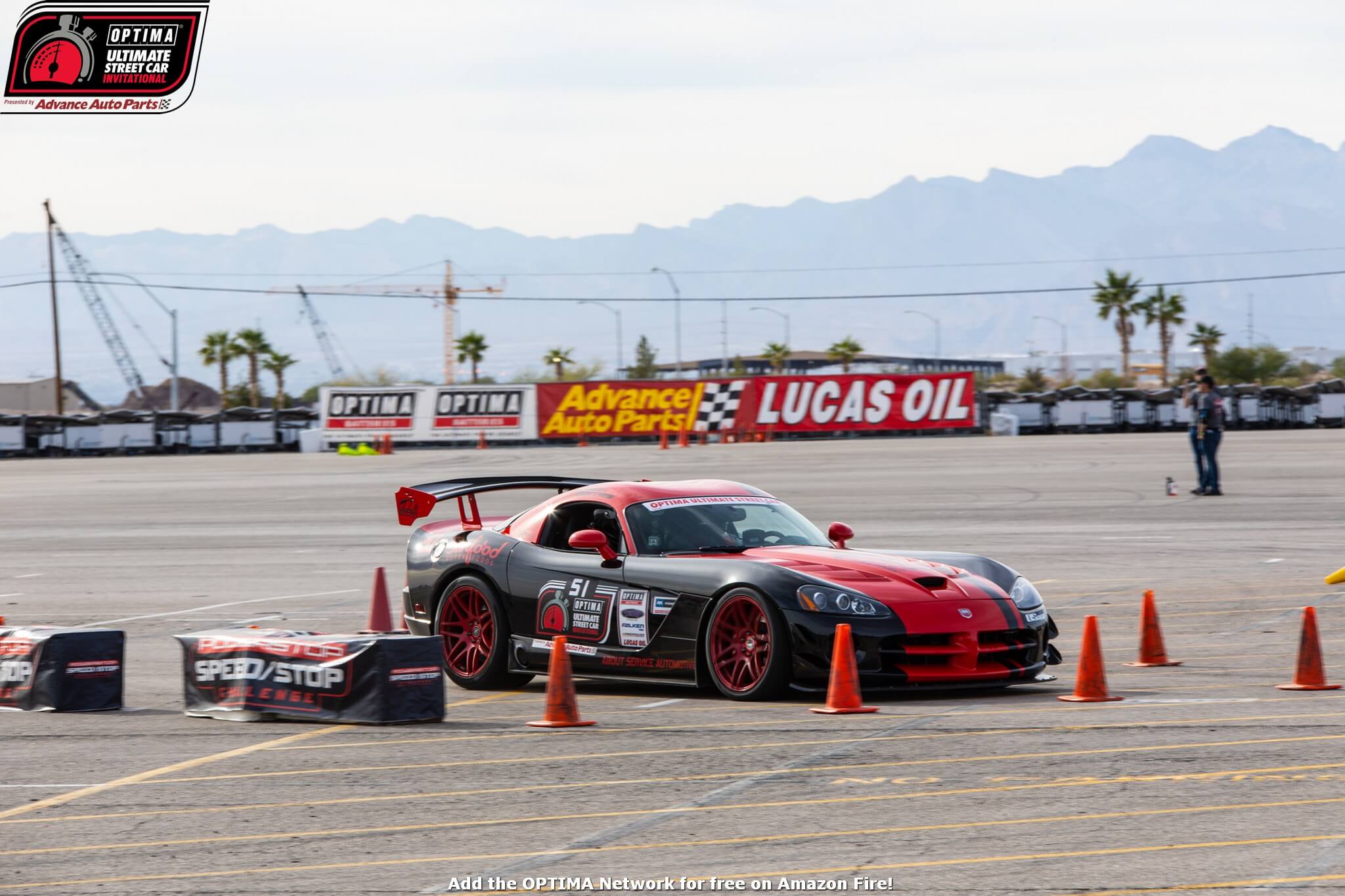 Ultimate Streetcar
Sponsor

PowerStop Brakes

Location

Las Vegas, NV
The PowerStop Brakes Speed Stop Challenge is one of five segments that make up the OPTIMA Ultimate Street Car Invitational (OUSCI), presented by Advance Auto Parts, but it might be the most-unique of the five. The basic premise is to test the acceleration and braking of vehicles in a relatively-short course on unprepared pavement. The course layout at the 2018 OUSCI was a "mirror" course with a left and right side, although the courses weren't identical and the left side appeared to be consistently longer course than the right side.

Competitors in the PowerStop Brakes Speed Stop accelerate from a standing stop for roughly 1/8 of a mile, some making it into second gear, depending on their gearing, before heading into a sharp turn. They accelerate again, go through a slight chicane before entering a stop box. Vehicles must stop completely in the box without knocking over cones to register a clean time and the combined best times on the two courses are added together for a combined time and final score. As with the other timed segments, first place receives 100 points and each subsequent finishing position receives one less point per position.

While many of the cars in the field feature modern features like traction control, all-wheel drive and anti-lock brakes to assist them in this event, those features don't always result in an automatic win. In the 2018 OUSCI, it was Austin Barnes and his 2010 Dodge Viper posting the fastest combined time on the left and right courses. See the full results below, as well as a massive gallery of images from this iconic street car event. You can also see the overall OUSCI results here.


| | | | | | |
| --- | --- | --- | --- | --- | --- |
| 1 | Austin Barnes | 2010 Dodge Viper | 0:14.682 (L) 0:13.852 (R) | 28.534 | 100 |
| 2 | Mike DuSold | 1967 Chevrolet Camaro | 0:14.803 (L) 0:13.926 (R) | 28.729 | 99 |
| 3 | Danny Popp | 2003 Chevrolet Corvette | 0:14.749 (L) 0:13.981 (R) | 28.73 | 98 |
| 4 | Ken Thwaits | 2006 Mitsubishi EVO | 0:14.96 (L) 0:13.856 (R) | 28.816 | 97 |
| 5 | Jordan Priestley | 2017 Chevrolet Corvette | 0:14.903 (L) 0:13.928 (R) | 28.831 | 96 |
| 6 | Jake Rozelle | 2003 Chevrolet Corvette | 0:14.917 (L) 0:14.118 (R) | 29.035 | 95 |
| 7 | Brian Johns | 1993 Mazda RX7 | 0:14.989 (L) 0:14.061 (R) | 29.05 | 94 |
| 8 | Eric Fleming | 2016 Chevrolet Corvette | 0:14.989 (L) 0:14.095 (R) | 29.084 | 93 |
| 9 | Scot Spiewak | 2003 Chevrolet Corvette | 0:14.925 (L) 0:14.34 (R) | 29.265 | 92 |
| 10 | CB Ramey | 1984 Chevrolet Corvette | 0:15.106 (L) 0:14.17 (R) | 29.276 | 91 |
| 11 | Gary Sheehan | 2018 Audi TT RS | 0:14.97 (L) 0:14.32 (R) | 29.29 | 90 |
| 12 | Duke Langley | 2002 Chevrolet Corvette | 0:14.873 (L) 0:14.452 (R) | 29.325 | 89 |
| 13 | Carrie Willhoff | 2010 Chevrolet Corvette | 0:15.167 (L) 0:14.166 (R) | 29.333 | 88 |
| 14 | Chad Langley | 2018 Chevrolet Corvette | 0:15.181 (L) 0:14.258 (R) | 29.439 | 87 |
| 15 | Jeremy Swenson | 2011 Chevrolet Corvette | 0:15.128 (L) 0:14.354 (R) | 29.482 | 86 |
| 16 | Anthony Scalici | 2018 Chevrolet Camaro | 0:15.156 (L) 0:14.35 (R) | 29.506 | 85 |
| 17 | Feras Qartoumy | 2008 Chevrolet Corvette | 0:15.148 (L) 0:14.41 (R) | 29.558 | 84 |
| 18 | Brian Hobaugh | 2003 Chevrolet Corvette | 0:15.278 (L) 0:14.299 (R) | 29.577 | 83 |
| 19 | Toby Thompson | 2010 Chevrolet Corvette | 0:15.302 (L) 0:14.317 (R) | 29.619 | 82 |
| 20 | Wes Drelleshak | 2018 Chevrolet Camaro | 0:15.196 (L) 0:14.511 (R) | 29.707 | 81 |
| 21 | John Laughlin | 2016 Ford Mustang | 0:15.296 (L) 0:14.494 (R) | 29.79 | 80 |
| 22 | Lynn Proctor | 2005 Dodge Viper | 0:15.322 (L) 0:14.468 (R) | 29.79 | 80 |
| 23 | Kyle Tucker | 1987 Chevrolet Camaro | 0:15.307 (L) 0:14.496 (R) | 29.803 | 78 |
| 24 | Efrain Diaz | 1969 Chevrolet Camaro | 0:15.231 (L) 0:14.603 (R) | 29.834 | 77 |
| 25 | Christine Thompson | 2015 Chevrolet Corvette | 0:15.424 (L) 0:14.45 (R) | 29.874 | 76 |
| 26 | Mike Rovere | 2008 Chevrolet Corvette | 0:15.441 (L) 0:14.48 (R) | 29.921 | 75 |
| 27 | Patrick Sheely | 2017 Ford Focus RS | 0:15.348 (L) 0:14.593 (R) | 29.941 | 74 |
| 28 | Tyler Powell | 1972 Datsun 240Z | 0:15.531 (L) 0:14.457 (R) | 29.988 | 73 |
| 29 | Chad Ryker | 1968 Chevrolet Camaro | 0:15.461 (L) 0:14.537 (R) | 29.998 | 72 |
| 30 | Jonathan Blevins | 2008 Ford Mustang | 0:15.227 (L) 0:14.778 (R) | 30.005 | 71 |
| 31 | Rob Edmonds | 2001 Chevrolet Corvette | 0:15.353 (L) 0:14.682 (R) | 30.035 | 70 |
| 32 | Chris Smith | 1970 Chevrolet Camaro | 0:15.415 (L) 0:14.627 (R) | 30.042 | 69 |
| 33 | Eric Sheely | 2018 Chevrolet Camaro | 0:15.615 (L) 0:14.458 (R) | 30.073 | 68 |
| 34 | Greg Nelson | 2015 Chevrolet Camaro | 0:15.525 (L) 0:14.601 (R) | 30.126 | 67 |
| 35 | Nathan Popp | 1995 Chevrolet Camaro | 0:15.453 (L) 0:14.737 (R) | 30.19 | 66 |
| 36 | Cliff Elliott | 2016 Ford Mustang | 0:15.518 (L) 0:14.676 (R) | 30.194 | 65 |
| 37 | Jim Stehlin | 1973 Chevrolet Camaro | 0:15.585 (L) 0:14.62 (R) | 30.205 | 64 |
| 38 | Nick Relampagos | 1970 Chevrolet Camaro | 0:15.683 (L) 0:14.595 (R) | 30.278 | 63 |
| 39 | Paul Molina | 2017 Ford Mustang | 0:15.407 (L) 0:14.887 (R) | 30.294 | 62 |
| 40 | Joshua Vedder | 2018 Hyundai Veloster | 0:15.541 (L) 0:14.796 (R) | 30.337 | 61 |
| 41 | Sal Solorzano | 1971 Chevrolet Camaro | 0:15.555 (L) 0:14.816 (R) | 30.371 | 60 |
| 42 | John Grow | 2014 Chevrolet Camaro | 0:15.631 (L) 0:14.794 (R) | 30.425 | 59 |
| 43 | Brendan King | 1971 Chevrolet Camaro | 0:15.608 (L) 0:14.818 (R) | 30.426 | 58 |
| 44 | Duston Nixon | 1979 Chevrolet Camaro | 0:15.602 (L) 0:14.853 (R) | 30.455 | 57 |
| 45 | Robert Weathers | 2017 Chevrolet Camaro | 0:15.613 (L) 0:14.972 (R) | 30.585 | 56 |
| 46 | John McKissack | 1966 Ford Fairlane | 0:15.739 (L) 0:14.925 (R) | 30.664 | 55 |
| 47 | Kong Chang | 1991 Acura NSX | 0:15.904 (L) 0:14.875 (R) | 30.779 | 54 |
| 48 | Benjamin Cowling | 2006 Dodge Viper | 0:15.952 (L) 0:14.862 (R) | 30.814 | 53 |
| 49 | David Carroll | 1973 Chevrolet Vega | 0:15.735 (L) 0:15.091 (R) | 30.826 | 52 |
| 50 | Alex Peitz | 2017 Chevrolet Corvette | 0:15.937 (L) 0:14.91 (R) | 30.847 | 51 |
| 51 | Troy delaHoussaye | 2009 Mazda MX5 | 0:15.883 (L) 0:15.015 (R) | 30.898 | 50 |
| 52 | Michael Erickson | 1967 Chevrolet Chevelle | 0:15.645 (L) 0:15.3 (R) | 30.945 | 49 |
| 53 | Kevin Schultz | 2008 Honda S2000 | 0:16.029 (L) 0:14.985 (R) | 31.014 | 48 |
| 54 | Michael Cuthbertson | 1968 Chevrolet Camaro | 0:15.993 (L) 0:15.07 (R) | 31.063 | 47 |
| 55 | Chris Porter | 1986 Porsche 948 | 0:15.904 (L) 0:15.16 (R) | 31.064 | 46 |
| 56 | Tim Schoch | 2011 Ford Mustang | 0:16.096 (L) 0:15.056 (R) | 31.152 | 45 |
| 57 | Matthew Scott | 2017 Hyundai Ioniq | 0:16.063 (L) 0:15.162 (R) | 31.225 | 44 |
| 58 | Michael Weiss | 2018 Mercedes-Benz E63S | 0:16.033 (L) 0:15.258 (R) | 31.291 | 43 |
| 59 | Randy Johnson | 1969 Mercury Cyclone | 0:16.077 (L) 0:15.28 (R) | 31.357 | 42 |
| 60 | Ron Schoch | 2016 Ford Mustang | 0:16.118 (L) 0:15.707 (R) | 31.825 | 41 |
| 61 | Greg Guerrettaz | 2011 Chevrolet Camaro | 0:16.468 (L) 0:15.428 (R) | 31.896 | 40 |
| 62 | Thomas Litton | 1997 Mazda Miata | 0:16.307 (L) 0:15.59 (R) | 31.897 | 39 |
| 63 | Ricardo Topete | 2006 Ford Mustang | 0:16.536 (L) 0:15.479 (R) | 32.015 | 38 |
| 64 | Ricky Bhatti | 2018 Mercedes-Benz GTR | 0:16.722 (L) 0:15.676 (R) | 32.398 | 37 |
| 65 | David Griffin | 2006 Ford Mustang | 0:16.895 (L) 0:15.629 (R) | 32.524 | 36 |
| 66 | Nasario Birrueta | 2001 Ford Mustang | 0:16.745 (L) 0:16.064 (R) | 32.809 | 35 |
| 67 | Karen Thomas | 2018 Tesla X P100D | 0:16.941 (L) 0:15.872 (R) | 32.813 | 34 |
| 68 | Dan Howe | 1948 Willys Pickup | 0:16.94 (L) 0:15.907 (R) | 32.847 | 33 |
| 69 | Angela Barnhouse | 2005 Honda S2000 | 0:16.879 (L) 0:16 (R) | 32.879 | 32 |
| 70 | Andrew Scott | 1987 Buick Grand National | 0:17.055 (L) 0:15.862 (R) | 32.917 | 31 |
| 71 | Nick Kistler | 1969 Chevrolet Chevelle | 0:17.283 (L) 0:16.135 (R) | 33.418 | 30 |
| 72 | Vernon Jolley | 2015 Chevrolet Spark | 0:17.241 (L) 0:16.461 (R) | 33.702 | 29 |
| 73 | Nick Schultz | 2009 Nissan 370Z | 0:17.565 (L) 0:16.369 (R) | 33.934 | 28 |
| 74 | Josh Korsower | 1989 Pontiac Safari | 0:17.993 (L) 0:16.456 (R) | 34.449 | 27 |
| 75 | Jeff Allen | 1963 Volvo 122S | 0:18.251 (L) 0:16.415 (R) | 34.666 | 26 |
| 76 | Jorge Ramos | 2019 Hyundai Veloster | 0:18.433 (L) 0:17.339 (R) | 35.772 | 25 |
| 77 | Yash Rad | 2015 BMW M4 | 0:16.786 (L) 0:22.273 (R) | 39.059 | 24 |
| 78 | Amy Fitzgerald | 1940 Dodge Pickup | 0:22.549 (L) 0:20.521 (R) | 43.07 | 23 |
| 79 | Logan Palmer | 2011 Chevrolet Corvette | 0:16.414 (L) no time | 16.414 | 22 |