Rich Willhoff's 2006 Chevrolet Corvette- 2016 OUSCI Preview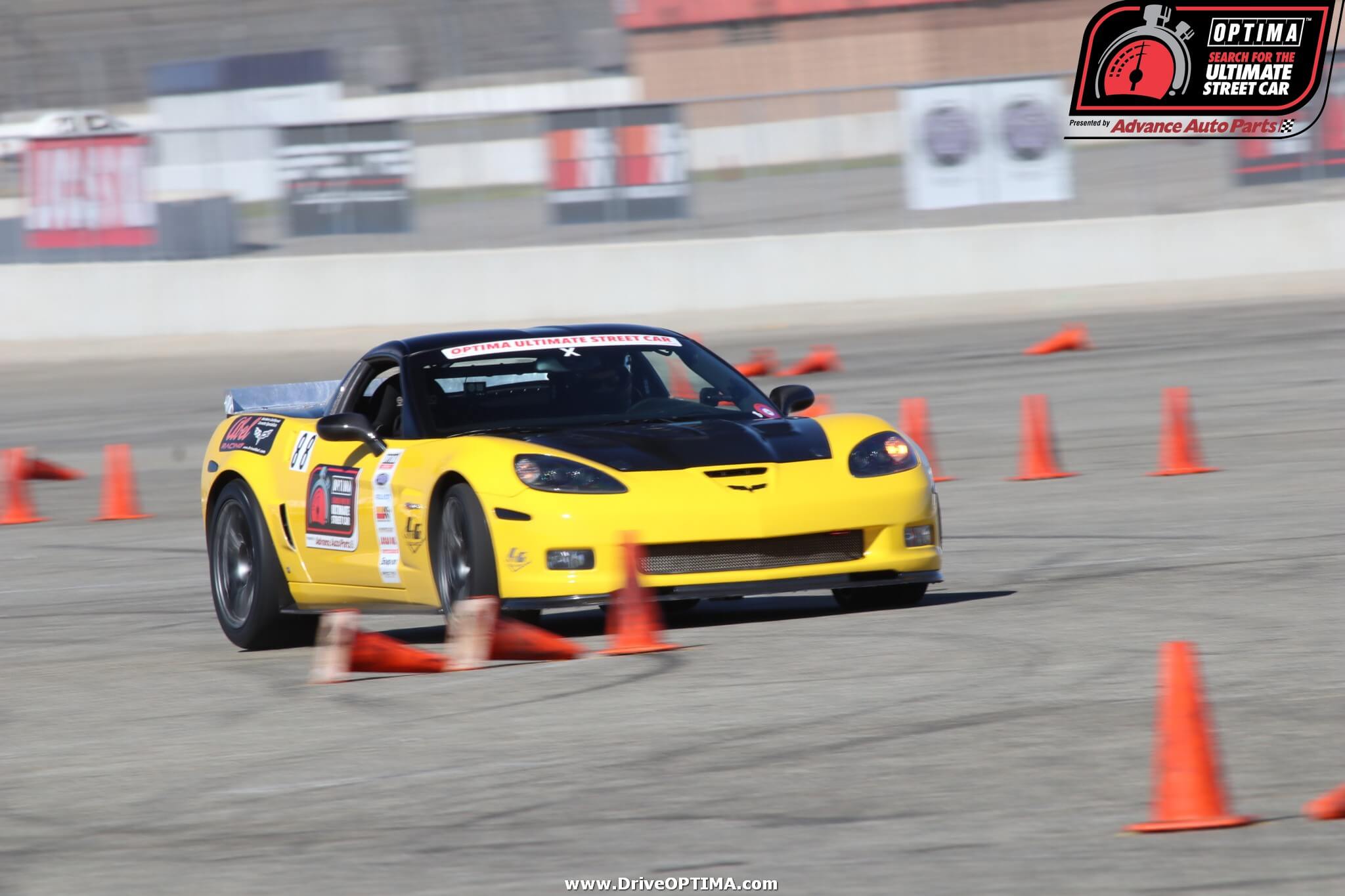 Ultimate Streetcar
Sponsor

Location
To be successful in OPTIMA's Ultimate Street Car Invitational, presented by
K&N Filters
, cars must be well-rounded. They need to do it all on the track, perform flawlessly on the street and look great the entire time, inside and out. One of the unique aspects of OPTIMA's Search for the Ultimate Street Car is the
Lingenfelter
Design & Engineering Challenge or simply "D&E" as it is known to most in the series. It is that segment of the event that helps keep the "Street Car" in both the title of the series and the OUSCI itself and makes race cars with license plates non-factors.
Consensus among competitors might suggest well-built GTV cars (those built before 1990), might be the odds-on favorites to win D&E and that often ends up being the case, but that doesn't mean a late-model car or truck cannot be competitive in that segment. Rich Willhoff's 2006 ZO6 Corvette is proof that even one of the most-common models in the series can stand out on a consistent both on the track and off. While many will focus on Willhoff's near-flawless performances on the track, his Corvette's D&E scores have also been impressive. In four events this season, Willhoff's Vette has placed 8th, 20th, 11th and 18th overall, which has also consistently placed him on or very close to the podium within the GTL Class at each of these events.
So how does Willhoff make his Corvette stand out in fields full of Corvettes and in front of four different groups of judges, who typically have no prior knowledge of how his car has performed in the past? If we took a look at Willhoff's notes for his D&E presentation (which he was kind enough to share), we'll see that it starts with carbon fiber front fenders that have been painted to match the yellow hue on his Corvette, while the
LG Motorsports
C6 World Challenge carbon fiber hood retains it's natural appearance. The carbon fiber upgrades also include a roof panel, halo and rear decklid from
Katech
and mirrors, front and rear emblems, air intake scoop and side skirts from
RPI
. A lexan rear window also shaves weight and provides a clear view of the Corvette Racing rear cargo mat, which is also the only known existence of the words "Corvette" and "cargo" having any association with each other.
Rich also sourced a front splitter from Katech a with full-length undertray and dedicated brake ducts, as well as a custom-fabricated, functional aluminum rear spoiler. The wheels are 19x11 front and 19x13 rear, one-piece, forged lightweight wheels from
Finspeed
- the lightest wheel they make, featuring a knurled beat seat and ceramic powdercoated finish. The tires from from
Kumho
and are their V720 ACR tires, with 295-series rubber up front and steamroller-sized 355s in the rear. No one wants their day to end prematurely or poorly because a 50-cent lugnut failed, so Wiillhoff runs titanium studs and lugnuts.
Stopping in a timely fashion can also make or literally break your weekend. To that end, Rich runs 15.5-inch rotors and 14-inch rotors on the rear of the Brembo carbon ceramic variety with stainless steel brake lines all the way around.
While many like to focus on how big an engine is or how much horsepower it produces, the series competitors all know the suspension has to be built out beyond the capabilities of the engine, to make sure the transfer of power is efficient. Rich's car is basically a rolling catalog of LG Motorsports suspension parts and even a few LG prototypes, including aluminium drop spindles that lowers the center of gravity by 1.5 inches, mono-ball control arm bushings, prototype double-adjustable coilovers, adjustable sway bars with adjustable link ends, HD bump steer kits and an adjustable camber kit. The car has also been custom-aligned and corner-weighted to achieve 50/50 weight distribution.
All those suspension upgrades are needed, because the Y-body is powered by a Katech Motorsports fully-forged Track Attack 427 cubic-inch engine, producing 700 horsepower and 675 lb.-ft. of torque. The compression ratio on this beast is 13:1 and features Katech's Torquer camshaft, HD timing chain and gears ans piston squirters. West Coast Cylinder heads provided the custom-spec'd LS7 heads with a titanium valvetrain and ARE's four-stage dry sump lubrication system keeps the oil moving through two of ARE's large capacity oil coolers and a three-gallon ARE oil tank with an ARE Spintric oil/air separator keeping everything in check. Rich fabricates all his lines in-house, using Earl's AN fittings and hoses.
An RSD dual-core aluminum radiator filled with Evans waterless coolant keeps temperatures in check. Other cooling (differential, transmission oil and power steering) are handled by Setrab components. As yet another example of great sportsmanship in this series, three-time OUSCI Champion and renown Corvette Technician, Danny Popp, personally spec'd the Quartermaster dual-disc clutch on Willhoff's ride, which works in unison with a Tilton clutch master cylinder and upgraded internal transmission parts. If things go south on the way to the rear tires, custom-fabricated hoops keep the driveshaft from laying down on the track.
Rich runs the MSD Air Attack intake manifold, although he did shave and paint it. A 102-mm billet aluminum throttle body and Halltech cold air intake send the air in and LG Motorsports long-tube headers and a Burns stainless steel three-inch exhaust sends it out. One area Rich didn't look to cut weight was on insulation, as it pertains to protecting the cabin from engine heat.
Willhoff's interior features an RSD five-point rollbar with a removable door intrusion bar and a pair of Sparco seats with an Ergo on the driver's side and an Evo2 on the passenger side, each equipped with Crow six-point harnesses. Rich carried the carbon fiber theme into the painted interior instrument panel, which sits behind a Sparco steering wheel. Rich's Vette came with a Bose-optioned stereo and navigational system and an AIM Solo data logger was also installed, which includes an integrated HD camera with telemetry and data overlay for video.
We've already mentioned how Rich's Z06 performs in D&E and his overall 2016 points titles, but those performance also came with three GTL class wins at Thunderhill, Pike's Peak and Auto Club Speedway out of the four events he ran. Willhoff has run as close to perfect as anyone in the series this season, but he knows as well as anyone that there are quite a few cars with legitimate shots at the OUSCI crown, so he'll have to bring his A-game to Las Vegas. It would also help if his wife, Carrie, doesn't grab valuable points from him again as she did on the PowerStop Speed Stop Challenge at the Las Vegas qualifier. Whomever comes out on top in Las Vegas will need to turn in a near-perfect performance. You won't want to miss it, so buy your OUSCI tickets today!