Rich Willhoff vs Mike DuSold- Coming Down to the Wire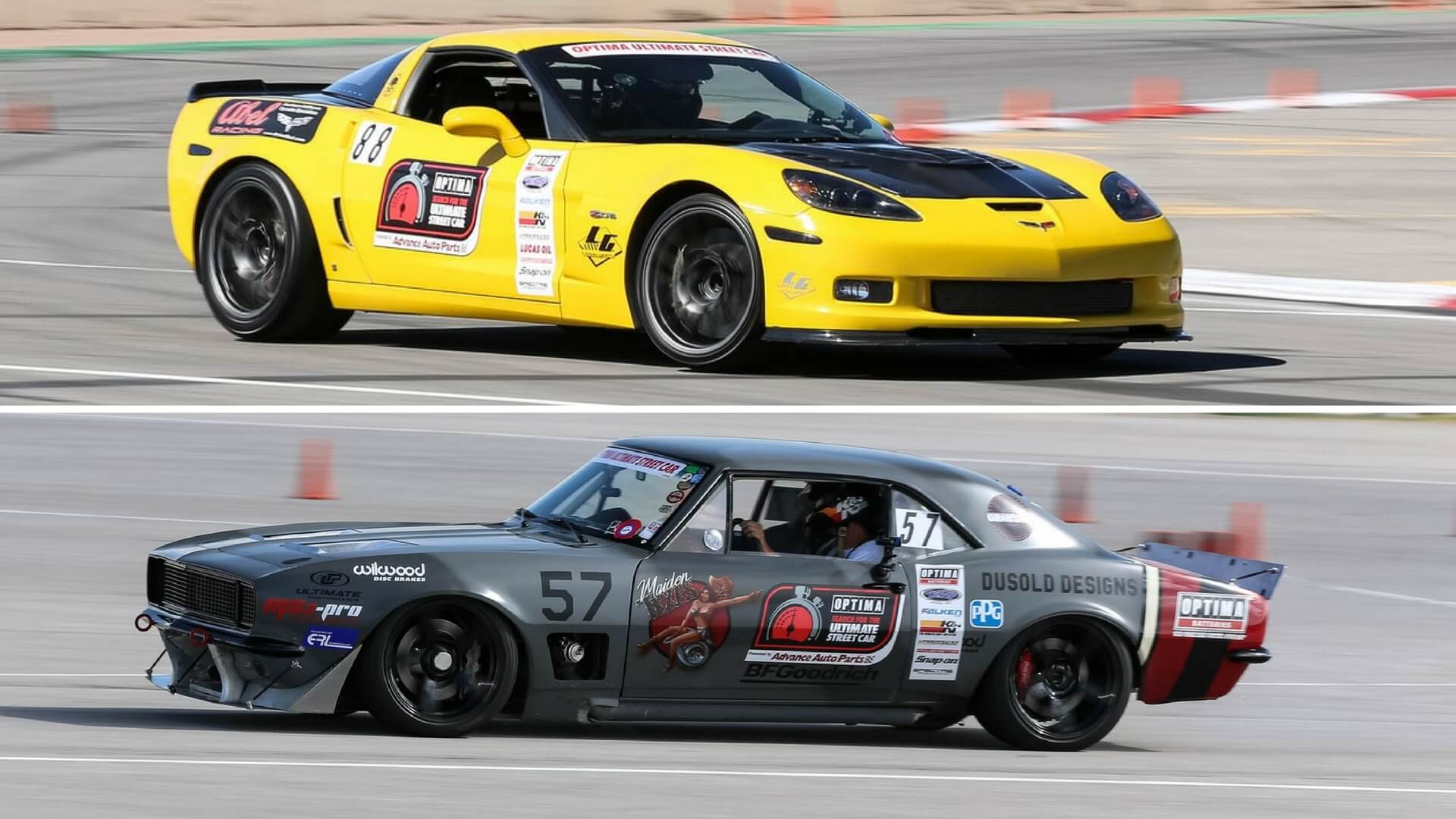 Ultimate Streetcar
Sponsor

Location
Ten events make up OPTIMA's 2016 Search for the Ultimate Street Car, presented by Advance Auto Parts. Within those ten events, competitors in the series are allowed to accumulate points in their best three events and the perfect score at an event would be 500 points. In essence, a class championship becomes a pursuit for 1,500 points and no two competitors in any of the four classes have come closer this season, than Rich Willhoff in his 2006 Corvette and Mike DuSold in his 1967 Camaro in the GTL Class.

Coming into the final event at Auto Club Speedway, DuSold holds a one-point lead over Willhoff at 1,458 points to 1,457 points. Those points are accumulated in five different segments, the Lucas Oil Road Rally, the Detroit Speed Autocross, the Falken Tire Road Course Time Trial, the PowerStop Speed Stop Challenge and the Lingenfelter Design & Engineering Challenge, with each segment being worth up to 100 points. Each position within those segments counts for one point, so first place is worth 100, second place is worth 99 and so on.

With the scores these two competitors have compiled so far this season, very few points have been left on the table. Coming out of the most-recent event at NOLA Motorsports Park, Mike DuSold fans may have felt like his score in the Lingenfelter Design & Engineering Challenge (93 points) hurt his chances of winning the championship, when that was far from being the case. In fact, it is the Design & Engineering (D&E) Challenge that is making DuSold a contender. In his three events this season, Mike DuSold has score 292 points out of 300 possible points in D&E. By comparison, Rich Willhoff has only scored 264 points out of 300 in that segment (that's still a really good total and one of the best in the series).

Just as DuSold has been dominant in D&E, Willhoff has been near-flawless in every other segment, leaving just five points on the table in the Detroit Speed Autocross and two points on the table in the PowerStop Speed Stop Challenge in three events. He was the top overall finisher in the Falken Tire Road Course Time Trial in every event he ran this season, scoring 300 out of 300 possible points. In spite of that success, Willhoff still needs to find a way to improve on his score from the Vegas qualifier (478 points), if he wants to pass DuSold in the final regular season event of the year and win the GTL Championship. DuSold holds the D&E tiebreaker, so Willhoff will need 480 points at Fontana for the class win.

Willhoff left two points on the table in the Autocross at Las Vegas and one point in the Speed Stop Challenge (DuSold finished ahead of him there in both segments). That means it was D&E where Willhoff finished 19 points short of 100, where he is most vulnerable. While objective street car elements (functioning lights, radio, etc...) make up more than 60% of a competitor's raw score, most of the field manages to capture those points at an event. It is the remaining ten points available from subjective judging where Willhoff's fate is left in the hands of others...to some degree.

It's still on Rich to modify and improve his car to the extent and in a manner that he desires. If he left his car completely stock, he'd get a much lower D&E score at events. It's also still on Rich to present and explain his car to the D&E judges in the time allowed, because modifications like engine work and suspension upgrades aren't as easy to see as a new paint job or a custom set of wheels. After that, the decision is in the hands of the judges as to where Rich's car will place, relative to the rest of the field and the margins are razor-thin.

For those who have never attended one of these events, it might seem odd that an element like Design & Engineering would even be included, but there's very good reasons for it to be there. This is a series for street cars and without some element that evaluates the "street car" aspect of a vehicle, the cars would be in a race to the very bottom in terms of real street car form and functionality- interiors and anything else that added weight without making the car go faster would be discarded, exhaust systems would be re-installed only to pass emissions (and some judges have dinged competitors for cars that are too loud), ride heights would get ridiculously low and the most-competitive cars in the series would essentially become race cars with license plates. Race cars that are technically still street legal can still compete in the series, but their D&E scores would be so low, they wouldn't actually be very competitive and that has played out on several occasions this season.

This series also invites all the top contenders to be on display at the SEMA Show in Las Vegas, which is an aspect no other competitive series in the world can claim. The SEMA Show is the largest show of it's kind in the world and they do have standards for the vehicles that are allowed to be displayed. As such, they wouldn't allow us to bring in 80 gutted street cars with mis-matched bumpers and rippled body panels, because the SEMA Show represents the very highest levels of customization in the automotive aftermarket. If we didn't have the Design & Engineering segment in our series, our competitors probably wouldn't be allowed any closer to the SEMA Show than Henderson, Nevada.

The SEMA Show is a very big deal and the audience is global in scope and draws more than 60,000 attendees. They aren't just people off the street, but the movers, shakers and trend-setters in the automotive industry and every major manufacturer and automotive news outlet in the world is there. So the series will stay as true to it's street car name as it can and leave the solar array-sized spoilers to a multitude of other competitive series that focus only on how fast a car can be driven (or how much tire smoke it can generate while being driven somewhat fast).

As we go back to Willhoff's situation at the final event at Auto Club Speedway, it won't be an easy task. None of the events Willhoff competed in so far this season were sold out, which meant the potential pool for competition was smaller. That won't be the case at Fontana, as the field has been sold out there for more than a month. In addition, GTV cars (when they have all their objective elements functioning) tend to do very well in D&E and more than 30 GTV cars are registered for Fontana. Even though Willhoff is in GTL, points in each segment are distributed without regard to class, so every competitor competes to some degree, against everyone else at every event.

Even if normal attrition knocks the GTV field down to 30 cars and 20% of those cars lose points on objective elements (broken taillights, no horn, etc...), that still leaves two dozen GTV cars. Presume only half of those cars are really high-end cars that could beat Willhoff and already he is short 12 points in D&E. Add in one exceptional car from the other three classes that could beat him in D&E and we're now at 15 points.

Willhoff has never finished lower than third in any timed segment this season and he can't leave more than 20 total points on the table at Fontana. If he gives up 15 points in D&E, that will only leave him a five-point cushion in the three timed segments. If he can pull off another overall win on the Hot Lap Challenge, he'll have to finish no worse than some combination of third and second in the Speed Stop and Autocross.

The way the events at Auto Club Speedway will unfold, final D&E scores won't be known until all cars are judged. That typically takes all day Saturday and sometimes spills into Sunday morning. By that point, we'll likely know Willhoff's score in the Autocross and Speed Stop. That will leave Sunday's Hot Lap Challenge as the only remaining variable and an overall win there is not a given. There are 20 drivers registered in the expert run group for Fontana, at least a few of which could give Willhoff a serious run for his money. That was certainly the case at Las Vegas, where Willhoff only beat Duke Langley by .365 thousandths of a second for the overall win.

The Autocross could prove even more daunting, as the entry list includes no less than three SCCA National Autocross champions. There are also two very fast, very well-driven AWD vehicles in the expert run group, who could both pose serious threats to win the Speed Stop, as well as Rich's own wife, Carrie, who beat him at Pike's Peak. If you're in Southern California, you'll want to see this event in person. If you can't make it to Auto Club Speedway on October 8th and 9th, be sure to catch OPTIMA's Search for the Ultimate Street Car, presented by Advance Auto Parts when it airs on MAVTV. You can also watch past episodes on the OPTIMA Network on Amazon Fire TV.