Richard Caleel's 2010 Cadillac CTS-V | 2013 OUSCI Preview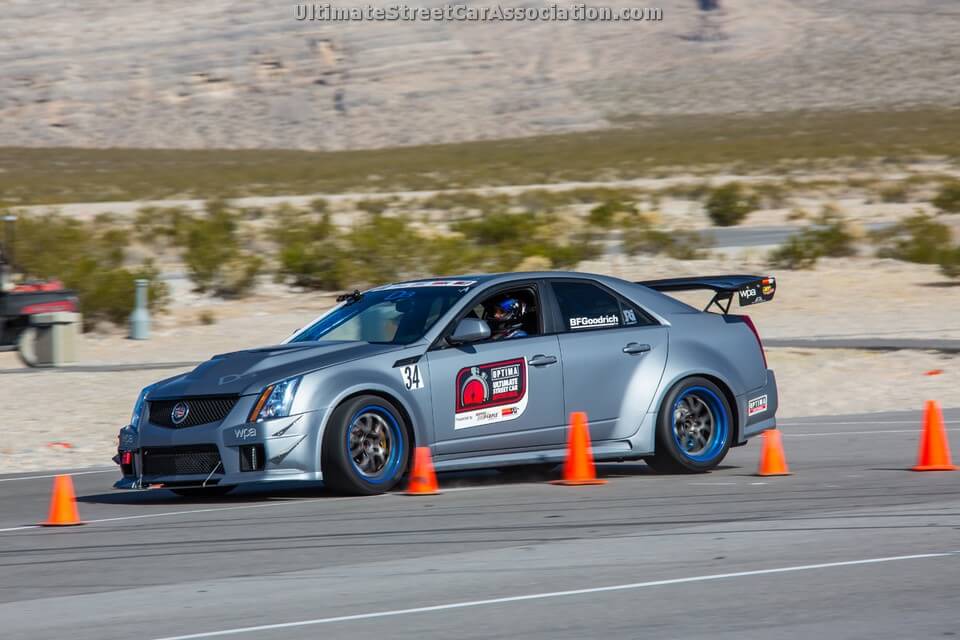 Ultimate Streetcar
Sponsor

OPTIMA Batteries

Location

Pahrump, NV
After competing in the 2012 OPTIMA Ultimate Street Car Invitational (OUSCI), presented by Royal Purple and K&N Filters, Richard admits he was a bit disappointed he didn't finish higher in the standings. He tried not to dwell on it and instead focused on the remainder of the 2012 Cadillac Challenge racing series. However, after closing out the 2012 Cadillac Challenge Series by winning the Modified Class Driver's Championship, he started to wonder what could be done to equalize the field in the event he was able to secure a return invite to the 2013 OUSCI.
In Caleel's memory, one thing stands out about the 2012 OUSCI. "All of the bad-ass cars there kicking my butt were running 300-series rubber in FRONT that I couldn't even run on my REAR wheels," says Richard. Grip was a problem for him in nearly every event and add to that the fact that even with roughly 600 horsepower, he was underpowered and overweight in the OUSCI field at a hefty 4400 pounds. He took these concerns to his friends at D3 Cadillac, whom Caleel considers to be the absolute best in the business when it comes to improving a Cadillac for the street and for track.
D3 jumped at the challenge to further build upon the foundation of what Caleel's car represented, after they'd already spent a year improving it by degrees. Though power improvement were warranted, handling and grip were the primary focus. For his part, Richard decided he was ready to make some sacrifices on the "standard road car" side in exchange for better performance on the track. D3 devised their Competition Widebody to widen the track and increase the size of the car's footprint, front and rear. While D3 set to prepare the custom bodywork, Richard had a full roll cage installed to improve safety and structural rigidity. Once those basic steps were in process, Caleel then looked at nailing down some specific areas for improvement.
Together with D3, Caleel approached several potential partners to collaborate on the build. Corsa Performance Exhaust stepped up in a big way with a three-inch prototype full race exhaust system. JRI Shocks came in to replace the existing KW Variant 3 coil-overs with their infinitely adjustable set-up to give greater flexibility to adapt to road and track conditions. APR Performance brought in their GT500 carbon fiber wing with Guerney flap, Forgeline wheels stepped up with two complete sets of custom GA3R wheels, 18X12.5 rear and 18x10.5 front to fill out the wider bodywork D3 was installing on the car. One set with transparent smoke centers and blue rims for street, and one set of gloss black centers with red rims for track. Add to that support from K&N Filters, and Recaro (who generously provided a pair of PROFI SPG/XL's) and Richard and the D3 went to work.
D3's custom widebody is complimented by their full carbon fiber vented hood, front, rear, and side diffusers and they also replaced the sunroof with a clean sheet of carbon fiber to improve rigidity and decrease weight at the top of the car. D3 also developed and implemented custom carbon fiber canards to improve downforce front and rear. Corsa provided a custom wrap as an homage to the livery of the current and defending Pirelli World Challenge Cadillac Racing cars of Andy Pilgrim and Jimmy O'Connell, although Richard tells us that might change again to more of a matte gray finish by the time the Caddy rolls into SEMA.
With the Corsa Exhaust, mated to full two-inch long tube headers from Stainless Works, and a fully-ported and polished throttle-body, D3 re-tuned the car to run on either 91 and 110 octane. The results netted 670 horsepower at the wheels on the aggressive tune. As for the suspension, tire, and chassis upgrades, Richard couldn't really measure how much of an improvement he would see until the Caddy hit the track, but he is now running 300-series tires all the way around. When Caleel did make it out, the results spoke for themselves. On a cool day at Autoclub Speedway, just one month after the 2012 OUSCI, Richard posted a best lap of 1:56.548 (86.5 mph). Post-build, with an ambient temp of 105 degrees, he ran a 1:50.275 (91.400) for the third fastest lap of the day, against GTRs, GT3s and a paddock full of Corvettes and BMWs.
Best lap times only give a glimpse into what is needed to win the OUSCI. Past champions, like Mark Stielow and Danny Popp have proven that consistency across all events is an absolute necessity. Will Caleel be fast enough and consistent enough to come out on top in Pahrump? Two full seasons of competitive racing in the Cadillac Challenge Series should go a long way toward making Richard a top contender in the BFGoodrich Hot Lap Challenge and any experienced driver with ABS and traction control in a well-sorted out car will be tough to top in both the Ridetech Autocross and the Wilwood Speed/Stop Challenge.
Will Caleel's Caddy be the first four-door OUSCI champion? We'll find out in Pahrump! If you missed seeing it go down in person, add the OPTIMA Network on Roku for free and watch all the past TV coverage.