Rick Hoback's 1999 Chevrolet Corvette- 2016 OUSCI Recap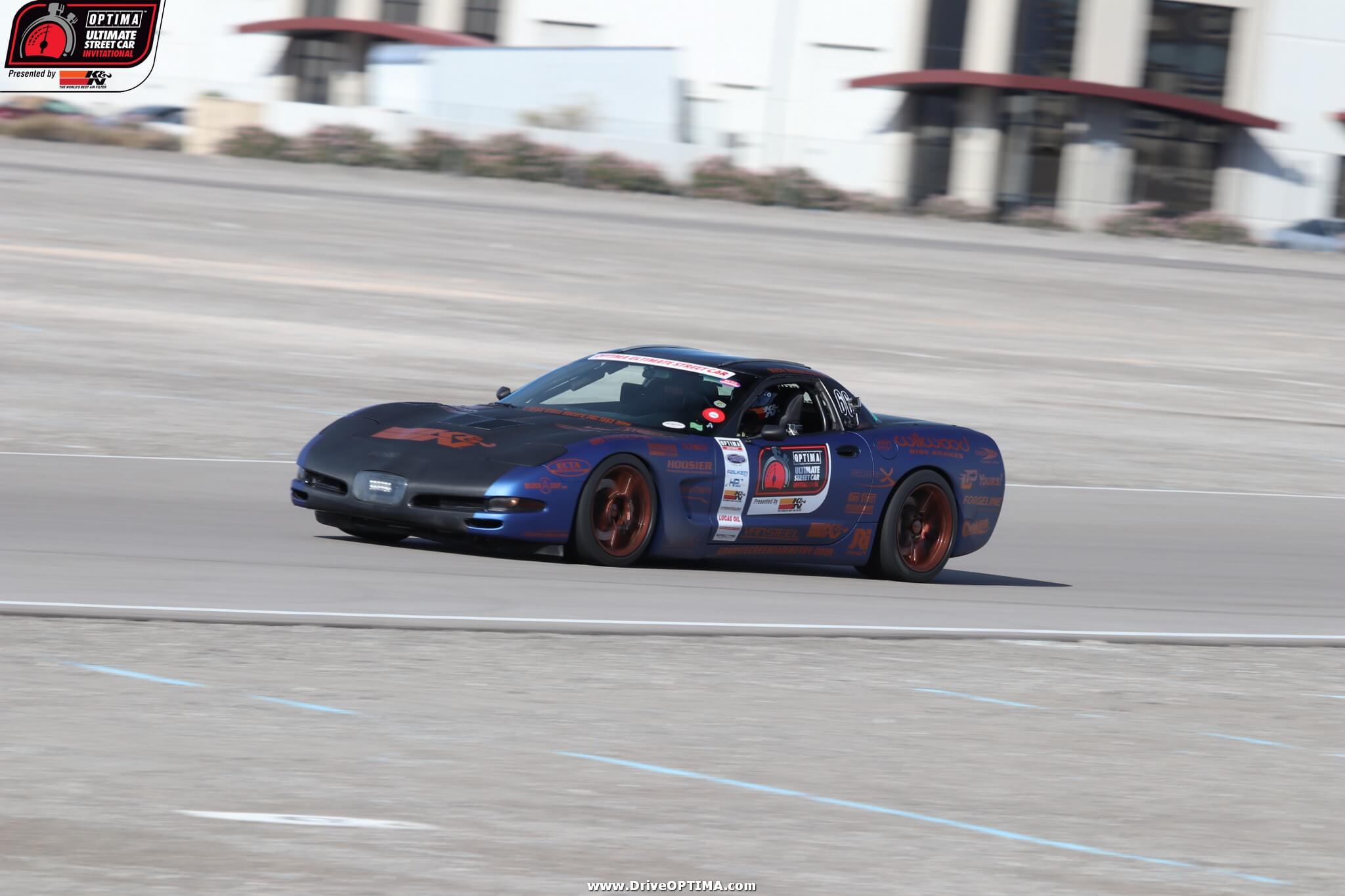 Ultimate Streetcar
Sponsor

OPTIMA Batteries

Location

Las Vegas, NV
Rick Hoback's appearance in the 2016 OPTIMA Ultimate Street Car Invitational (OUSCI), presented by K&N Filters, marked his fourth consecutive appearance in this premiere event for the world's best street cars. His first foray into the event came in his 2007 BMW M6 and the last three came in his 1999 Corvette. However, unlike many of the C5 Vettes that run in the qualifying series and OUSCI, Hoback's Corvette is built for far more than just street car events.

Hoback originally built this Corvette to compete in land speed racing and it has done just that, eclipsing the 200 mph barrier and setting records in the process. That doesn't just happen with a stock LS1, but Rick's engine isn't as far from stock as one might expect. Rear-mounted Garrett twin turbos produce 24 pounds of boost when Rick goes in search for land speed records, which helps produce 850 horsepower to the rear wheels. They are regulated by Turbosmart wastegates, blow-off valves and a dual-stage boost controller.

He dials the boost back a bit for OPTIMA events, but still has 650 horsepower on tap and perhaps a bit more on the Falken Tire Road Course time trial, if the mood strikes him. The transmission creates some challenges, as it is geared to exceed 200 mph in fourth gear, even though he runs a six-speed manual, supported by a Hoosier Performance Engineering trans and differential brace.

Back Street Performance did the tune on an MS3-Pro ECU and a Ram dual-disc clutch transfers power. Rick can adjust his JRi custom double-adjustable shocks, depending on his goals and he also gets support in that regard from Ultimate Performance. He also runs Van Steel Delrin bushings and an adjustable swaybar. We haven't mentioned much about forged internals or a larger displacement engine, because there really isn't much to tell there.

A Dewitt's radiator and fan help with cooling and Hoback also utilizes Snow alcohol water injection and a Racetronix fuel pump and a Kenne Bell BOOST-A-PUMP. Rick also uses Maxima racing oil and K&N filters to protect his engine. Rolling stock for Rick's Corvette includes BFGoodrich Rivals with 315-series tires up front and 335s in the rear. They wrap custom 18-inch Copper FORGELINE GS1R monoblock wheels secured on ARP wheel studs and stopped with a Wilwood custom super lightweight floating rotor big brake kit.

That braking package is supplemented on land speed runs with a Stroud custom soft hit LSR parachute (not a feature we typically mention when describing OUSCI vehicles). We may also not mention SKF hub bearings very often, but when you hit the speeds Hoback's Corvette sees, you don't want weak links in vulnerable areas. To that end, Rick has also installed a Firerfox fire suppression system.

Upgrades inside include a Clarion flip-out TV/radio with a rear-facing camera and Sony subwoofer and we're happy to report an OPTIMA battery delivers power when the engine is off. Rick straps himself into a Kirkey full containment seat and controls the drive with a Sparco steering wheel and a Hurst shifter. While the Corvette originally ran with a black paint job, Rick has since changed it to a GraphX matte blue and carbon fiber wrap with copper logos.

So how did this build fare in Rick's fourth foray at the OUSCI? On the PowerStop SpeedStop Challenge, Rick finished 37th overall, collecting 64 points. On the Detroit Speed Autocross, Rick finished even better, notching a 29th place finish. His top performance in timed events came on the Falken Tire Road Course Time Trial where he placed 25th overall. The Lingenfelter Design & Engineering Challenge has been one of his strongest segments all year long and the OUSCI was no exception. Rick's Corvette placed 12th overall.

That consistent level of performance throughout the weekend resulted in Rick's Corvette coming home in 23rd place overall. That marks Hoback's best finish in four appearances and a marked improvement over his 36th place finish in 2015 and 60th place finish in 2014. He has clearly gained valuable experience over the years and made the right upgrades to his car to not only set land speed racing records, but also become a top-25 performer at the OUSCI. If you'd like to see him in action in the 2016 season and past years, check out the OPTIMA Network on Roku, where past episodes of our TV series can be viewed on-demand for free.