Rick Hoback's 1999 Chevrolet Corvette | 2014 OUSCI Preview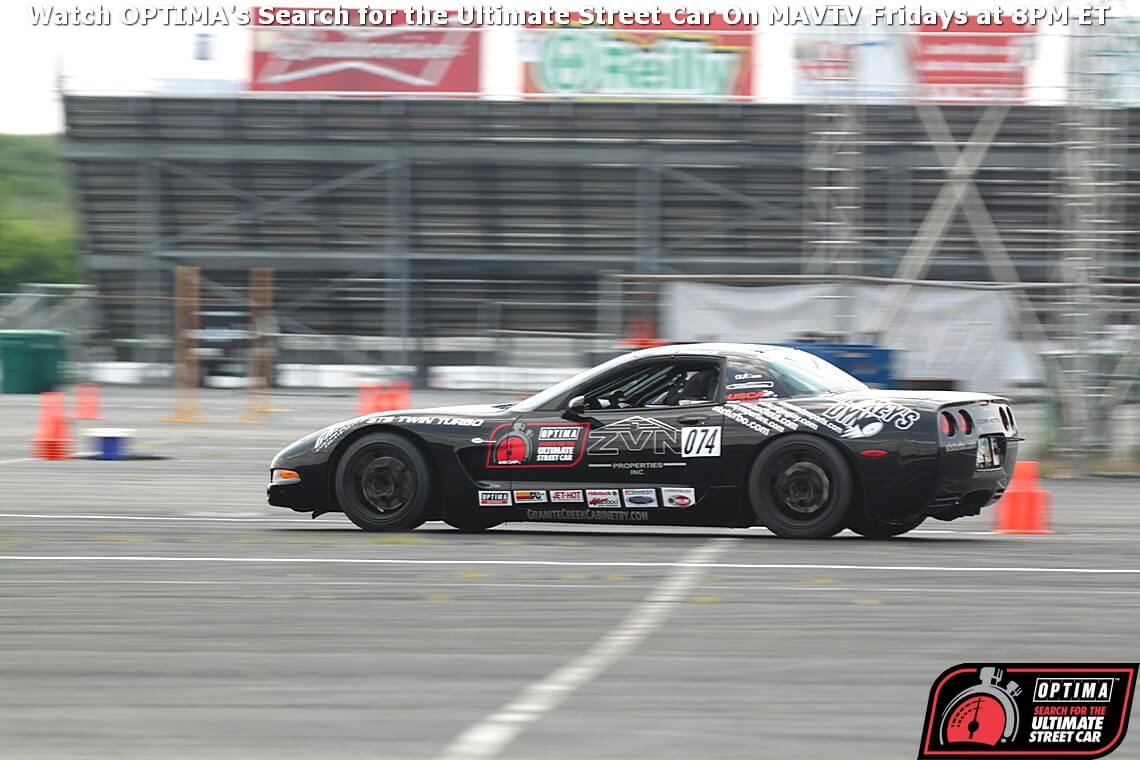 Ultimate Streetcar
Sponsor

OPTIMA Batteries

Location

Las Vegas, NV
Rick Hoback started out the OPTIMA qualifying season in his 2007 BMW M6, running both California events. However, as the point standings began to come into focus, he made a drastic shift that ended up paying off for him, as he parked the BMW in favor of his 1999 Corvette. While the Vette may seem like a natural choice, this car was set up for land speed racing, where the twin-turbo mill has pushed the car to a class record 202 mph. As long as some of the straightaways were in the qualifying circuit, none were long enough to take full advantage of the Vette's top speed potential.
Since making the switch, Hoback has spent a considerable amount of time modifying the suspension and trying to dial it in for the different disciplines highlighted in qualifying and OPTIMA Ultimate Street Car Invitational (OUSCI) competition. The OPTIMA events require a completely different set-up than the land-speed stuff," says Hoback. "After the Vette's first event at Gateway and fighting all day to keep the tail end from trying to pass the front end, the initial changes were made." Those changes included Vette Brake and Products' custom leaf springs, custom inverted JRi shocks and Van Steel bushings.
Rick didn't stop there and has continued to make changes, even after the Pittsburgh event, which won't allow much time for testing before heading to Las Vegas. Those improvements include a Wilwood custom brake package, Forgeline three-piece, lightweight wheels, mounted on fat 315-series tires all the way round, which is a major step up from the 245/285 combination he previously-ran. "That gives me almost eight more inches of rubber on the ground," claims Rick. "As fun as it was, no more sliding around the track."
Not only does it sound like Hoback made all the right changes in all the right places, but he enlisted the assistance of the right people in helping make those changes, as well as final tuning of the suspension system- RAFT Racing (that's code for Danny Popp). Rick also emulated the Corvette C7R rear camera set up that they use in the Tudor series, which helps them identify the distance between their car and the cars behind them. Rick tells us he also has a secret weapon for the Wilwood Speed Stop Challenge, which is a slight modification from what was on the car for it's land-speed runs. "It is by far the biggest brake kit that OUSCI will ever see!" claims Hoback.
By the time it arrives in Las Vegas Hoback's Vette will be be producing 600 horsepower at the wheels, but we suspect Rick will turn up the wick on his final run in the BFGoodrich Hot Lap challenge, which could mean more than 850 horsepower will be on tap. Although lighter than many of his fellow competitors, Rick's Corvette is on the heavy side for a Y-body at roughly 3,300 pounds, due to all the safety equipment that has been installed for high-speed runs.
Unlike most of the OUSCI field, Hoback has previous experience on the road course at the Las Vegas Motor Speedway, although it doesn't sound like that will give him much of an edge over his competition. "The course is tight and won't really let a high horsepower car like the twin-turbo Vette stretch it's legs. The smaller, medium horsepower and all-wheel drive cars will have an advantage there," says Rick.
Hoback has run in these events before and having run on this track before, he knows what it will likely take to emerge victorious. "You have to push the car beyond it's limits and the guy who takes his car just over the line and risks it all, just as the grip disappears will most likely win by a thin margin." says Rick. Who does he think might personify such a competitor? Danny Popp's name again comes up. "Last year, I couldn't believe it when I saw him take turn one all out, on the gas, sliding sideways. This year, I have seen him do some amazing things with the car at qualifying events. Just watching him slalom, he drives the car like he just doesn't car if it sticks or not, but somehow it does." Strong testimony from a fellow competitor and one of the reasons Danny Popp is always on the list of top contenders for the OUSCI.
We wouldn't count Hoback out though and neither does he. "If the car is settled and continues to improve as it has event after event, then I think I have a very good chance," says Hoback. "Setting the fastest speed on the straights with a land speed record-setting car? Now that's a lock," claims Hoback.
We're not sure the OUSCI staff keeps track of that data, but we know Rick does. Be to follow him on Facebook, and Instagram for updates.
Rick would like to thank all of his sponsors, who have helped make his campaign possible, including Granite Creek Cabinetry, ZVN Properties, Smokey's Dyno and Performance, STS Turbo, Stroud Safety, JRi, R.A.F.T. Racing, Graphx, Detroit Speed Engineering, Bangshift.com, ECTA, McMahan Autosport, Delaware Chassis Works, Autosport Plus, Track First, Auto Interests, Gene Wong, Dee Bonnell everyone who has helped in the pits. "I'd also like to thank all of the other OUSCI sponsors- OPTIMA Batteries, K&N Filters, BFGoodrich Tires, RideTech, Wilwood Disc Brakes, Lingenfelter Performance Engineering, Jet-Hot Coatings, Red Line Synthetic Oil, Snap-On Tools, Showtime Motorsports, FM3 Performance Marketing, Mooney/Zayak Films and the paparazzi. Without them, these awesome events would never take place. It takes a lot of help to pull off a record-setting 202 mph run and to qualify for the OUSCI all in the same year with the same car," says Hoback.
You can see if Rick's efforts pay off, by watching all the past OUSCI TV coverage for free on the OPTIMA Network on Roku.