Ride Shotgun with James Clay at the Nürburgring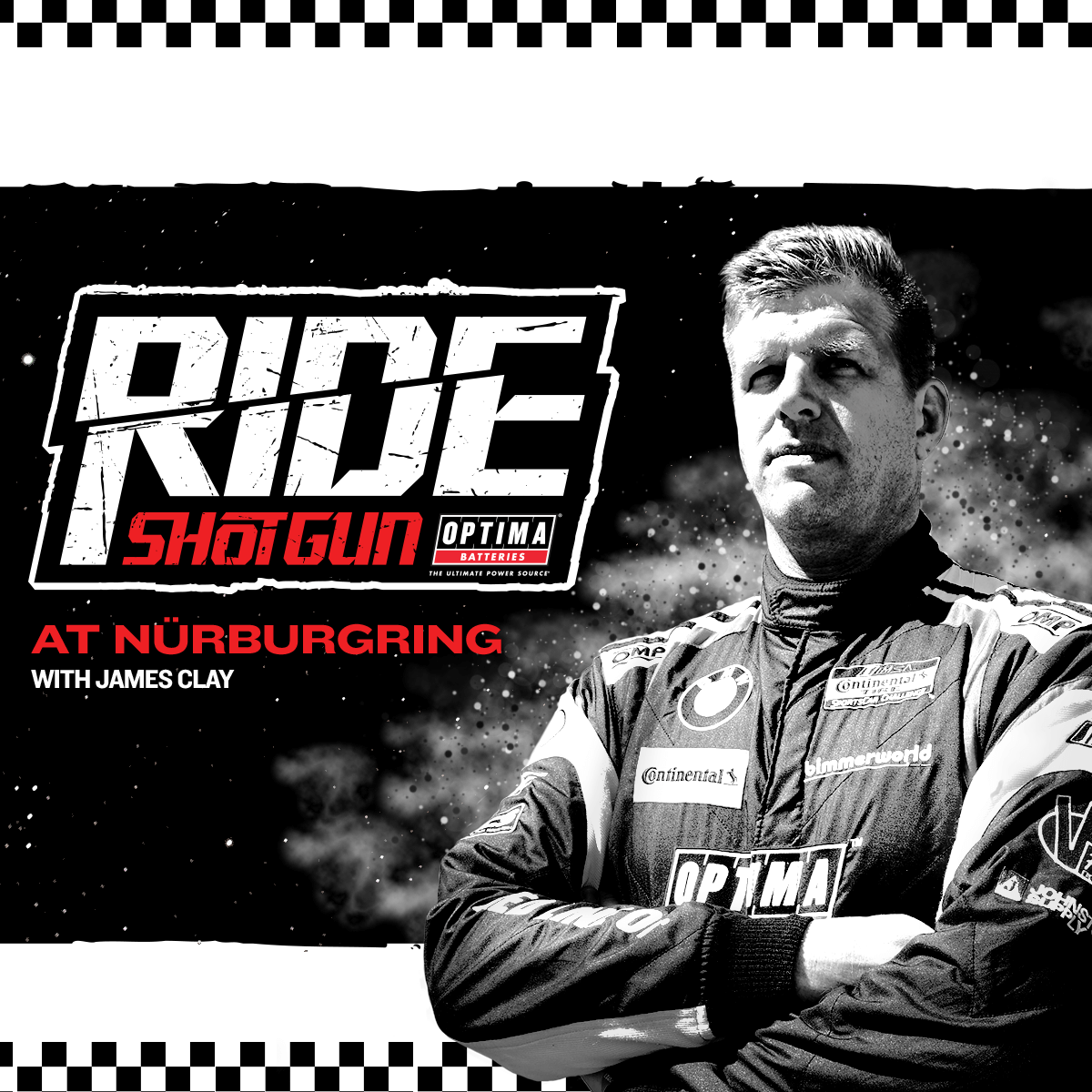 Events
Sponsor

OPTIMA Batteries

Location

Milwaukee, WI
Racecar drivers are usually viewed as being intense, calculated and running on pure adrenaline, and while that may be true for some, BimmerWorld owner, James Clay is much more. When speaking with James, it's like you're with an old friend. Charming and approachable, while having the ability to make any situation a good one. Exactly what you would want in your Ride Shotgun partner.
Where you'll be Riding Shotgun: on one of the most infamous tracks in the world, the Nürburgring, which is located in Nurburg, Germany. For James and the BimmerWorld team, this is familiar territory as they first went to the Nürburgring in 2017 finishing in the top 10 and have been going back ever since. "That place (Nürburgring) is unique, unique in the surface, the traffic. It's a wild place and there's nothing like it in the world," states Clay. "OPTIMA Batteries is an enthusiast brand. I want an enthusiastic person with passion to Ride Shotgun with me".
James knows the tough part about this experience is not knowing what to expect as for 8 to 10 minutes, the winner will have to trust the BimmerWorld team in order to fully experience and enjoy the lap at 160 mph. When speaking in detail about what to expect from the Ride Shotgun experience at Nürburgring, James says, "one of the craziest tracks in the world, it's going to be a wild ride. We're going 155 to 160 miles per hour on a mile and a half straightaway, minus the turns."
Even the best racers in the world don't have opportunities like this, which James describes as "tremendous value for little effort." It's so much more than an incredible opportunity to ride with the best but you also get a full media / crew pass to the Nürburgring as well as a free pass to the 2019 SEMA Show and $1,000. So why not?