Riding Along the Hot Rod Power Tour with Darrell Reese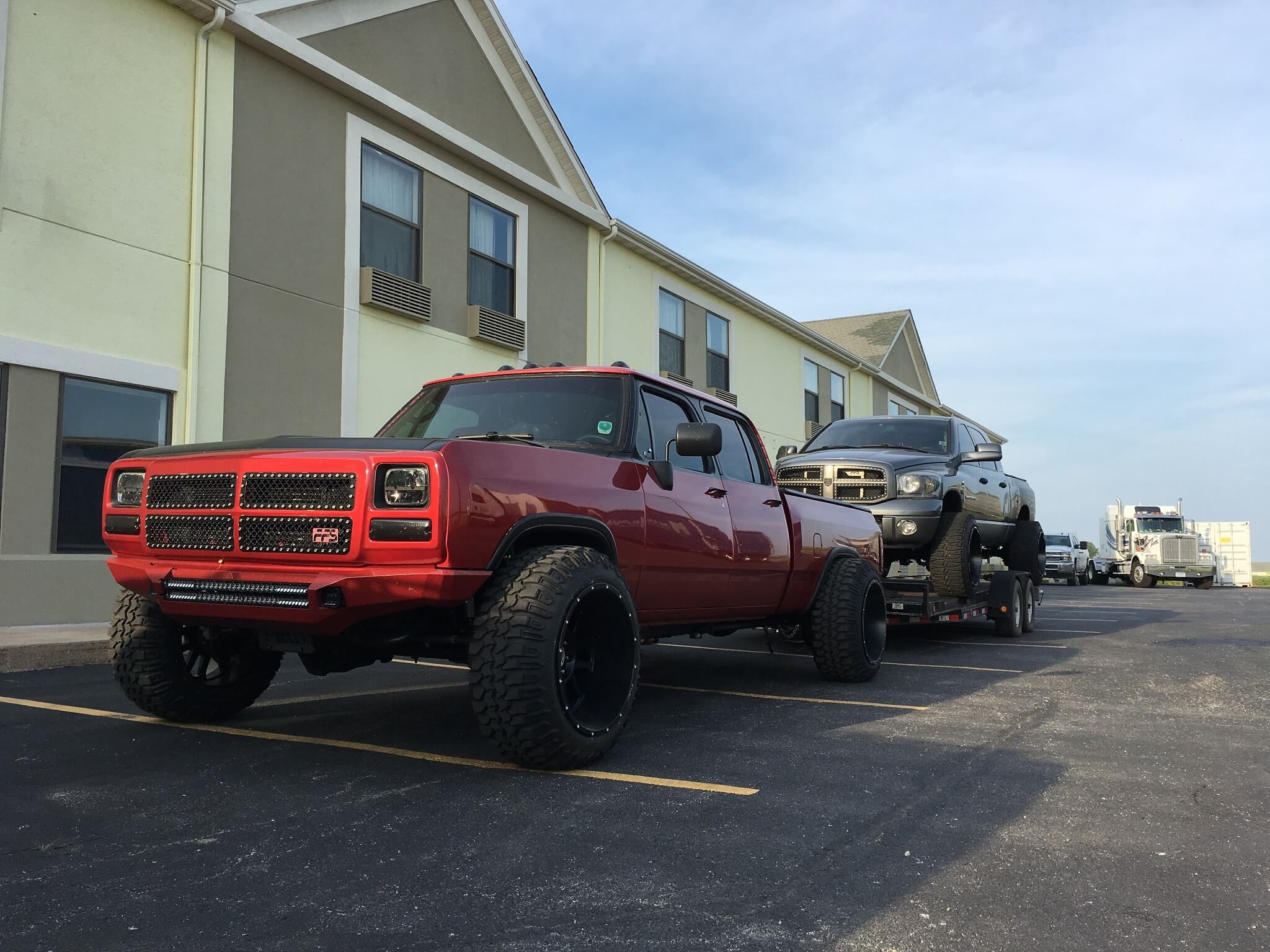 Trucks
Sponsor

OPTIMA Batteries

Location

Kansas City, KS
OPTIMA® PowerPro Ambassador Darrell Reese of Far From Stock and his partner Brandon Folk set out on the Hot Rod Power Tour last week, but unfortunately their trip was cut short. They say good things must come to an end, but little did Darrell know how short his stint on the tour would be; read on to find out why.
"Leading up to the tour, we had a number of last-minute modifications to make: swapping my '85 Dodge W350 from a manual transmission to a 1000hp-rated Power Driven Diesel automatic transmission (in two weeks!); installing a new, custom, upside-down transfer case, Mishimoto cooling, Yukon gear axle and drive shafts; and countless other upgrades and fixes. We anxiously awaited parts arriving every day; the timing was so tight throughout the whole process that I was ready with a plan B or even C vehicle. Brandon's '06 Dodge Megacab Cummins required much less work. With only an afternoon left to test drive, it all seemed at least feasible.
The trip started off great. Brandon and I took off from Ohio with our families, making the 780-mile trip to the beginning of the Power Tour in Kansas City. As we arrived, we were really impressed with the spectator draw – thousands of people lined every backroad and intersection along the way.
About three quarters of the way through the first leg of the tour, I launched the truck from a four-way stop in the middle of nowhere. It was the hardest I had been on the truck so far; it encouraged me that at least a 2WD pass down a drag strip might be possible. I checked the mirror to see Brandon leaving the same intersection, but further behind me and at a regular pace. Little did I know that was the last I'd see of him for about 5 miles. I kept slowing my pace so we could reunite, but didn't see him. I waited at the next fuel station and still nothing.
We backtracked and found him only a half mile from where we'd last seen him. When we arrived, there was a truck and trailer along with a '68 Chevelle in tow sitting in front of Brandon's truck. That's when we met Andy, the original owner of the Chevelle, and his dad Bill. Brandon had no transmission action at all and that indicated an input shaft failure. Turns out he had launched from the same stop sign as I had and with impressive results from his new tune, but too impressive for his transmission.
When I pulled up, they had already hatched a plan to unload the somewhat problematic but tolerable Chevelle and swap it with Brandon's Ram. It was a tight squeeze on the trailer, but on it went, all the winching and starting was handled by the four OPTIMA YELLOWTOP Batteries.
We continued north toward Newton, Iowa, and luckily we arrived at the speedway with no more difficulties. Our original team of 7 people split among two vehicles, became 9 people among 3 vehicles. We joked that Andy and Bill's willingness to help on the side of the road was closer to a marriage than a volunteer effort! Not only did we laugh and have a good time throughout the next couple of days, but we were also able to help and use our supplies to keep their Chevelle going – what a great statement to the quality of people you will meet on a trip like this.
The next day we headed toward Davenport, Iowa. My transfer case popped into neutral once and was easily remedied, but it also added to the uneasiness of the trip since I didn't have an explanation of why it did so. In between Davenport and Champaign, Illinois, we had a lot of offers to help fix Brandon's transmission, but there were multiple factors that ultimately led us to decide to bring in a rescue trailer from home in Ohio. One major factor was that there was already a crate sitting in my garage at home specifically for sending Brandon's transmission to Power Driven Diesel to get upgraded to their recommended specs.
After the stop in Champaign, we made the swap to the Ohio trailer and said our thank yous again and again to Bill and Andy for their above-and-beyond hospitality. Overall, we traveled over 1,500 miles and saw lots of friends, followers, countryside views and awesome hot rods. I can only imagine the draw next year to make the entire length of the tour. Until next year!"
Follow Darrell on Instagram @mopar1darrell.